Zayn Silmi
Founder, The People of Sacramento and The People's Firm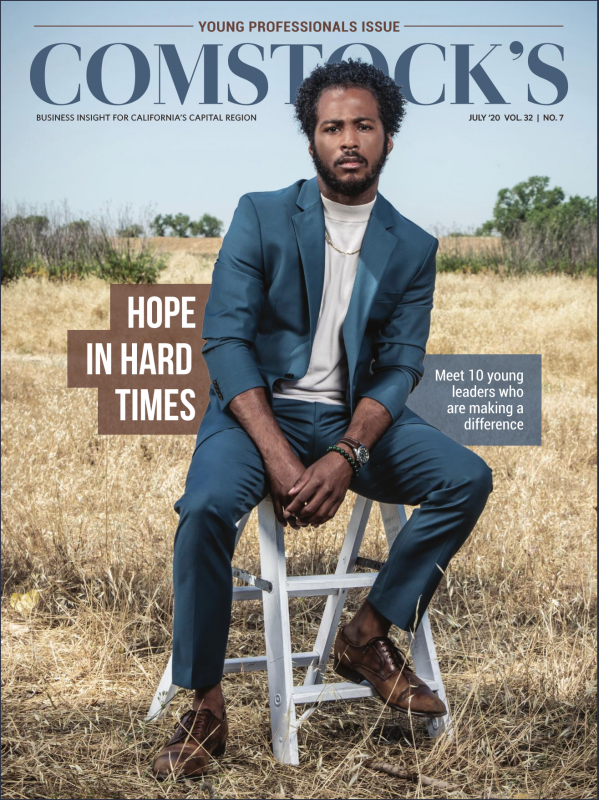 This story is part of our July 2020 issue. To subscribe, click here.
To say Zayn Silmi is Sacramento proud would be an understatement. The 25-year-old entrepreneur is the founder of The People of Sacramento, which makes those hats emblazoned with "916" and hoodies proclaiming "Home is Sacramento."
"Our city is amazing — I've known this my entire life," says Silmi. "And nobody even knows we're the capital. I always knew I wanted to stay in Sacramento, build my business here and inspire the next generation of entrepreneurs. And make my city proud."
After graduating from Al-Arqam Islamic School & College Preparatory, Silmi opened Brew Crew Coffee in south Sacramento and sold it two-and-a-half years later to focus on the Instagram account he'd created to spotlight Sacramento with scenic images of the city as well as short profiles of local individuals and businesses (modeled after the popular Humans of New York account).
"Instagram was fairly new, so it was a very small community coming together to hang out and take photos," Silmi recalls. "Six months after starting The People of Sacramento account (in late 2014), I realized I was onto something really special. People across the U.S. were seeing Sacramento from a grassroots level."
The platform allowed Silmi to be an ambassador for his hometown. He began to organize charitable giveaways with local businesses — among them Temple Coffee — and eventually launched his first piece of official The People of Sacramento merchandise, the 916 hat, which was promoted on social media by the Downtown Sacramento Partnership, Visit Sacramento and the City of Sacramento. What followed is a line of Sacramento-branded clothing and accessories and a store that opened in the Ice Blocks in February (though the coronavirus pandemic forced it to return to online-only commerce two weeks later).
"Your future is in your hands. Start today, make sure you do something you're passionate about, and find a way to make a positive impact in the world with whatever it may be. Don't be scared to start. A big business starts small."
In 2016, Silmi launched public relations agency The People's Firm, which counts as clients Sacramento Regional Transit District, Ice Blocks and Shake Shack (which opened in the Ice Blocks in June). Silmi oversees social media accounts and advertising campaigns for these companies, with an eye toward giving back, since Silmi asks each client to incorporate community givebacks (like toy, sock and food drives) as part of any marketing plan.
When California's stay-at-home order was issued in March, Silmi met with city leaders to see how TPOS could help. He encouraged his followers to tag local businesses on Instagram to drive traffic their way, and he helped launch community resource website UniteSac. The site features job listings; free Instagram Live classes; information about COVID-19 testing, child care, emergency loans and mental health; and links to donate to local organizations helping health care workers and people experiencing homelessness and food insecurity.
"Our main focus as a company is trying to help our city stay positive and support local business during these unprecedented times," Silmi says. "People have really come through to support. That's the beautiful thing about Sacramento."
–
Get all the profiles in our Young Professionals issue delivered to your inbox: Subscribe to the Comstock's newsletter today!