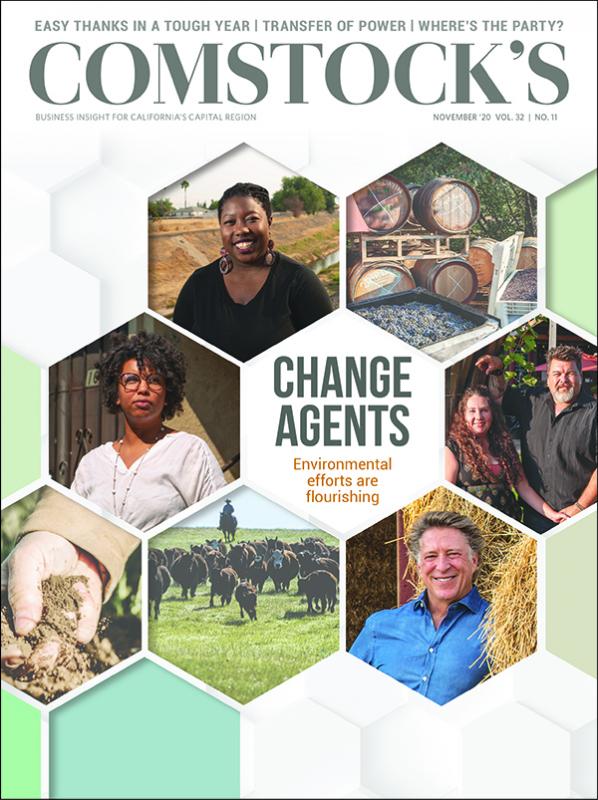 This story is part of our November 2020 issue. To subscribe, click here.
If there was ever a time to use the phrase "a perfect storm," this would be it.
Interest rates are at a historic low, fueling homebuyers to make fast decisions. And with the Capital Region's proximity to the Bay Area, there's been a surge in tech workers who were either laid off or required to work from home moving here with the resources to get much more square footage.
There also are a large number of Californians — more than 100,000 per year since 2015 — leaving for other states, with the housing crisis, the high cost of living and high taxes playing a part in their decision.
A large part of choosing where to live often involves considering the liveability of the area. Is the home near restaurants and bars? Can the kids walk to school or to the park? But COVID-19 has caused many people to reevaluate their living space and decide if it can also function as an office or home classroom. As a longtime real estate agent in the Capital Region, I have been seeing firsthand a growing interest in areas such as Nevada City, Auburn, Folsom, Roseville, Rocklin and Lincoln, with many citing a desire for a more suburban life.
While inventory has remained relatively low over the last three to four years, homes that are competitively priced are moving fast. It is important, now more than ever, to have an experienced real estate agent who is versed in negotiating multiple-offer situations, creating offers that will stand apart from the rest and having relationships within their community to make deals happen. Sellers need an agent who is current on market demands and how to list to drive multiple offers. Buyers need an agent who can give their clients the tools to be as prepared as possible when making an offer.
It is important, now more than ever, to have an experienced real estate agent who is versed in negotiating multiple-offer situations, creating offers that will stand apart from the rest and having relationships within their community to make deals happen.
If the past is any indication, and I believe it is, about two weeks after the presidential election, regardless of who wins, we are going to see a market shift. Interest rates, which have reached historic lows, will inevitably rise again, because nothing in real estate stays the same for too long. And inventory, which also has been very low, could increase too, especially if the unemployment rate continues to be high and more people lose their jobs and are forced to sell. These shifts, which typically are cyclical, can produce a great market for both buyers and sellers.
Whether you are buying or selling, it's important to put yourself in the best possible position when negotiating perhaps one of the biggest purchases or sales of your life. Here are 10 tips to help you through it.
1. Don't talk in front of the house. In our technologically driven world, many homeowners have home-security systems that record audio and visual activity in front of the property, so they can hear what you're saying.
2. Be educated. It's important to know the current market and choose a trusted agent who knows the market too.
3. Be informed. An agent's role is to make your offer the most appealing to the seller. Many times, price isn't the only incentive. Let your agent find out if a rent-back agreement or a furnished home, for example, are important elements for the seller, and adjust your offer as needed.
4. Write that letter. As a buyer, write a letter to associate yourself with the offer. Homes are personal, so it communicates sincerity and also gives the opportunity to provide reasons if the offer is not at list price.
5. Don't offend the seller. Make an offer that is respectful of what the market is and what the home deserves.
6. Don't ask too many questions. Asking a lot of questions of the listing agent before writing the offer can oftentimes give the impression that you'll be a difficult client during the escrow process, and that might play a role in the seller's decision of which offer to accept.
7. Have proper financing lined up. Find a trusted loan officer who can provide your preapproval letter and who has already indicated how much you can afford to pay.
8. Don't hire a relative or casual or part-time agent. Many people want to save cost on the commissions paid for selling their homes, but agents who are the best in the business are that for a reason. Hire an expert, someone who deals with transactions daily, markets accordingly, and instinctively knows when to push and negotiate the best deal possible. The $5,000-$10,000 a seller may try to save could be lost without these skills.
9. Know the competition. Lack of knowledge about where other buyers are coming from and what they can offer can affect your offer. Know who you're competing with so your offer is the most desirable one.
10. Give it your best shot. By the time you walk away from an offer, you should feel confident that you did everything you could to make it your best.
Real estate agents want sellers and buyers to be as informed as possible. While we are all trying to figure out what the new normal will look like, agents should be a resource for helping families find a home in which they will feel secure and comfortable.
–
Tim Collom, a residential real estate agent, has been helping people in the Sacramento area buy and sell homes for more than 20 years. He specializes in older, established neighborhoods.
Stay up to date on business in the Capital Region: Subscribe to the Comstock's newsletter today.