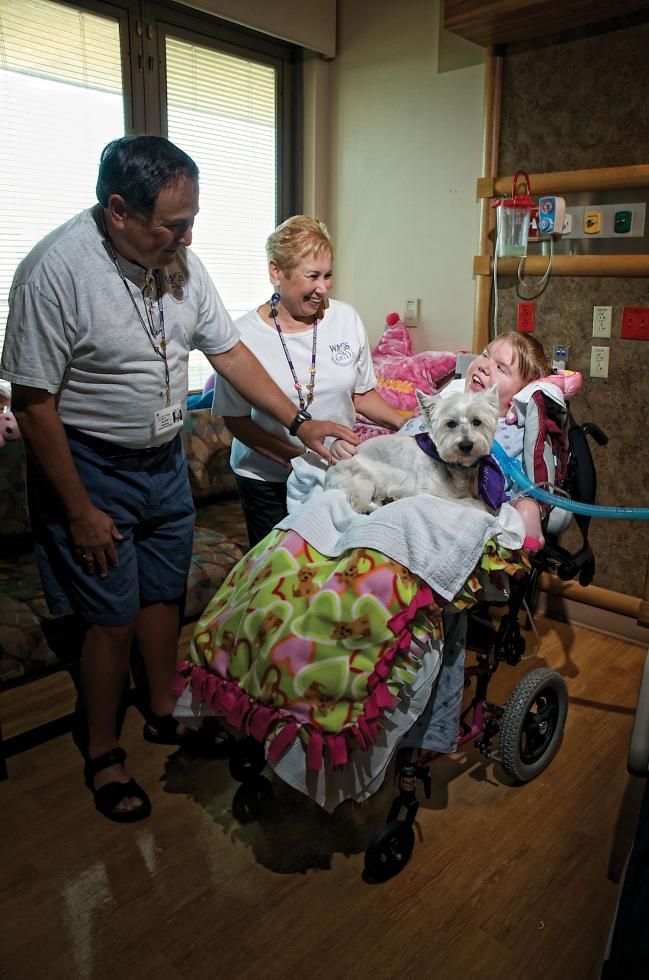 A growing senior population is changing the way society approaches life and death. "People are dying differently now," says Judy Citko, executive director of the Coalition for Compassionate Care. In the past, patients had to choose between giving up on treatment or forging ahead with sometimes drastic measures. In contrast to the traditional focus on treatment of individual episodes at any physical and financial cost, medical experts, patients and their families are demanding a new way of approaching their final months and years.
Cheryl Livingston was a perky mother of three, a wife and self-employed business owner. She budgeted her busy life carefully with the help of one-, five-, and 10-year business plans. She posted school and sporting events on the refrigerator so everyone knew what to expect. Taco Tuesdays with her husband got a special star. She managed her life like it was her job. Then she was diagnosed with ovarian cancer.
Livingston and her family approached the disease with the same can-do attitude that had worked before. They created new routines around recovery time from the hysterectomy, energy swings during chemotherapy, side effects of all the experimental drugs. As the doctor's to-try list shrank, the Livingstons had help managing the difficult transition from living well to dying well. Palliative care, an emerging discipline that wasn't available to Livingston's mother a few decades before, is helping thousands of people take control of their health, even while living with chronic illness.
"The current models aren't working," Citko says. "People are living longer with multiple chronic illnesses." She pointed to a landmark study in the early 1990s by the Robert Wood Johnson Foundation. The report found patients often died in uncontrolled pain and hooked to machines until just a few hours before death. Most did not have advance directives such as a living will. Even if a patient had an advance directive, it was often not followed.
That report marked the rise of a trend known as palliative care. It comes from the Latin word palliare or "to cloak." Unlike hospice care, which focuses on managing pain for the last few weeks of a terminal patient's life, the palliative approach to managing chronic illness allows patients to continue curative treatment based on desired quality of life. Hospice can still be part of the continuum of care, but palliative care teams work with patients to maximize quality of life for the months and years before they receive a six-months-to-live diagnosis.
Palliative care is taking root at hospitals across the country as a better way — emotionally and financially — to handle the growing number of people living with chronic illness.
Dr. Shelly Garone, medical director of Palliative Care at Kaiser Permanente in Sacramento, describes the Kaiser program as a web of care starting with records that follow the patient to each medical visit.
The team can include doctors, nurses, social workers, chaplains, massage therapists, pharmacists and nutritionists — anyone who can help to manage the physical and psychological pain associated with dying. At the center are the patient and the patient's family. By educating patients about their options and what to expect, nurses and doctors empower them to deal with chronic illness proactively at home when possible.
Garone, who started as a hospitalist, says, "By taking more time at each visit to treat the whole patient and include specialists, I hope to help people live well even if they are living sick."
Sister Clare Dalton, vice president of mission integration administration for Catholic Healthcare West, says the Sisters of Mercy have been treating the whole patient since they started in 1986. "We have always focused on alleviating suffering," Dalton says.
At Mercy General Hospital, clinical nurse Colleen Lowry coordinates palliative teams for up to 20 patients at a time on an in-patient basis. Those teams can include the usual medical experts, spiritual resources and harpists. Three harpists are on contract, and their musical choices are based on where the patient is in the cycle of accepting their diagnosis. "It can be very comforting and actually lowers blood pressure and pain," Lowry says.
At Sutter Auburn Faith Hospital, nurse Catherine Russell McGregor coordinates Palliative Care teams customized for chronic patients' individual needs. Her goal is to educate the patient with the information they need to make decisions about the benefits and burdens of treatment options.
Highly publicized cases such as Terri Schiavo's family battle over whether to continue her life-prolonging measures shine a light on the need for Physician Orders for Life-Sustaining Treatment. But most people don't want to think about penning their wishes. Garone calls advance directives "critical," particularly in California where the law is vague about who decides on medical treatment when you can't speak for yourself. "Otherwise it becomes a legal free-for-all," she says.
Garone counsels her patients that they are not carving their wishes in stone when they state what they are and aren't willing to live with at the end of life. "People change as they age, so the picture should not be a snapshot, it should be a running movie with a record of the patient's past and future desires," she says.
In the end, there are no right or wrong answers. Only the patient knows his or her personal threshold for what constitutes an acceptable quality of life. "I'm not the one wearing the gown," Garone says.
All involved in the growing palliative care delivery model emphasize that it is the right thing to do for patients. But this holistic approach also makes sense for hospitals from a pure numbers perspective.
Those 85 and older are the fastest-growing population. An estimated 40 percent of Americans end their lives frail. Leveraging all the resources of modern medicine to keep this population breathing is very expensive, and at least a quarter of all Medicare money is spent on people in the last year of life, mostly in the last month, according to the U.S. Department of Health & Human Services.
Henry Aaron, a health care economist at the Brookings Institution, points out the lose-lose result of the current model. "At a certain point, layering on additional care extends dying but does not really extend life," he said in an NPR interview.
Continuing on a course of aggressive treatment at all costs can actually hasten decline in some patients, says Sutter's McGregor. "If you don't know the options then patients say, 'Give me everything' without thinking about the physical consequences." Once the benefits and burdens have been explained to people, they often choose to die with dignity in their own home rather than unconscious and hooked up to a machine in the hospital or suffering from side effects of one more desperate surgery.
"When we allow patients the opportunity to make choices," Garone says, "they usually choose less expensive care."
Since they first began squirming in their bassinets in the late 1940s, baby boomers have created unprecedented demand for the industries that cater to their needs. The generation has moved from toys to blue jeans to cosmetic surgery. Now the oldest boomers are in their mid-60s and are purchasing life insurance and long-term care assistance.