Bold wines are big sellers these days, and to meet consumer demand, winemakers across California are pushing their wines to the max by replacing white varietal vineyards with reds and allowing fruit to stay on the vine a little longer. The result: corpulent California reds that consistently creep above 14 percent alcohol content, the quality and quantity threshold for many in the industry.
The trend has become somewhat controversial among winemakers, buyers and purveyors, many of who believe that high alcohol overpowers a wine's flavor nuances. The issue emerged locally in 2007 when Darrell Corti of Corti Bros. said he would oust wines in excess of 14.5 percent alcohol from his store because the high-alcohol content was affecting quality.
Corti and others in the 14-and-below camp maintain that food, not wine, should come first. Overripe wines, at some point, lose their subtlety and nonfruit aromas and flavors, the elements that make for great food and wine pairings. So, should the big, bad reds be banished?
"I like Oreos and milk. It's about the Oreos — you choose milk because it's the perfect complement. I don't like Oreos and heavy cream," says Jonathan Klonecke, wine director at L Wine Lounge. "I like a rich wine every once in a while; there is a time and a place … when I'm having braised beef. But when I'm not eating that, I need other wines that pair well."
Still, Klonecke and other wine lovers in the Capital Region maintain that, in many cases, California has done right to embrace its natural offerings and buck the winemaking instruction of Italian and French traditions.
The science of alcohol is simple. As grapes ripen, they accumulate sugar, which is converted to alcohol during fermentation. The hotter the temperature and the longer the fruit stays on the vine, the higher its sugar content and alcohol.
"The thing that kills me about this argument is that [Northern California's] seasons are longer, and they're hotter. That means more sugar. The quality now in California is better than it's ever been because we have broken away from those self-imposed restrictions brought over from the Old World," says winemaker Mark Henry of Montoliva Vineyard & Winery in Chicago Park. "I'm not in Italy! I grow my grapes in California. My grapes are going to get riper … which means they are going to be higher alcohol. I don't know how you produce good quality reds in California that are similar in alcohol to what is coming out of Burgundy. For us to deny that is to deny where we are and who we are."
Winemakers, for the most part, harvest their vineyards when the majority of grapes are at peak ripeness. Of course, some fruit will also be either under- or overripe, but for the most part it balances. Zinfandels however — which make up a large portion of California's big reds — are notorious for uneven ripening.
"They don't even try to grow [Zinfandels] in France. You can either embrace the fact that it's going to be moderately high in alcohol, or you can pick the grapes in stages — two or three times over the course of a harvest — but that is ridiculously expensive," Henry says. You can't cost-effectively get around the issue, so winemakers just wait to harvest until the majority of fruit is either ripe or super ripe, resulting in rich, jammy wines.
To make hitting the alcohol target even trickier, bottle labels are typically printed in advance of bottling, and it can be difficult to determine the final alcohol content of a wine before it's bottled, especially if it's going to spend some extra time in barrels.
"You can get your wine tested and then six months later bottle it, and in that period the percentage might have changed," Henry says. "It's not uncommon for the listed alcohol content to be off by a percentage point or more."
So, a wine labeled at 13 percent could be 11.5 percent or even 14.5 percent alcohol.
The government gives leeway for that margin of error, and that, in turn, has kept much of this conversation about alcohol content going.
Wine is taxed according to alcohol content. Bottles labeled 7 to 14 percent alcohol are taxed as a table wine; wine between 14 and 24 percent is considered a dessert wine and taxed at a higher rate.
But the tax rate is of little concern to California's big red makers, Klonecke says.
Big-flavored, full-fruit wines are popular, and they sell well.
"I get guests who want bigger wines, and I ask, 'Is it mouth presence, or do you just want something that kicks you in the pants?' Usually we can find a happy medium,'" says Paul Marsh, sommelier for The Firehouse Restaurant. "I've seen a major interest in the past six months by folks who love Merlot, want something bigger but don't want to go to a [Cabernet], or for someone who wants to try something different."
To those patrons, he often recommends Anthill Farms 2006 Russian River Syrah. At 14.5 percent alcohol, it offers a good dose of sugar and sun and complements a number of cuisine profiles, particularly duck and other game.
"Our rule of thumb is that cuisine comes first; wine comes second," Marsh says. "What I choose is based on whether it's the right fit for our cuisine."
And for Corti, Henry and Klonecke, too, it's all about balance.
"Why do we focus on alcohol? Because it's on the label," Henry says. "Nobody puts tannin … or acid levels on the label. Alcohol is an easy reference point. I have a 2007 Italian varietal that is 15 percent alcohol. Does it taste like 15 percent? I don't think so. It's got a lot of tannin; it's got a lot of fruit. … The alcohol doesn't show through so much. But if I had a 15 percent Pinot Grigio, I would be worried because it would taste hot and alcoholic and out of balance."
So maybe the conversation shouldn't be about high-alcohol wine at all; it should just be about wine. As Marsh says: "The only wrong answer to wine is that we're out."
---
Want to weigh in on high-alcohol wines? The Firehouse Restaurant sommelier Paul Marsh suggests you start with these. (pictured from left to right) 1. Wine: Masi Costasera 2006 Amarone; Alcohol: 15%; Pair with: filet mignon, lamb and dried fruits | 2. Wine: Casa Castillo 2007 Monastrell Jumilla; Alcohol: 14%; Pair with: braised rabbit and peppered steaks | 3. Wine: Modus Operandi 2006 Cabernet Sauvignon; Alcohol:15%; Pair with: game, lamb, nuts and dried fruits | 4. Wine: Anthill Farms 2006 Russian River Syrah; Alcohol: 14%; Pair with: duck and game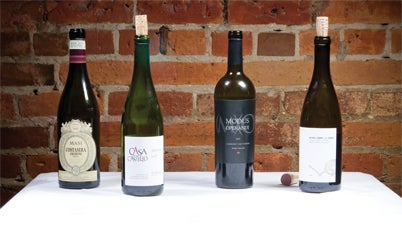 Just as winemakers won't put just any old juice in a barrel, they won't use any old barrel either. For one wine, it's French oak. For another, American. For yet another, Hungarian. In some cases the wine goes into a steel tank and never touches oak of any kind.
Imagine you're a successful businessman, but what you really want to be is a professional baseball player. You're so sure of yourself that you begin spending nights and weekends studying and training as if Major League Baseball will soon be calling. And then they actually do, and at your first at-bat, you clear the bases.
That's pretty much how things happened when Granite Bay pharmacist Dr. Grover Lee decided to become an award-winning winemaker.