The city of Lincoln has embraced an alternative mode of transportation — the neighborhood electric vehicle — and so has Sacramento Valley Golf Carts, the city's only sales and service center for golf carts and NEVs.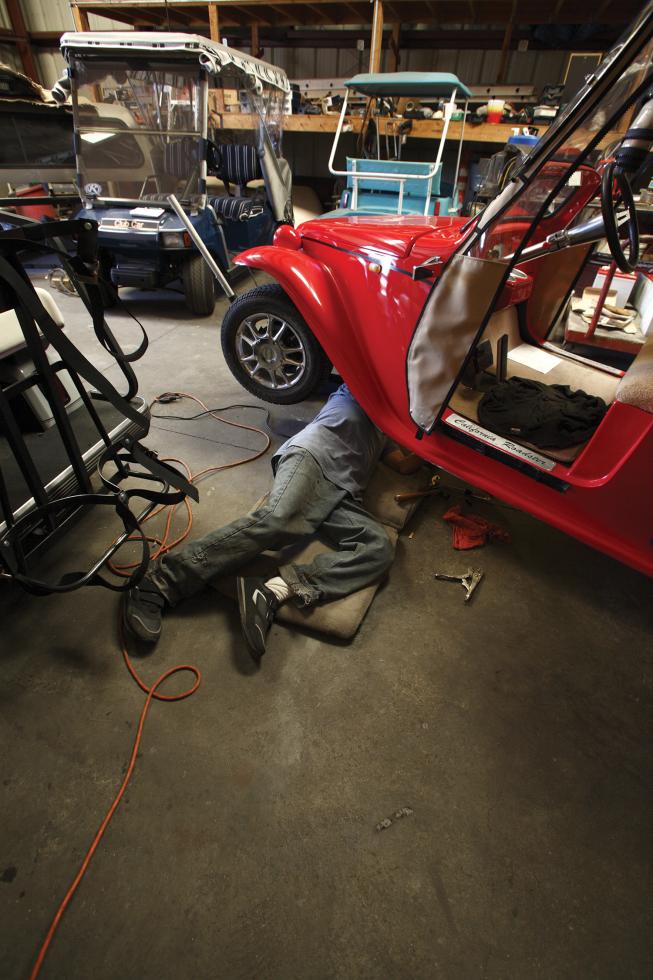 NEV sales at Sacramento Valley Golf Carts have jumped 50 percent in the past three years, and the city estimates there are now nearly 700 of them on Lincoln roads. They look a lot like golf carts, and in function they can be. But neighborhood electric vehicles are actually street-legal battery-powered cars that quietly entered the American auto market in the late 1990s.
There was little talk of the low-speed vehicles until 2001 when the California Air Resources Board directed seven automakers to produce between 4,450 and 15,450 electric cars starting in 2003. The industry bucked wildly but conceded with the production of the Chrysler Gem, Ford Think, GM EV1 and others.
Unlike golf carts, NEVs are required to have seat belts, headlights, brake lights, turn signals, mirrors and reflectors, and their drivers must be licensed and insured.
In addition, federal regulations only permit NEVs to travel on roads with posted speeds of 35 mph or less. With several high-speed streets and thousands of cart-happy retirees, the Sun City communities of Lincoln and Rocklin asked their respective cities to broaden the areas in which citizens could drive their NEVs.
In response, the cities expanded transportation plans to allow for more NEV use within city limits. In addition, there is now a Golf Cart Transportation Plan for Sun City Lincoln Hills. Businesses and developers within the city limits have also begun rethinking their storefronts and parking lots. Designated parking spaces, many with the necessary 110-volt charging stations, have begun popping up in downtown Lincoln in addition to popular stops like Lowe's, Starbucks, Target and Red Robin Gourmet Burgers.
Ninety-five percent of the business at Sacramento Valley Golf Carts is service and repair, says owner Joe Ferreira. "When I bought the business (in 2008) we decided that the business was going to go from a cart repair shop to an NEV repair shop," Ferreira says. "We were seeing two or three NEVs a month. Now, we see four or five a day."
The result has been a nearly 100 percent increase in service and repairs. Typically that just means replacing the battery, an NEV owner's biggest expense. At $1,000 to $2,500 a pop, the battery can cost 50 percent of the vehicle's price in some instances, and they need replacing every three years or so.
Ferreira's business seems the perfect complement to Lincoln's 2006 NEV Transportation Plan, which has expanded shared NEV/bike lanes on city streets and major thoroughfares (excluding Highway 65). The 8,500 homes in Sun City Lincoln are all connected to one another and to downtown via cart lanes, and they provide the bulk of Ferreira's customer base.
But Northern California retirement communities aren't setting a trend. They're part of a global NEV craze that's booming. Already there are nearly 480,000 NEVs on the world's roadways, and that number is expected to increase to 695,000 by 2017, according to Colorado-based Pike Research. North America will account for 45 percent of annual sales, but those totals could spike if China makes low-speed NEVs street legal.
Stateside, Chrysler Group Global Electric Motorcars LLC has sold more than 40,000 Gems since 1999 and owns the majority of the neighborhood electric vehicle market — about 70 percent. The Think, produced by Ford Motor Co. subsidiary Think Mobility experienced poor sales and a slew of recalls before being canceled in 2002. Likewise, General Motors Co.'s EV1 wound up being too expensive to build. It was available for a short while on a three-year lease with no option to buy or renew. It never went on the market for sale, and shortly after its introduction to the GM production line, a whole batch of them was crushed and scrapped.
"The Gem is really the only truly street-legal NEV out there. As far as other NEVs, people are mostly converting old golf carts," says Larry Collins, a salesman at Autowest Chrysler Jeep Dodge in Roseville, which sells the Gem. "Lincoln is rated as the No. 1 Gem city in America. Because of their limitations, they are primarily good for retirement communities. In 90 days, I've probably sold eight of them, mostly to county and city agencies, which is the second-biggest market; a couple were for state parks and a couple for security vehicles."
But if the Gem's globular body isn't your style and you're willing to pay more, Ferreira and his team can help you design a custom cart or NEV that meets your needs and style. It starts with an old golf cart frame and goes from there. Need an off-road package perfect for duck hunting? Got that. Cadillac Escalade-lookalike? Yep. Six-seat limo? You bet. From custom paint to sound systems and leather interiors, the options are nearly as vast as those found on a standard car lot.
Refurbished NEVs from Sacramento Valley Golf Cars start with prices under $4,000. "Most of what we sell are the JH Global Star cars, they're more into the $5,000 price range. I own a Club Car; they're also really good carts (in that price range)," Ferreira says.
But for customers on a bigger budget, a custom roadster is the most popular. It's a playful take on a classic, and the Sun City crowd loves it. "Most people who buy them are older and probably once had a roadster they can now reflect back to," Ferreira says.
Long before it was widely accepted, Sacramento attorney Mike Polis bought his first electric vehicle. He got started with a Toyota Prius, later upgraded to a Nissan Leaf and now drives a white Chevy Volt. On average, he saves more than $3,500 a year over his gas-powered counterparts, he can use the HOV lane as a single occupant and he charges his car for free at work.
Gary Morton has a dream and a car. If his dream comes true, like those of Henry Ford and Karl Benz before him, Morton will turn his prototype into a car company.
But Morton is not looking to build a big assembly plant or an extensive dealer network. His production will be limited to just one model that will offer baby boomers the nostalgia of the muscle cars they drove in their youth alongside their modern commitment to a pollution-free environment.