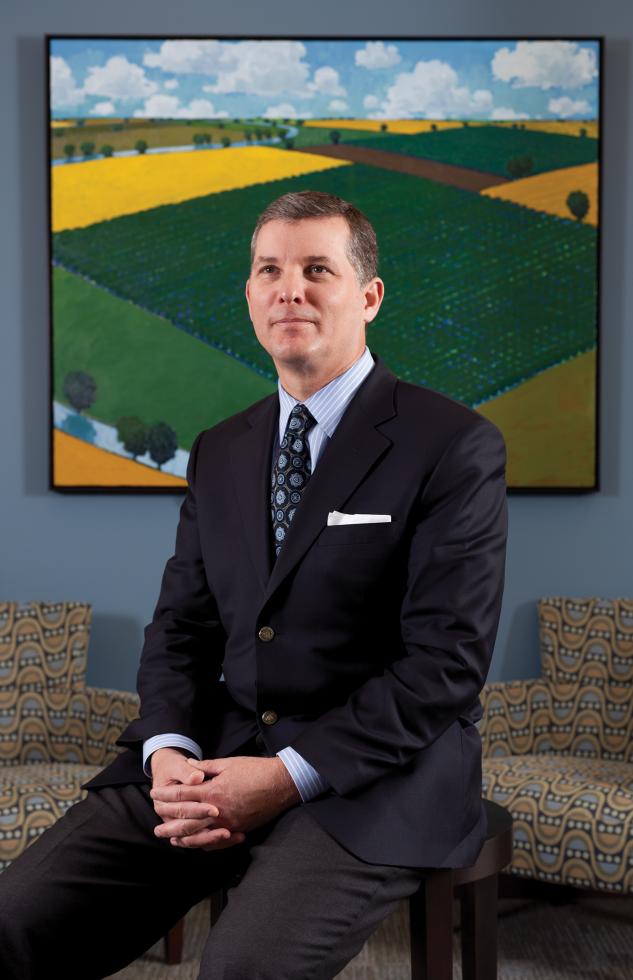 Some banks in the Capital Region are placing more emphasis on customer service and trust as they battle for quality clients in an ever-changing market. Top private banks are wooing clients with flashy new services such as iPad applications and mobile check deposits — technologies many smaller banks haven't yet obtained. But locally, community bankers say they are providing more consulting services than ever.
"In these times, customers will open up to us about anything and everything," says Amy Mathews, a vice president and corporate banking manager with Mechanics Bank in Roseville. Mathews says clients have asked her for recommendations for attorneys and even therapists. "You really do become important," she says.
Gene Marcucci Bell, a senior vice president and regional manager with California Bank and Trust, says CB&T's philosophy is relationship banking. The bank, which focuses primarily on small business, will typically identify a prospect and research the company and the industry. "We want to be their [banking] consultant," Bell says. "We may leave without talking about specific products, but think about what might help them in their business. We sell relationships and the expertise of our officers."
Bankers are in a position to facilitate networking, says Steve Fleming, president and CEO of River City Bank, which has quarterly meetings for CEOs of small- to medium-sized businesses. The meetings, which cover topics such as vendor relationships and working with boards, work in conjunction with the Alliance of Chief Executives, an exclusive organization for chief executives who run public and private companies in virtually every industry.
Similarly, CB&T has intimate networking lunches, and American River Bank showcases a "business of the week." Existing clients can sign up to put an exhibit in the bank's lobby. The initiative has proven so popular that there is now a waiting list.
At Central Valley Community Bank, business clients and their successes are profiled in marketing materials such as newsletters. "In addition, we host VIP lunches and other customer gatherings, which we have found to be excellent opportunities for our clients to meet each other in a social atmosphere and potentially find things of mutual benefit to discuss," says Dan Doyle, the bank's president and CEO.
In addition to connecting their customers to other professionals, bankers at many community and regional banks also advise business customers on products that may help their cash flow. These products include remote deposit capture, Internet banking and sweep accounts. "We can also tailor and help develop specific products depending on need," says Five Star Bank CEO James Beckwith.
"We see one of our roles as being an advocate for our clients and their success," Doyle says. "That means looking for ways to help them save money, make money and control their money." Central Valley Community Bank provides cash management services and offers insurance and investments that aren't insured by the Federal Deposit Insurance Corp.
Bankers say it's essential to understand businesses before offering them advice on products. For example, American River Bank President David Taber cites a business that was against debt and using cash to buy equipment. Business Banking Senior Vice President Don Sager advised business officials that this was putting strain on its capital and that the company could take on some longer-term debt. "You need to be able to evaluate trends and read statements to give advice like that," Taber says. "Often a line of credit helps a business with growth or seasonality."
Bell says CB&T can help monitor a company's financial situation. If the bank sees a customer with overdrafts on a regular basis, it will talk to them. "We'll look at the cycle and see what isn't working for them, and we'll tell them how to tweak things to manage their cash flow," Bell says.
These banks also provide Small Business Administration loans to business customers. River City Bank has been providing SBA 504 loans for years to finance customers' acquisitions of owner-occupied real estate, and it started offering SBA 7(a) loans about a year ago to finance acquisitions and recapitalizations of businesses as well as financing for equipment purchases. CB&T has SBA specialists, and, according to Bell, these loans are booming. Mechanics Bank, Golden Pacific Bancorp, American River Bank, Community Business Bank, Five Star Bank, Central Valley Community Bank, Exchange Bank and other local banks participate in the SBA's 7(a) and 504 loan programs.
Some of these institutions also offer other types of loans, too. Central Valley Community Bank participates in a state program similar to the federal SBA, U.S. Department of Agriculture guarantees and Farmer Mac, among others. American River Bank participates in the California Capital Access program, which encourages financial institutions to make loans to small businesses that fall just outside of many banks' traditional underwriting standards, and Golden Pacific offers loans through USDA and state-â?¨sponsored programs.
"Banks are in a unique position to know about these programs and educate people about and sponsor some of these programs," says Kirk Dowdell, chief executive of Golden Pacific.
Sometimes bankers refer clients to other lenders if the loan doesn't meet the bank's underwriting standards. Fleming says River City Bank recently referred a business to an asset-based lender that was happy with the accounts receivable as collateral even though the company had been sustaining operating losses. "If we can't satisfy a need, we want to try to help them where we can," he says.
Bell says that if CB&T can't make a loan, her employees will either connect a client to someone who can help or walk the customer through as the necessary steps to become eligible for a future loan. "When we think of banks, we generally think of lending, but many of our clients have other needs, such as cash management or wealth management expertise," she says. "Our specialist partners and our bankers together meet regularly with clients to provide expert advice in many areas."
---
"Whether asked about lawyers or accountants or people with particular expertise, we can connect customers with people who can help them."
— James Beckwith, CEO, Five Star Bank
---

John DiMichele, president and CEO at Community Business Bank, says the bank may put customers in touch with another lender if they don't qualify for a loan. The bank might also be able to help someone qualify with a different structure of loan. A client might be able to get an SBA or CalCAP loan instead of a line of credit, or restructuring the payments of a loan might be the answer. "We can determine the best solution for a customer," DiMichele says. "If it works for both parties, there is a higher chance of success."
Bankers say they sometimes refer clients to other lenders if the bank can't help them with a particular type of loan. For example, Golden Pacific doesn't provide trade financing for companies doing business internationally, but it does work with correspondent banks that do.
Sometimes banks may suggest that a particular client work with a different financial institution. "We're not an expert on everything, and we don't try to be," Mathews says. For instance, she might advise that a technology company do business with a bank in Silicon Valley. River City's Fleming adds: "I strongly believe you can't do an effective job of building trust with your client base unless you can acknowledge that another provider might be better at certain things."
Some of these banks have added new products and services to meet clients' needs. Although Five Star Bank is predominantly a business bank, it recently formed a mortgage division to help people buy homes. Other banks are also planning to add services. "We don't have a legacy, so we're able to put a platform together," says Golden Pacific's Dowdell. "We expect to have an insurance subsidiary and wealth management team going forward."
Bankers at community and regional banks say they lag behind many private banks and larger financial institutions when it comes to the latest technology, such as iPad applications. "We are looking at those things," Bell says. "We're not yet ahead of the curve but would like to be." However, she adds, CB&T is focused on having the latest technology related to security for many of its products such as online banking.
Clients say customer service is their main reason for choosing and staying with the banks. Suzie Goetz, director of marketing with Pacific Erectors, says the company had been with larger banks before switching to Mechanics Bank about 10 years ago. "It's more of a personal relationship," says Goetz of the bank and Mathews. "I can call her at any time."
Goetz adds that Mathews knows her business and is honest. "If she doesn't have an answer, she will research it and get back to me," she says. "She's accessible, knowledgeable and professional. The relationship with Amy has kept us there."
Lori Logan moved from Bank of the West to Mechanics Bank in 2003 after a friend told her Mechanics had great customer service. "It was true," says Logan, an agent with Keller Williams Realty. "I have never experienced such great service. It's the group of people who make the difference."
Although Logan doesn't live near the bank, she later moved her personal accounts over to Mechanics. "When real estate started to tank, it got tight and they worked with me," Logan says. The bank worked with Logan for several months to ensure she didn't incur fees and that she had the right accounts for her business.
Some business customers at CB&T say they also feel their bankers provide a high level of service. "CB&T always listens to what we need and tries to find solutions to problems at hand," says Bill Pace, senior vice president and CFO for Eskaton.
Jim Reego, president of La-Z-Boy Furniture Galleries in Sacramento, Chico and Redding, describes Susheel Kumar, his banker at CB&T, as "a valued adviser on a variety of finance and business matters."
Bankers at community banks say this emphasis on service is what makes them more like private bankers. "We're looking for long-term relationships," Bell says. "Private bankers do this: add value through an individual approach." Bell says that there is not much difference between private banking and community banking. "We're striving to serve the client and have very highly competent individuals understanding and meeting client needs," she says.
Other individuals point out that there are differences between what they do and what private bankers do. In general, private bankers focus on high net worth individuals and their families. "There is definitely some overlap, but community banks tend to work with a wider range of clients, particularly mid-sized businesses," Fleming says. "We have more of a commercial focus than a private bank."
Some banking executives emphasize that they are bankers, not consultants. "You do have to draw the line somewhere," Beckwith says. "We don't want to be too overarching, but we do want to be helpful and supportive."
Community Business Bank works primarily with small businesses and nonprofits. DiMichele says his bank is careful about the amount of information it provides. "We're not attorneys or CPAs," he says. "We're not a consultant to their business, but we do offer recommendations. It's a fine line."
---
On a hot, sunny morning last fall, 69-year-old retiree Pamela Chappell of Citrus Heights hit rock bottom. She was scraping by on Social Security checks and a tiny pension while paying for medication to treat her lymphedema, a painful swelling in her legs. Then she got a letter from the IRS warning her that it was about to empty her savings account of $8,000 — every dollar she had — for back taxes.
Having just begun using social media in 2012, Safe Credit Union is relatively new to content marketing. But it hasn't taken long for the company to discover the benefits of engaging online with its customers and potential consumers.