When Christy Hayes arrived in Woodland in 2004, the former U.S. Air Force heavy diesel mechanic was fresh out of active duty. She found a job as a hostess at an iconic downtown eatery, Morrison's Upstairs. She worked her way up to bartender and then bar manager. But Hayes never expected she would one day see the building house her own restaurant.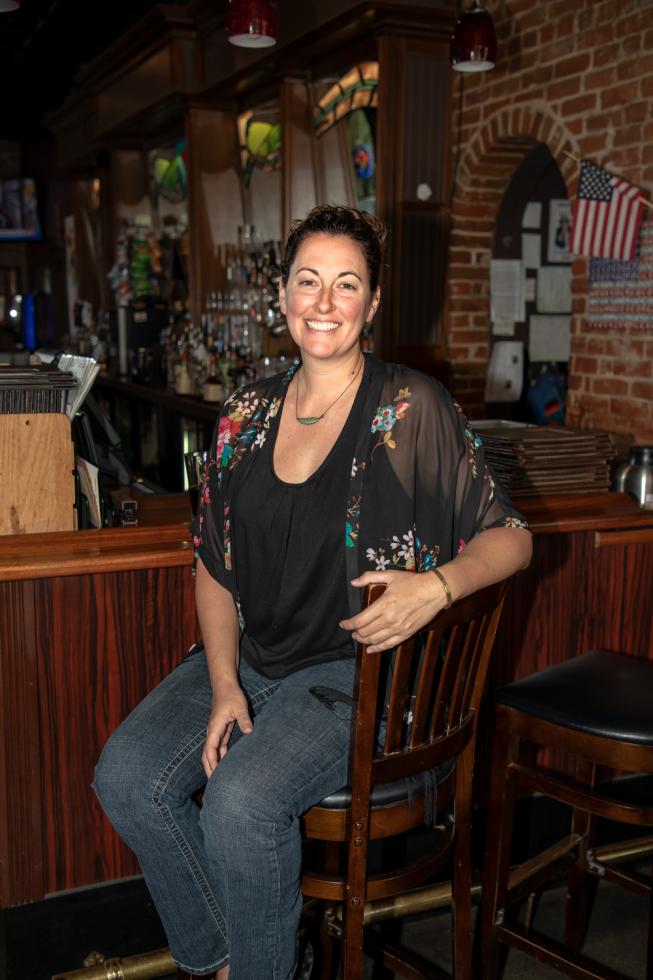 With only a Jeep Wrangler to her name, in 2012 Hayes opened Kitchen428 Restaurant and Mojo's Lounge in Woodland (known as Mojo's-Kitchen428 by locals). The reimagined historic building with two dining areas offers a relaxed atmosphere and seasonal, American fare. It's also part of a larger effort to bring life to a downtown hit hard by the Great Recession.
It was not an easy task. Initially, an investor familiar with Hayes' work at Morrison's Upstairs pitched her the idea of converting the then-closed site at the historic Jackson Building into a new restaurant, with her vision and expertise at the forefront. Hayes, who was living and working in Sacramento at the time, fell in love with the idea and crafted a business plan to bring the trendiness of Sacramento's Midtown and farm-fresh dining to Woodland.
The investor got cold feet. The owners of the building had liked what they saw in Hayes — her military background, experience in the industry and go-getter attitude. Hayes felt passionate her business plan would work and she wanted to see it through. In a twist of fate, the building's owners loaned Hayes money and helped her secure a small business loan. They also renovated the 1891 building inside and out.
"You've got to have a lot of patience and a good vision," says Mark Ullrich, a general partner with the Jackson Investment Group, which owns the building. "It's been a great partnership and collaboration to make her business successful."
After just one year in business, the Woodland Chamber of Commerce selected the restaurant as its business of the year, describing Hayes as an asset to the community who "provides solutions and ideas to make the downtown area a better experience" so that "it will be a destination." In the six years since Mojo's-Kitchen428 opened downtown, several other restaurants have followed, including the Burger Saloon, Morgan's on Main and Father Paddy's. Hayes's business has also been recognized by the state Assembly as small business of the year for the 4th District.
"I was seeing all the bars and restaurants open in Sacramento and seeing the switch in people's eating habits. I wanted to bring that experience to Woodland."Christy Hayes, owner, Kitchen428 and Mojo's Lounge
Located at the corner of Bush and First streets, the building feels like it belongs in New Orleans, with a wrap-around balcony. Inside Mojo's Lounge, customers can sit at the long, old bar where Woodlanders had sat for decades when it was Morrison's Upstairs. There is a laid-back feel with exposed brick walls and a chalkboard menu advertising the happy hour specials of the day.
With the dining room of Kitchen428, adjoining Mojo's, Hayes tapped into her talent for upcycling. Old painted window frames hang from the brick walls, and donated shutters suspended from an open ceiling are an inspiration from Sacramento's Ella Dining Room and Bar. The hostess stand was built of wood from a county burn pile and the busing station is a cabinet picked up from a thrift store.
"I was seeing all the bars and restaurants open and seeing the switch in people's eating habits," Hayes says of her time in Sacramento where she saw chain restaurants fail and farm-to-fork establishments thrive. "I wanted to bring that experience to Woodland."
Part of the experience, she says, is encouraging people to get out of their cars and walk or bike to downtown. She offers a 10-percent discount to diners who bike to her restaurant, where a bike hangs for sale from the ceiling in the bar lounge and old, classic bikes have been turned into planters on the dog-friendly patio.
When Stephanie Carlstrom first moved to Woodland four years ago, she and her friends often drove to Sacramento or Davis for a good meal out. Now, she's a loyal customer of Mojo's-Kitchen428, where she enjoys her favorite black bean burger or spicy tater tots appetizer. "We've seen a big shift just in the time since we've been here," Carlstrom says of downtown.
Woodland Assistant City Manager Ken Hiatt estimates roughly 20 new businesses have opened downtown since 2010. It's part of a larger push by Woodland, a community of 60,000, to jumpstart its economy and strengthen its business base in hopes of weathering future recessions. City officials have relaxed regulations and reduced fees in an attempt to bolster new businesses. In 2017, the City issued 700 new business licenses, says Councilman Angel Barajas, who remembers how Woodland struggled just a decade ago.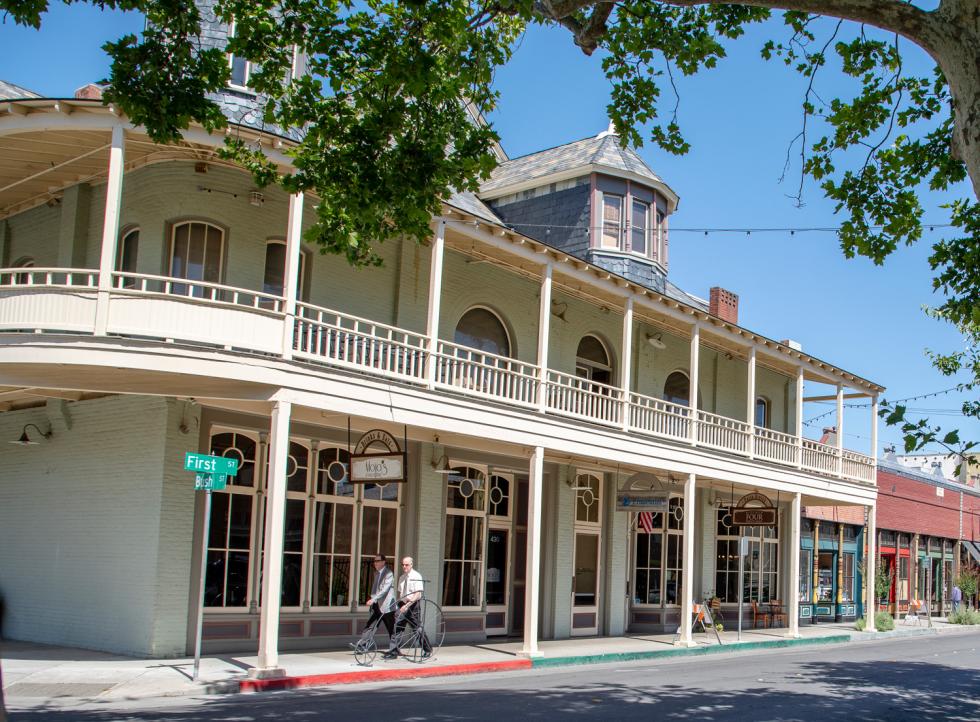 "It was a ghost town. Everybody was leaving Woodland to go to Davis, Sacramento, Roseville," Barajas says. "What we're seeing now is Woodlanders are staying in Woodland, and we're seeing an explosion of economic revenue being generated in our downtown area."
"We're listening to business owners and giving incentives for redevelopment and infill in our downtown area," he adds.
In an effort to work with business owners, the City routinely shuts down streets and provides law enforcement for the growing number of events now held downtown, which bring in customers to its storefronts and restaurants. The approach, business leaders say, has helped make Woodland's comeback from a very quiet town to one with a new energy and vibrant downtown.
"I give a lot of credit to the City [for] taking a different approach to creating the atmosphere downtown," says Ullrich, one of Mojo's-Kitchen428 investors, who also serves as president of the Woodland Chamber of Commerce. "There are a lot of different players coming into this success story."
The results have paid off. Ten years ago, each downtown block had just a few struggling storefronts. Today, shoppers and diners wander the streets, checking out a variety of new restaurants from Afghan to Japanese, a clothing store, home goods store and antique stores — storefronts that didn't exist even before the recession.
Beyond opening Mojo's-Kitchen428, city and business leaders say Hayes has been a driving force behind this reenergized downtown. She organizes the weekly food truck mania that comes to downtown every Sunday, the classic car show on summer nights and other events that have brought thousands of city residents and out-of-town visitors to downtown.
Hayes has also opened up her business to nonprofit groups to raise money with events like Cocktail for a Cause, Celebrity Bartending Nights, and Dine and Donate for Local Schools. And she hosted a pre-Fourth of July Street Bash outside her restaurants to help raise money for the Fire Department's Community Flag Pole Project. Paintings and photographs by local artists grace the restaurant walls for the Yolo Arts First Friday Art Walk event.
For Hayes, being an entrepreneur in the restaurant business has brought with it the challenge of non-stop days, with few dull moments. But now with six years of business ownership under her belt, she feels well-equipped to deal with the constant demands.
"You're always dealing with day-to-day crisis management, from small to big issues," Hayes says. "Through time and experience and dealing with different situations, not a whole lot surprises me."