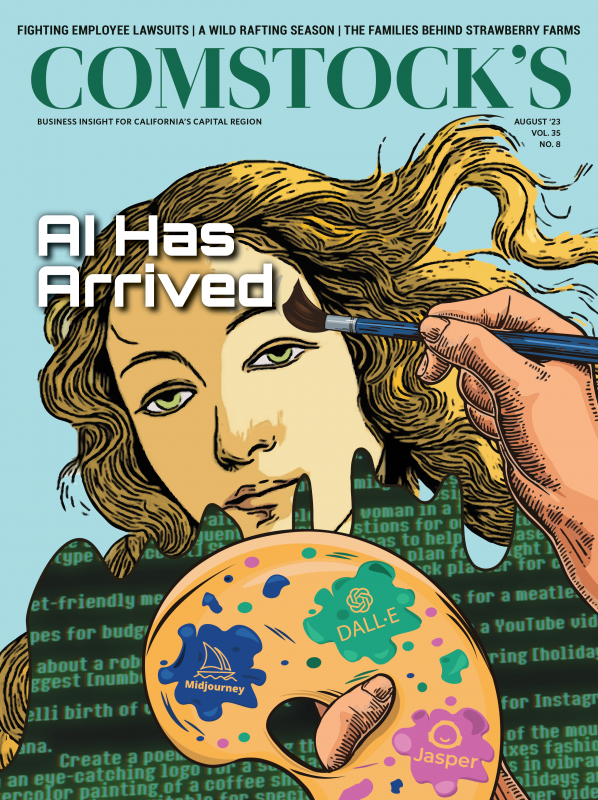 This story is part of our August 2023 print issue. To subscribe, click here.
After 16 years in the same office space, and just six months before our lease came up for renewal, my senior VP turned to me and said, "Now that the pandemic is behind us, what do you think about moving to a new office?" My initial reaction was to take a long, deep breath (I knew how much work would be involved), but once I exhaled, I said, "That sounds like a great idea!"
As a 501c6 trade association, our mission is to provide peace of mind to employers by providing HR advice, training and resources to stay in compliance with California's ever-changing employment and labor laws. Prior to the COVID-19 pandemic, about half of our team had been working remotely all across the state, while the rest of us worked a more traditional 8-to-5 office schedule. Since the pandemic, however, the majority of our home office team, located in Sacramento, has been working a hybrid schedule (two days a week in the office, the remaining days remote).
According to Gallup, 90 percent of U.S. employees who can work remotely don't want to return to the office five days a week. Gallup also says that hybrid work improves a company's culture. All of this meant that on several days each week our main office resembled a ghost town — we were paying for square footage that was no longer needed.
Before we started shopping for new office space, we took some time to sit down and rethink our needs, desires and intentions for a new location. Our top priority was to keep our company culture intact. We also wanted a new space that allowed for more human connection, fewer silos and integrated more technology, like a Zoom Room. We knew we needed to downsize, but at the same time we wanted to upgrade our surroundings and adopt a contemporary coworking office style. We weren't sure that we still needed dedicated offices and found ourselves discussing the pros and cons of office hoteling (a reservation-based space-sharing system) versus hot-desking (more of a free-for-all).
Next, we established a relocation committee, hired a space designer and created a project plan to ensure that on the day of the "Big Move," there was minimal downtime for all of the employers who call us daily for HR advice. Although the job of packing, hiring movers and unpacking was physically exhausting, it went smoothly and quickly due to our preparation. What really surprised me was the amount of mental energy it took during the first few weeks to let go of some old work habits and embrace a new way of working.
For example, in our new office, when I prepare to leave for the day, I am no longer able to leave my paperwork spread out all over the desk because someone else may be working at that desk the next day. Instead, I've found that I need to be much more intentional about how and where I work, in order to be more productive. I now check my calendar at the end of each day to see what tomorrow has in store for me. If I have a lot of Zoom calls or work that will require me to hunker down, I might as well work from my home office. However, when department or one-on-one meetings are scheduled, I want to engage and connect with others, so those are good days to be in the office. And with only one private office on site now, I've learned that confidential discussions are best left to those days when I work from home!
Since our move, I can now see that our prior office was outdated and inefficient. Our new space is clean, contemporary and professional, and it reflects who we are as a company. One staff member said, "I can't wait to bring my family here. I am so proud of our new office!" That was music to my ears. And the fact that we have reduced our monthly rent expense is music to my board's ears. Our new postal address is only three miles away from our previous location, but it feels like we're in a whole new world, and that's exciting for all of us!
Kim's Tips for Reimagining Your Workspace
Identify your key goals. Are you trying to get employees back in the workplace, or do you need to reduce your footprint? Do you want to create a whole new feel and look in your current space or move to a new location?
Gain buy-in from your employees. Ask them what they do and don't like about your current workspace. If you are allowing remote work, ask employees to identify the pros and cons of working remotely versus working in the office. Create an office environment that brings in the elements they love about working from home — without the stressors.
Be intentional about the image you want to convey. Do you need to impress external customers, or are your employees the only people who ever come into the office? Do you want the look and feel to be warm and welcoming, or minimalistic and streamlined? The colors, furniture and decorating style you choose will speak volumes.
Hire a space designer. One Workplace Sacramento made things so much easier by creating a computer-aided design for us.
Determine your budget. If your goal is to save money, downsizing to a smaller space will show you some immediate results. Signing a five-year lease versus a three-year may also help you negotiate additional months of free rent. Keep in mind that if you are imagining a whole new look, office furniture can get expensive.
If you decide to move to a new location, use a broker. Our commercial real estate broker, John Roth, saved us a ton of time by checking out several locations in advance and then showing us the top five. He also reduced our stress and saved us money by handling the negotiation process.
Embrace the change. Once you've pulled the trigger, have fun with the process. Get everyone involved and show one another grace and patience as everyone adjusts to their new surroundings. Old habits die hard, but new habits can be created in just 21 days! Enjoy!
With over 25 years of experience in human resources and operations, Kim (Parker) Gusman is the president and CEO of the California Employers Association. CEA provides employers with "Peace of Mind" through training, recruiting and HR compliance solutions.
Stay up to date on business in the Capital Region: Subscribe to the Comstock's newsletter today.