The rise of elite youth sports and the popularity of year-round athletics have created an emerging market for participant and spectator spending in south Placer County, which has positioned itself as a major sports destination. Now, two separate entities are looking to capitalize on the region's sports market with large-scale venues that could turn a profit in as few as three years.
Placer County consistently draws large and lucrative title events in youth, amateur and professional sports. It's hosted 11 Amateur Softball Association national fast-pitch tournaments, NCAA golf tournaments and LPGA Tour events in recent years. In 2013 alone, Placer hosted more than 300 sporting events from swimming championships and soccer tournaments to BMX finals.
Advantageous demographics combined with a relative shortage of large-scale sports centers present an opportunity for the region to increase its capacity for sports tourism, which last year generated $11.5 million for the county. Placer Valley Tourism and Placer United Soccer Club are both proposing premier multi-field sports complexes in Roseville and Lincoln. They'll spend a combined $70 million to increase tournament field space in their communities in a move to attract more sporting events that would potentially drive sports tourism dollars to the region.
"We wanted to capitalize on what we were already doing well, so we intensified our focus to capture more of the sports tourism dollars available for our area," says PVT CEO David Attaway.
THE PLAYERS IN PLACER
The initiative to sell south Placer as an ideal sports destination dates back to 2005 and the creation of the Alliance for Sports Tourism and Recreation, a local stakeholder group. The team took three trips to explore how successful sports parks were built in other cities and then made recommendations to PVT on how to emulate those models at home. A feasibility study by Ripken Designs analyzed the economic impact, needs and viability of growing Placer County into a top-ranked sports destination.
Finalized in February 2011, the Ripken study determined that a new sports complex could generate between $8 million and $13 million annually and indirectly create up to 120 jobs. Ripken identified Fiddyment Farms in west Roseville as an ideal location for twelve fully lit, synthetic, multi-use fields that could host events year round.
The city of Roseville also conducted its own internal needs assessment and demand study on the viability of a complex. A request for proposal was issued last July, and the city reviewed three submissions before ultimately awarding the project to Placer Valley Tourism in February of this year.
But PVT isn't the only organization looking to capitalize on field expansion opportunities. Placer United, a competitive soccer club based in Rocklin, has entered into a partnership with Richland Communities Inc. and the city of Lincoln to design and build its own $40 million sports complex on a 60-acre parcel near Highway 65 west of Lincoln.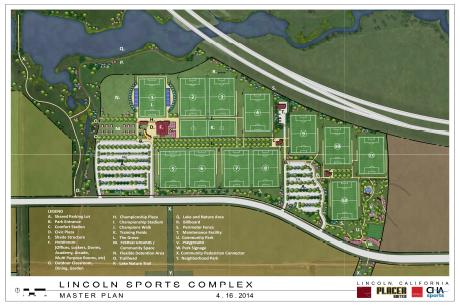 BREAKING, AND BUYING, GROUND
"Each proposal submitted had its own strengths and weaknesses," says Dominick Casey, director of Roseville Parks, Recreation and Libraries. "We selected Placer Valley Tourism for the project because they were able to demonstrate a real understanding of the scope and economic value of the complex while meeting our financial objectives."
According to Casey, the finance plan submitted by PVT limited the long-term obligations of the city. PVT also demonstrated that it could generate sufficient revenue to operate and maintain a sports facility with limited, short-term assistance from the city.
"The other proposals were looking for a substantial subsidy from the city, and that was not part of our plan," Casey says. Based on his assessment, it would have taken the city another decade to pull together enough in development fees to operate a facility on its own. "With our unique partnership with PVT and the hotel assessments, we can build a better facility faster," Casey says.
PVT is moving forward with a $30 million, 12-field complex in west Roseville. The facilities are anticipated to generate about $13 million in revenue annually, a third of which would come from 24,000 to 26,000 incremental room nights. The rest would be generated from meals out, shopping, travel and entertainment. Attaway says the estimate may be a bit low, as the numbers don't factor in the impact of people who don't stay in hotels.
Construction of the facility would be mostly funded by development fees and an increase in the hotel assessments in place for Roseville, Rocklin and Lincoln. As part of the agreement, the city of Roseville is negotiating a low-dollar land lease with PVT, which will act as a tenant. The complex is projected to be online by mid-2016 or early 2017, and Attaway expects to start making money on hotel stays the first year and reach maturity, roughly 25,000 annual room nights, within three.
Placer United's goal is to break ground in late 2015 or early 2016 and have the first four fields up and running by fall of 2016.
KEEPIN' IT GRASSY
Both complexes will be used for park and recreation space.
With the neighborhood park system at capacity, Roseville is now obligated to build a new facility that will offer park amenities and recreational space. Following the review, the city determined that a multi-field sports complex with trail connectivity and play areas was the optimal choice.
Back in Lincoln, Richland Communities is creating a long-term development proposal for the area just west of the city limits that would accommodate other park facilities and open space into Placer United's envisioned complex. As part of its development agreement with the city, Richland must dedicate acreage to community parks, and it views the sports complex as a high-end amenity that meets a need.
"We see this facility becoming a real centerpiece for Lincoln, and we are confident that it will have a hugely positive economic development impact," says Richland Vice President Clifton Taylor. The facility would be jointly owned and operated by the city of Lincoln and Placer United. Based on estimates, the facility is likely to turn a profit within the first five years.
MULTIFARIOUS FIELDS
PVT is also in talks with the city of Rocklin to add five baseball and softball fields to the existing Whitney Park complex, bringing the total number of fields to nine. "It makes more economic sense to add on to an existing facility if possible," Attaway says. "The infrastructure is already there, it includes amenities that people like to see at a new facility and it meets the need of being tournament quality."
According to Rick Forstall, director of public services for the city of Rocklin, the concept is still under review, but the city is supportive of the project and PVT's efforts.
"In our area, existing complexes are dominated by soccer entities, not leaving much room for growing sports like rugby and lacrosse," Attaway says. "New fields will open opportunities for other sports to expand, along with continued growth in soccer."
Over in Lincoln, however, soccer remains the focal point. Four of the fields in the Placer United facility will be owned by the club and designed specifically for the club's soccer needs.
"All the truly elite youth soccer clubs have their own facilities," says Jeff Flint, Placer United's board chair. "With a sports complex like the one we are envisioning, we can satisfy our own training needs, grow our club and raise revenue from tournaments and other clubs renting it. All that profit would go directly back into our programs."
Placer United's proposed facility includes a total of 12 soccer fields with either artificial turf or Bermuda grass, three outdoor futsal courts, two training areas and a field house with offices, locker rooms, community rooms, weight training, concessions and maintenance facilities.
While the two Placer County complexes will only be six miles apart, Flint believes the market can support both sites with little overlap.
"We desperately need quality, tournament-level facilities in south Placer County to draw the best teams and talent," he says. "Our research and experience have shown that the market can support 24 multi-use fields. Instead of having to spread out across multiple cities and various fields for tournaments, we could host some of our biggest tournaments at one or two sites, creating an ideal experience for players and their families."
---
Roseville may be contemplating — again — plans to build a long-coveted conference center. The city has for years touted the benefits of a civic center, but such projects are notorious for their inability to bring in hefty, consistent revenue, and plenty of people are wondering if the right time for such a gamble is now.
A 12-year mission to bring higher education to Placer County, spearheaded by local land baron Angelo Tsakopoulos, has gone global.