Kevin Rooney
Chief deputy district attorney, San Joaquin County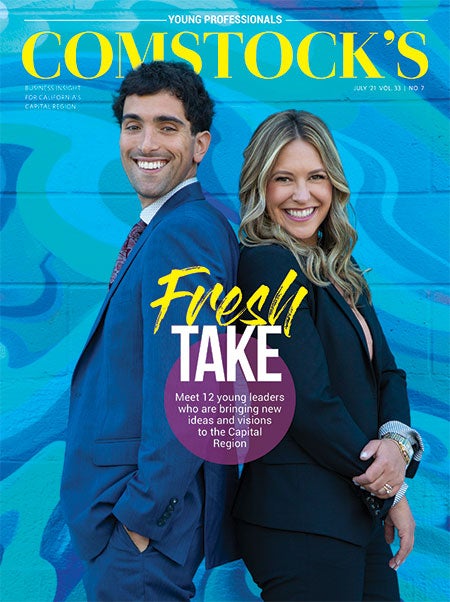 This story is part of our July 2021 Young Professionals issue. To subscribe, click here.
A two-word motto, which is more like a mantra, guides the career and personal code of Stockton-born attorney Kevin Rooney: "Do justice." Rooney is the chief deputy district attorney who supervises San Joaquin County's Mainline Prosecution Division as well as supervising and mentoring the attorneys and support staff of the county's General Felony and Misdemeanor Trial Units.
"You can lengthen that to 'Do the right thing' and 'Fight for the right,' but when it comes down to it, what this office is all about is playing fair," he says. "It doesn't mean locking everybody up. But it does mean strive to keep everyone safe — and everyone means not only the general public, but (also) the police, witnesses to crimes and victims' families."
Rooney, 39, has been with the DA's office for nearly eight years and became chief deputy DA this year. He spent three years in Manhattan as a prosecutor for the New York County District Attorney's Office — a plum job that he landed due to a fiscal disaster in his hometown. In 2012, Stockton was the largest city in the United States to ever file for bankruptcy, a byproduct of the Great Recession. Stockton was able to exit Chapter 9 bankruptcy in 2015.
"Find that place in you where your greatest passions and your greatest talents intersect. Then, no matter what you do, it will never feel like work."
"It meant that there were no government jobs available, including working for the San Joaquin County DA's office," he says. "Ironically, at the time it was easier for me to get a great job in Manhattan than in Stockton."
Rooney's office has an expansive sphere of influence: the cities or towns of Stockton, Lodi, Manteca, Tracy, Lathrop, French Camp, Ripon, Escalon, Linden, Acampo, Lockeford and Woodbridge. But the place with the biggest crime problem, and Rooney's greatest focus is the county seat: Stockton.
When the city became the scene of a crime spree on its signature artery, Charter Way, in June 2015, "We got an awful lot of attention in the news media, both here in the Stockton Record and in Sacramento," he says. "For the sake of the victims and the witnesses, I was glad we received all that coverage, because it helped keep them safe by putting a spotlight on them (if they were threatened) and allowed us to deal with the problems and provide some perspective to readers and viewers.
"These days," he continues, "the press doesn't pay as much attention to us, and that's really all right. There's still a lot of reporting when major crimes occur, but our murder rate in 2021 dropped significantly. In fact, in the first quarter of 2021, it dropped below our historic averages." For comparison, in 2020, Stockton ranked as California's most dangerous city and the 10th most dangerous in the nation: Its violent-crime rate was nearly 1,400 incidents per 100,000 people.
Rooney believes in going to prisons to meet with those who are incarcerated. For someone who's seen violence and experienced professional and personal trauma — a few years ago, he says, "a witness of mine was murdered, and it will always haunt me" — he remains optimistic. "People can and do change," he says simply.
As for Rooney, he still finds enjoyment in the challenging work he does. "Find that place in you where your greatest passions and your greatest talents intersect," he says. "Then, no matter what you do, it will never feel like work."
–
Get all the profiles in our Young Professionals issue delivered to your inbox: Subscribe to the Comstock's newsletter today!