On a Thursday morning in April at Fiery Ginger Farm in West Sacramento, farmers Hope Sippola and Shayne Zurilgen are harriedly preparing to open their farmstand. Sippola — the "ginger" in the name — arranges some carrots on display, but to a messy result, so Zurilgen comes over to straighten the veggies out. "My artistic presentation is not as good as yours," Sippola tells him, followed by a full-belly laugh.
Additional Information

When:

4:30 p.m. to dusk Thursdays, June through August

Where:

1110 West Capital Ave.,West Sacramento

Online Info
In a few minutes, they'll open their farmstand on the sidewalk of Merkley Avenue, which sits next to a post office and a shuttered hardware store, with a senior housing facility down the block. Since the farmers only planted a small patch of their 1.5 acres with winter crops — cabbage, carrots, cauliflower, broccoli, beets, kale and garlic — they don't yet have an abundance of produce to sell from this, only their second harvest. Soon, a class of juniors and seniors from the adjacent Yolo High School will walk over to lay drip lines and plant chard. The students help out a couple times a week, as part of their course work, although today one of them begrudgingly jokes about being "free labor."
Sippola moved to Davis from Michigan several years ago and, armed with the desire to improve her children's school garden, enrolled in the Center for Land-Based Learning's California Farm Academy in Winters, where participants undergo seven months of intensive training to learn the ins and outs of running a farm business. She and Zurilgen graduated in 2015. The center also oversees the West Sacramento Urban Farm Program.
"I probably would not be farming in Michigan," Sippola says. But once in California, she found a climate — both literally and figuratively — that encouraged her to do so. She might not be growing and selling food here either, if not for the amenability of the City of West Sacramento, which has taken the "Farm-to-Fork" label seriously and welcomed urban farming. "We just haven't hit any bureaucratic roadblocks," says Sara Bernal, who manages the Urban Farm Program. "Anytime we want to do something, they're like, 'Go for it.'"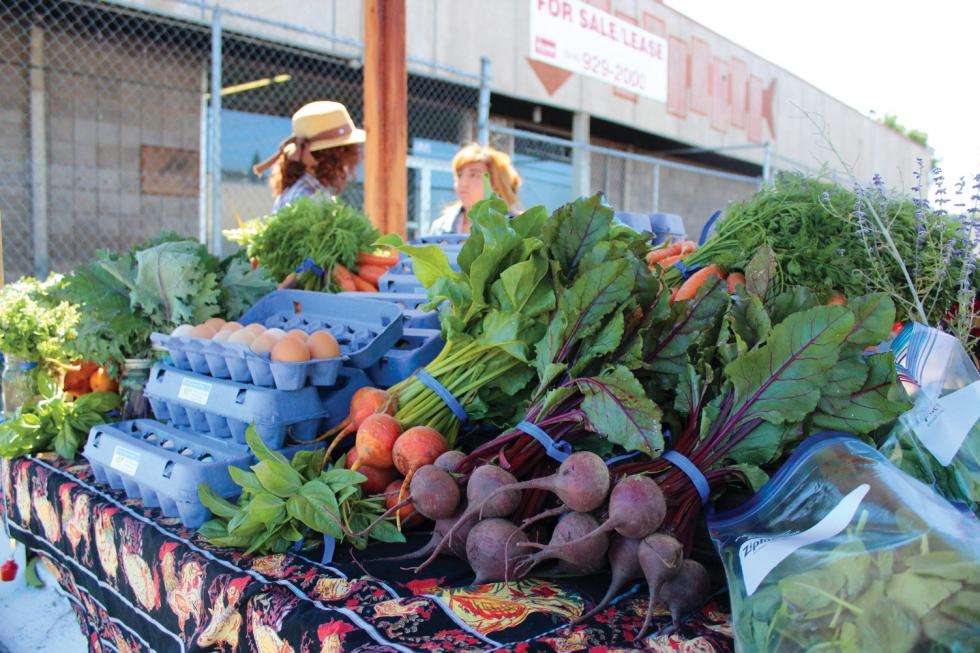 Moving the Roadblocks
The Center for Land-Based Learning launched the Urban Farm Program in 2014 on a city-owned lot and with seed funding from two local banks. "It kind of snowballed," Bernal says. Fiery Ginger uses land owned by the Washington Unified School District. Other farmers use private property, for four sites total, representing six separate farm businesses — with two more to be added by 2017. Aaron Laurel, the city's economic development and housing director, says there's "significant capacity" for more farms on private property.
First the program secures vacant land. Next they test the soil to ensure it's safe for growing food; then they install water-connection infrastructure, a wash station, storage, shade structure; before completing any additional field prep. Then, acting as an incubator, they connect beginning farmers to plots of land, which the center sublets to farmers year-to-year for $100 per acre per month.
Sippola and Zurilgen sublease 1.5 acres on Merkley Avenue and 1.5 acres at the Cannery in Davis (a new neighborhood with housing, farmland and a shared barn) from the center, along with leasing 5 acres independently to pasture chickens — for three plots total. "The cost of land is really expensive," Sippola says. "It'd be best for us if we had one parcel, but for us the only way to make it affordable is to lease land through the center, and they give us subsidized [rates]."
Regulations allow for crop production in most zones of West Sacramento, and the city hasn't found the need for an urban agriculture ordinance, Laurel says. The city allows property owners with farms to defer water connection fees — a costly impediment to starting a farm — until a building permit is pulled for the property to be developed.
"We've seen in West Sacramento that urban farms can be a great driver for neighborhood revitalization, activating properties that might otherwise appear underutilized or abandoned," Laurel says. "Urban farms bring energy to the streetscape like a storefront, they can be as visually impactful as a park and they're a unique source of neighborhood pride."
Farmers are allowed to sell their bounty onsite. Without worrying about upfront debt, they can focus on building their market. "Half the battle is growing it, but the other half is selling it," Bernal says. "We're giving them that cushion, that space." Urban farmers need this support as their operations, after all, are often tasked not only with growing fruits and veggies, but with remedying food deserts and being the poster children for the local-food movement. The concept of an urban farm as a business — in which farmers grow food to sell, and to earn a profit — sometimes gets lost.
It Takes a Village
West Sacramento's urban agriculture movement has shown the value of farms to the larger community, and vice versa. Raley's is one supporter on a laundry list of partners that help make these farms possible. In April, the Center for Land-Based Learning's inaugural farm (on city-owned land at 5th and C streets) was accepted into Raley's "Living Local" program, which supplies the company's grocery stores with produce grown within 50 miles of the store where it's sold. Additionally, Fiery Ginger is committed to selling 25 percent of its harvest to Raley's, which then donates the produce to food banks through its Food for Families program (the farm on Merkley Avenue is also known as the Food for Families Urban Farm).
Sippola and Zurilgen count a few local restaurants among their customers and have a community-supported agriculture program, in which members sign up at the start of the season to buy produce boxes.
But being in an urban setting hasn't been enough to sustain the now-closed farmstand on the sidewalk of Merkley Avenue — despite passersby from the nearby post office and senior living facility — and the farmers have since joined the West Sacramento Farmers Market down the street, which attracts a much bigger crowd. "The goal is to transport as little as possible," Sippola says. Most produce grown through the West Sacramento Urban Farm Program goes within 30 miles, according to Bernal.
Another partner on that laundry list is the Washington Unified School District, which leases its vacant land in exchange for the farmers providing students with hands-on learning about growing food. "What better kids to work with — they are disaffected, not finding what they want in life and not being motivated by anything, at least not anything we're presenting," says Zurilgen, who taught middle school science for 15 years, mostly in Stockton.
Zurilgen sees farming as a "more autonomous way of living." And while he says, yes, they'll make a profit, he realizes that might take a couple years: "This model hasn't been studied in detail and so it's hard to make projections about what makes an urban farm viable." Fiery Ginger has checked off one key component of a successful business: location.
"The biggest problem to me is farms are usually out there," Zurilgen says, motioning to the distance. "I like that this is in full view. I like that people can come back and see what we're doing."
Got tips for a DIY urban farm? Let us know in the comments!