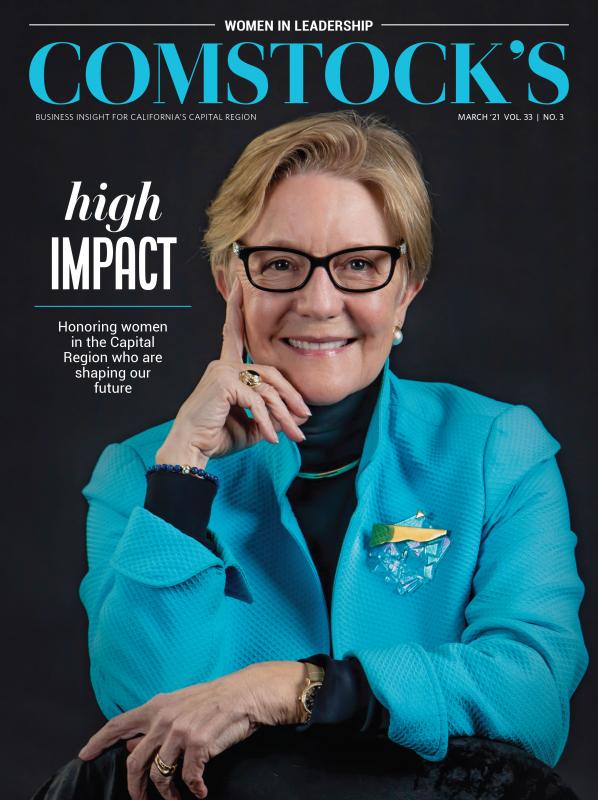 This story is part of our March 2021 Women in Leadership issue. To subscribe, click here.
Melissa Brown
Director of legal clinics and professor of lawyering skills, McGeorge School of Law
It was the women in Melissa Brown's life who influenced her career path and the type of person she wanted to be. Brown, who has been a professor at McGeorge School of Law since 2008 and director of its legal clinics since 2013, originally chose to enter the field of elder and public interest law because when she was a teenager, she was "profoundly impacted by the way my great-grandmother was treated in a nursing home," she says. Seeing how the facility was understaffed and her loved one was dehumanized stuck with her. Then there was her aunt, Marijane Luna, who was the first woman public defender hired in Yolo County. "I used to tag along with her as a teenager," Brown says. "That was my first experience in a courtroom."
Driven by a desire to help vulnerable members in the community, Brown studied political science at Chico State and earned her J.D. from Loyola Law School in 1983. While in law school, she interned at the Los Angeles County District Attorney's Office's elder abuse department, worked for a senior legal services program and served as a law clerk for the Social Security Administration Office of Hearings and Appeals (administrative law judges), which promoted her to staff attorney when she was admitted to the bar.
She opened her own practice in Pasadena for a short while before moving back to Northern California. She worked for private practices in the region and met Donald Fraulob, a lawyer at a competing firm, around that time. The two began a personal relationship (they've been married for 21 years) and a professional one: She joined his firm, now called Fraulob-Brown, in 1991. Specializing in elder law, workers' compensation and disability benefits cases, and estate planning, it "has pretty much wound down" with only a few cases to finish, she says.
Brown wanted to make a shift to teaching, and McGeorge offered her a position at the school to develop professional education programs and teach in the Elder and Health Law Clinic. In addition to classroom teaching, she supervises students in providing free legal services, including litigating financial elder abuse cases and advocating for individuals experiencing homelessness. She's also in charge of fundraising and grant-writing efforts.
Brown says the legal clinics, which have been around for about 40 years, used to get 20 walk-ins a day, but since the pandemic, they see clients by appointment and do hearings via videoconference calls. "It's important that vulnerable populations have access to the justice system, and it's important that law students have the opportunity to experience and gain skills and expertise in areas that help people," she says.
"Trust your instincts, don't sell yourself short and have a good sounding board, someone you trust."
Brown hopes she sets a good example, but it hasn't been without challenges. During the mid-1990s to mid-2000s when she was in a statewide attorneys association, she was often one of the few women in the room, if not the only one. And she "was bullied for many years," she says. The experiences led her to realize "women have a different way of approaching problem-solving and conflict," using more listening and collaboration "rather than ego and posturing." Now that more women are in the legal profession and positions of leadership, she says those dynamics are changing.
"When I look at the students who've come to our clinics over the years I've been here, most of them say, 'This is why I came to law school,'" Brown says. "And so this work allows me to help support that and hopefully have a broader impact as students move into their careers."
–
Get all the profiles in our Women in Leadership issue delivered to your inbox: Subscribe to the Comstock's newsletter today!