Every day, people reach out to the Sacramento SPCA because they have a problem. Sometimes those problems are good ones: "I want to adopt a dog," or "I'm at a point in my life where I'd like to volunteer" or "I want to donate but I don't know what your greatest need is."
Other times, the problems are difficult and the people are in crisis: "I have to move and my new landlord won't allow dogs," or "I need to get my cat spayed but I can't afford the surgery" or "My pet is old and I need help saying goodbye."
And every day, the Sacramento SPCA has trained staff and dedicated volunteers who say, "Let me help you."
Because here's the secret about animal welfare — it's actually about the people. The Sacramento SPCA has more programs designed for people than any other local animal welfare organization or agency. And while adoption is at the heart of what we do, we do more for the people who have an animal than for people who are looking to add an animal to their family.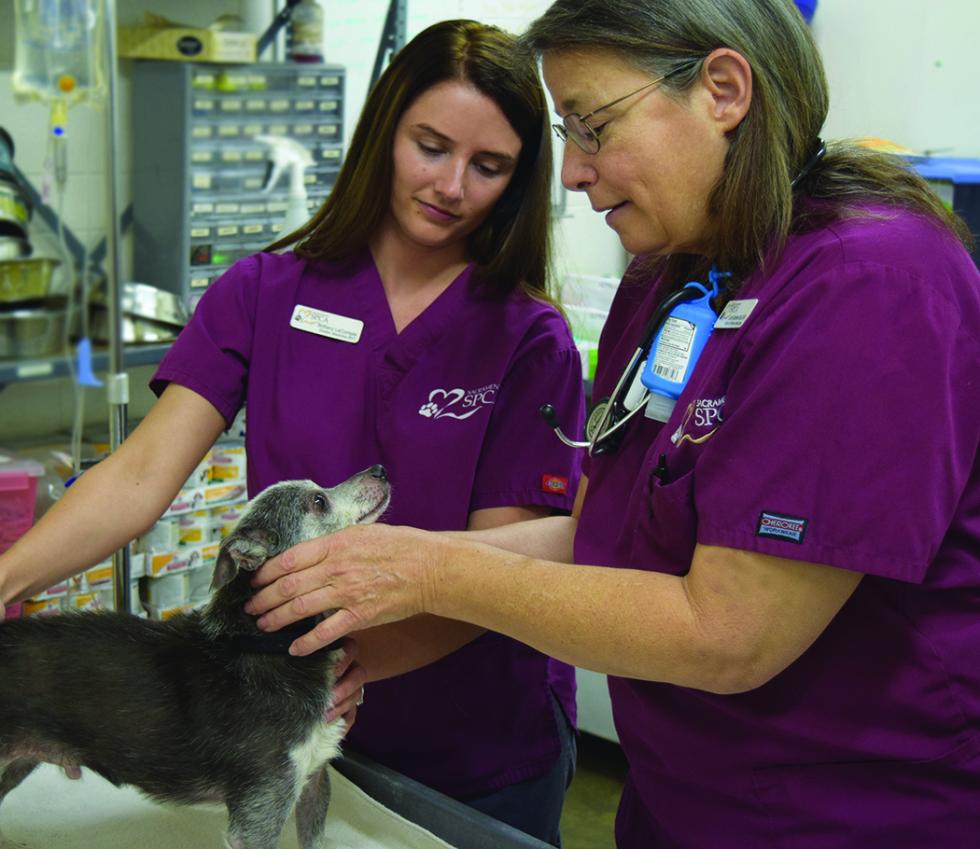 Consider this: In 2016, we helped find homes for more than 4,000 cats, dogs, rabbits, Guinea pigs and even some roosters. Hundreds more were reunited with their families after coming to us as strays.
But that same year:
18,127 families were able to get affordable — quite often free — spay/neuter surgeries for their pets
14,025 low-cost vaccines were given to keep pets healthy through our weekly vaccination clinics
6,850 students received humane education in their classroom or attended one of our week-long Camp Kindness programs
1,000 families asked us to help end their cherished animal's suffering through our end-of-life services
600 senior citizens were assisted in keeping their pets through free food and medical services via our monthly clinic
In providing more than shelter, we are cognizant that we are not just helping animals, but also helping people who love animals. That requires us to be as compassionate, caring and patient with people as we are with animals.
We are a dedicated core of dozens of professionals and a committed group of thousands of volunteers. Our employees are here because they believe in what we do and want to be a part of it. Each employee starts here with a shared love for animals. But they do so much more than provide love and care. They check for, identify and treat illnesses and behavior issues. They keep the facilities not just clean, but healthy and safe for animals and for people. They could all make more money in the for-profit sector, but choose to work here because money is only part of the equation. They also want to make a difference in the lives of animals and in the lives of people.
But that's just the basics. They also provide the best care and show the most compassion toward all the animals that come into our shelter, no matter the size, temperament or behavior. They provide indispensable services with patience during difficult, emotional situations when people have nowhere else to turn. And they create a warm and welcoming atmosphere while providing the knowledge and resources to help people create and maintain a lifelong relationship with their current and future pets.
These aren't corporate slogans — these are the mission statements written by team members in our Animal Care, Intake and Adoption departments.
Our volunteers share that same commitment and professionalism — every day, rain or shine, hot or cold, weekday or holiday, our volunteers show up. They show up to walk dogs, socialize cats, stock supplies. Some have been with us for decades. Some help once a year. They show up to answer phones, sort mail, stuff envelopes, wash windows, fold laundry, unload trucks, deliver dog food, visit seniors and help educate children. They show up at community events and sell raffle tickets or make gift baskets. They even show up to paint lines on the parking lot. And it all makes a difference.
That speaks to the values that make us who we are; values like compassion, service and responsibility. We know that in working with animals, patience and forgiveness are essential. The same is true of working with people.
We are nothing without those who generously support us, and we are worth supporting because we are generous no matter the species seeking our help for a problem: canine, feline, reptile, rodent … or human.
This story is part of the 22nd annual Capital Region Cares, Comstock's special publication dedicated to nonprofits and charitable giving. You can order the 2017-2018 edition online here.To submit your nonprofit success story for consideration in next year's edition, fill out this online form.​