A 2009 report from Pike Research in Boulder, Colo., forecasts the combined biodiesel and ethanol markets will reach $247 billion in sales by 2020, up from just $76 billion in 2010, or about 12 percent annual growth.
A 2009 report from Pike Research in Boulder, Colo., forecasts the combined biodiesel and ethanol markets will reach $247 billion in sales by 2020, up from just $76 billion in 2010, or about 12 percent annual growth.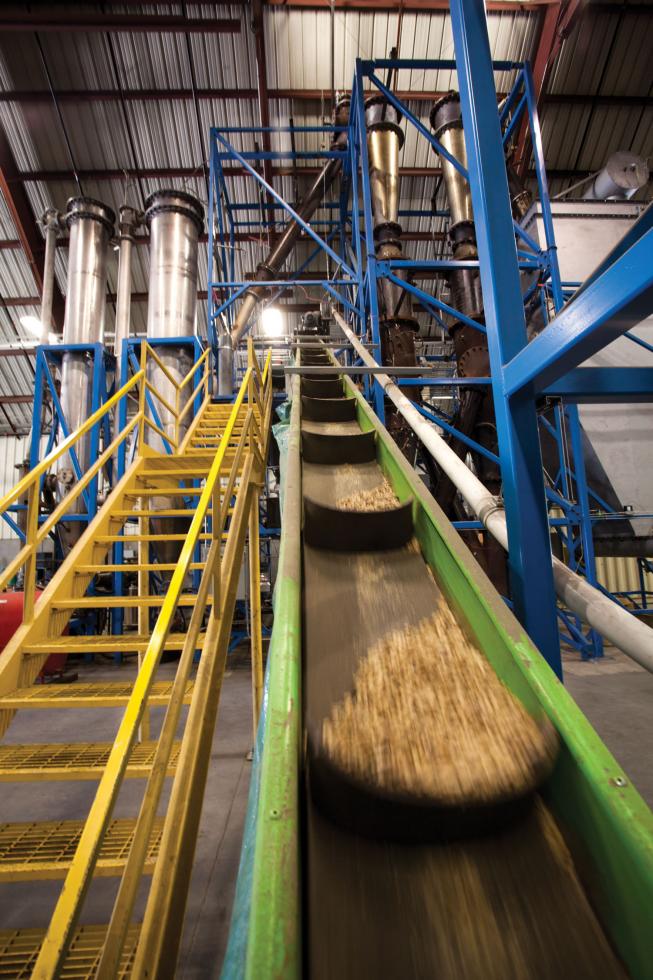 Other reports forecast a more modest compound annual growth rate between 8 percent and 10 percent, but even that would mean about 6 percent of the world's estimated liquid fuel production in 2020 would come from biofuels.
Several companies in the Sacramento region are working on biofuel production, and Sacramento Mayor Kevin Johnson has included biofuels in the 100-page Greenwise Sacramento plan for the region released earlier this year.
Sacramento has a long way to go before catching up to Brazil, the world leader. Biofuels provide more than half the fuel by volume consumed by Brazil's gas-powered road vehicles, the Pike report shows.
But the Capital Region has a few advantages: university scientists, lots of agricultural feedstock and at least some government agencies encouraging the industry's development.
"There are several dozen biofuels companies in California at this point, most of them pursuing second- and third-generation biofuels," says Gary Simon, co-chair of the CleanStart program run by the Sacramento Area Regional Technology Alliance.
First-generation fuels were ethanol derived from grain and biodiesel derived from restaurant grease. Second-generation "cellulosic" feedstock includes wood and nonfood plants. The third generation is algae.
"These are not yet fully proven, so we don't yet know exactly how they are going to work in engines. And they are not being produced yet in big scale," Simon says. "It has yet to be shown that you can make these things."
The goal is to produce a fuel indistinguishable from the gasoline or diesel refined from petroleum. That would mean no need to change anything in the distribution system, at the gas station or inside the engine.
SynTerra Energy Inc., based at McClellan Park, has been looking at four potential plant sites in California. Three are in the northern part of the state.
"Most of the feedstock — the biomass materials — are in the agricultural regions: the Sacramento Valley and the San Joaquin Valley," says Dennis Schuetzle, chief technology officer at Synterra Energy Inc. and president of the Renewable Energy Institute International.
Cheap ag and forest feedstock is crucial, he says.
"If the cost is too high, it means the fuel will be proportionally higher. If it is something like algae, the cost of the feedstock — or the oil produced from it — is running about $31 a gallon. It doesn't matter what you do with that oil, you aren't going to be able to sell that as a fuel," he says.
Potential feedstocks include forest and agricultural products. Synterra has been working with the U.S. Forest Service and the state Department of Forestry on ideas for making use of undergrowth.
"There is virtually no (other) use for it. They just pile it up and burn it in the late fall and early winter," Schuetzle says.
The task of getting the feedstock to the processing plant remains, cautions Michael Theroux, vice president of real estate consultancy JDMT Inc. in Auburn. "They are available, but they are not as accessible as they need to be. So there is still a lot of infrastructure that needs to be managed," he says.
California in general has the advantage of being a leader in supporting clean and sustainable fuels.
"To be located close to where the legislative requirements are being developed is very important. A lot of people look to California government for some leadership," Theroux says. "The good thing about Sacramento is that there are a lot of very smart people in the government who understand a lot of these things that I'm talking about."
"One needs to be skeptical of people who claim they are going to get premiums by being green, and whose business plan depends on it."

Peter Matlock, vice president of business and corporate development, Micromidas Inc.
California's new low-carbon fuel standard should help. It requires suppliers to reduce fuel emissions by 10 percent by 2020 — and biologically derived fuels have lower emissions, says Tim Taylor, manager of the land use communication and mobile source division of the Sacramento Metropolitan Air Quality Management District. Gasoline and diesel are not precise chemical mixes but rather concoctions of whatever boils out of crude oil. Plant-based fuels tend to have simpler chemistry.
Local government is pushing for biofuels as well. Mayor Johnson's Greenwise Sacramento Action Plan, released in January, includes biofuel development in its list of objectives. Two key strategies are to pool a portion of local agency fuel purchases to aggregate a demand for 10 million gallons of biofuels a year and to establish a million-gallon production plant in the region.
"One of the things that is holding back the industry is the buyers. They are understandably reluctant to take a risk on a new fuel," Simon says. "The theory is if we offer suppliers a five-year contract, and they know what the terms and conditions are, they will be able to get financing and get these production plants under way."
The Sacramento region uses about 100 million gallons of diesel a year and about 1.2 billion gallons of gasoline, he says, so the "million-gallon challenge" is a modest percentage.
But customers aren't lining up for even the first million.
"I have identified some fleets that are willing to participate in an information-gathering and feedback process. That does not translate into, 'We are willing to pay $15 a gallon for as much fuel as you want to give us,'" Taylor says. Having an environmentally progressive government helps, but it can cut both ways when a company is trying to set up a biofuels refinery.
"Trying to get a plant sited in California is more difficult than in many other places in the country," Schuetzle says, though a company that succeeds in California should have little problem expanding out of state. It helps to use a brownfield site rather than untouched land, he adds. The California Environmental Quality Act has some tough hurdles to clear, but even more important is how people in the local jurisdiction feel about the project. It doesn't take much opposition to stop a project.
Within California, it's advantageous to be in an agricultural area such as those around Sacramento. Making biofuels is largely an agricultural processing problem.
"The technology is not like we are making semiconductors. It's converting large amounts of biomass material into another form," says Matt Summers, director of operations at West Biofuels' biomass research center in Woodland.
Yolo County was cooperative when West Biofuels needed its original site permits for a 250 kilowatt demonstration biomass power plant, even though the company didn't always know what was required to convert an old grain storage building into something more like a factory.
"We are a bunch of scientists and researchers trying to build something a little larger than we were used to," Summers says. "If we were to permit something new now at the site, we'd be experts at it. We'd know who to talk to, and it would go a lot quicker."
Even so, they knew enough the first time around to let neighboring property owners know what West Biofuels was up to. It also helped to have UC Davis as a partner.
Woodland also turned out to be practical.
"The kinds of things we need to purchase for making our equipment is more related to what they do in Woodland already, which is processing agricultural materials."
Yolo County is also relatively convenient when people involved in Central Valley agriculture want to pay a visit.
"We're close enough to the Bay Area that if a venture-capital type wants to come out and kick the tires, it's not far for them to go," Summer says. "I don't think it is a constraint. We just had a group of visitors from Austria. In Woodland we are literally 10 minutes from the airport."
Some of the biggest challenges to developing biofuels are economic rather than political or geographic.

Using sewage sludge as a feedstock, Micromidas Inc. in West Sacramento ignores biodiesel and instead produces biodegradable polymers. Or, as one of the company slogans goes, "From poop to plastic."
Plastics account for 5 percent or less of the products made from petroleum, but they account for about half the value of all petrochemically derived products, says Peter Matlock, vice president of business and corporate development at Micromidas.
A company has to generate revenue to stay alive, and that's hard to do if the product is more expensive than the gasoline and diesel it would replace.
Some people care enough about the environmental aspect to pay a premium, but most care primarily about the product, the price and the reliability of supply, he says.
"One needs to be skeptical of people who claim they are going to get premiums by being green, and whose business plan depends on it," he says.
Biomass also has great potential for generating electricity. Sierra Energy in Davis is pursuing a three-way technology strategy: converting waste streams into gas that create hydrogen and electricity; refining waste to make liquid fuels such as diesel and ethanol; and using biomass to fuel iron furnaces.
Even the portion of the industry working on automotive fuel remains fragmented. Each company is working on its own process and product lines.
"The thing that we don't see much of and are pressing toward is the integration of the pieces," Theroux, says.
To catch on, the biofuels business needs a refinery that can take nearly any kind of feedstock and turn out nearly any kind of fuel product, much like today's oil refineries can produce a variety of petroleum products on a single site.
Consolidation may help move the industry in that direction. This past summer Synterra adopted its new name when the former Pacific Renewable Fuels and Chemicals merged with Red Lion Bio-Energy in Ohio. Schuetzle says he expects more mergers of small players or buyouts by large companies, just as has happened in personal computers, software and other young industries.
For much of the past decade, venture capitalists showered dollars upon clean-technology startups with promising-sounding ideas in areas like solar, electric cars and biofuels.
That era appears to have ended.