Here's a recipe to breathe new life into a lifeless block of R Street. Start with a 5-story warehouse made of solid concrete, suitable for loft conversion. Add subsidized rents starting at $300 a month for a studio apartment. Then attract artists, writers and other creative types, plus their spouses, lovers, kids and hangers-on. Sprinkle in baby strollers, coffee shops, galleries, some painful-looking piercings and plenty of ink on skin.
To ensure the place is catnip for creatives, toss in some extras: a brewpub, on-site parking, a dance studio, a gated courtyard and at least 20 art installations scattered throughout the complex. There's an art store on the premises and even a basement room for band rehearsal. The units are close to transit, so you can get to your day gig without a car. Renters needn't worry about being priced out of their apartments by gentrification: An agreement with the city requires the owners, CFY Development, to keep rents stable for 55 years.
Little wonder, then, that folks stood in line – some overnight – to apply for units in the project known as Warehouse Artist Lofts. The $41.5 million, 116-unit complex, which opened in December, comprises the landmark Lawrence Warehouse building at 11th and R streets and a new, stand-alone building. Three-quarters of the units have income-adjusted rents and the rest are market rate.
"I camped out for 18 hours," says painter and muralist Jose Di Gregorio, who was among the group of especially eager applicants who waited overnight outside the CADA offices last fall. He nailed down a 3-bedroom unit on the top floor. It has a window overlooking the courtyard, allowing him to keep an eye on his kids at play while he works. Michelle Alexander, a fiber artist, says she's "looking forward to being able to pick up my 6-year-old daughter from school instead of sending her to daycare."
Alexander, who is also the executive director of the Arts & Business Council of Sacramento, says affordable housing is one way to help local artists lower living costs and free up time to pursue purely artistic goals, "because monetary needs won't have to drive aesthetic choices as much."
Plus, life in a community of artists will have social and cultural benefits, she adds. "I'm very excited about other artists who are parents as well, who will be literally next door, so my daughter will have lots of painters, musicians, performers, writers, designers and more to learn from."
Invigorating R Street
The conversion of the circa 1914 warehouse into the WAL does more than provide fresh housing just blocks from the Capitol. In planning terms, "It's a catalyst-type project," says Todd Leon, R Street manager for the Capitol Area Development Association (CADA). The public agency manages and oversees development of residential neighborhoods in the blocks surrounding the Capitol.
After 17 years spent working on the project to find the right concept that was feasible, the artist loft project is "doing all the things we hoped it would do," Leon says. CADA seeks to grow R Street from an idea in the minds of planners into a living neighborhood with stable businesses, on-site property owners, long-term residents and residential real estate that will hold its value over time. City officials also hope to stimulate the surrounding housing market and encourage investment.
One reason the Warehouse Artist Lofts has interested investors in surrounding parcels is that the new housing complex — five stories, 70,000 square feet of new construction — is big enough to redefine the immediate area. Though the WAL project does not encompass an adjacent 4-story former state government building on the corner of 11th and R, that building's current renovation by CFY and local investor Bay Miry into office space, a restaurant and street-level shops will complete the renewal of the block.
Nearly the same size and shape as the landmark warehouse, the new WAL building sits on a 2-story parking structure, which is partly underground. Separating new and old buildings is a concrete courtyard, roughly 70 feet in width that faces R Street. That orientation gives the courtyard a public feeling, even though the outdoor space is reserved for residents.
Why It Works
In 2012, a father-and-son development team of Cyrus and Ali Youssefi, along with business partner John Cicerone, broke the impasse of unrealized concepts by other developers with a proposal for a mix of housing for artists and market-rate units. Surprisingly, the developers and CADA officials discovered that low-income rental housing made more financial sense than luxury units. Unlike market rate housing, low-income options can take advantage of state money earmarked for affordable housing. The project can also qualify for two types of federal tax credits — affordable housing and historical rehab.
Leon says CADA officials were especially receptive to the Yousseffi's proposal to convert the old warehouse into affordable units for low-income creatives because artist housing was an original idea the public agency had for the building back in 1997. City planners have learned to value artists, who often are urban pioneers seeking cheap places to live and work in old industrial districts, as is the case in the SOHO and Tribeca neighborhoods in New York and SOMA in San Francisco.
"Our goal has been to create a cool and affordable place for some of Sacramento's most creative people to live, work and collaborate," says Ali Youssefi. "R Street is already a cool neighborhood with a growing arts scene. We're just trying to build on that."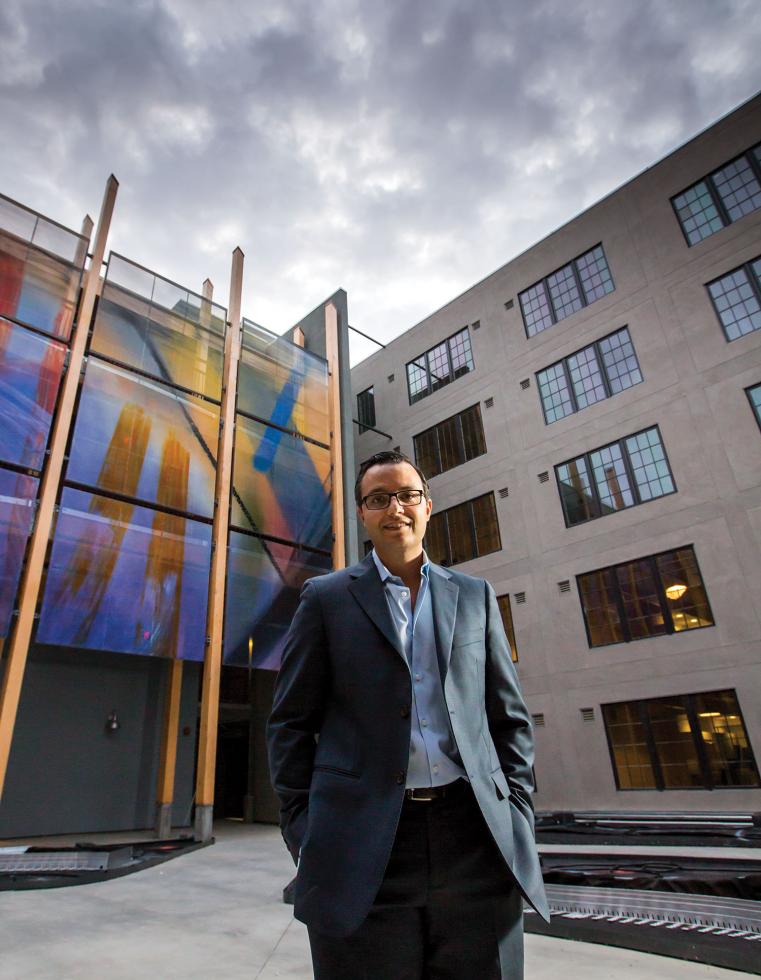 Youssefi's father, Cyrus, is a building contractor who evolved into a developer of affordable housing complexes. Perhaps it also helps to be an investment banker to understand and manage the complexity of financing affordable housing. In contrast to conventional commercial buildings, which rarely require more than two or three loans, affordable housing typically requires several, as well as federal tax credits and grants from local government agencies.
Challenges
To obtain the historic tax credits, the project needs to win the approval of the National Park Service. The developers want a building that can accommodate 21st-century restaurants and retail stores. The preservationists want a project that alters old buildings as little as possible.
More challenging still are the layers of preservation bureaucracy from the local level, through the state, the National Park Service, which operates the National Index of Historic Places, and the U.S. Department of the Interior, which oversees the park service.
Design ingenuity was also required to add seismic safety to an old building with thick concrete walls. It's difficult to insert steel reinforcements inside such a structure, so the engineers instead opted for some external buttressing. One reinforcement takes the form of concrete stair towers inside the courtyard, bracing the building from top to bottom. Another clever innovation is a pair of steel catwalks that serve as bilateral braces connecting the two buildings.
A Building With Character
For the architect, Michael Malinowski of Applied Architecture Inc., materials are expressive as well as structural. The old warehouse was one of the first reinforced concrete buildings in Sacramento, and the design for the housing rehab inside the building exposes the thick, stout concrete columns wherever possible.
The new building, in contrast, integrates the use of wood. Malinowski wanted to underline the fact that the building was structurally different from the concrete warehouse. Exposed wood can be found throughout the new building, especially in the large common sitting-room right off the courtyard.
"It's visual storytelling," Mal-inowski says of the laminated wooden beams. "They indicate clearly how the new building was constructed and how (that building) differs from the historical building."
To show the world at large that WAL is a community of artists, Youssefi commissioned 20 different artworks throughout the housing complex. "It's an excellent survey of what Sacramento has to offer right now," says art consultant Tre Borden, who selected the pieces on display at WAL. "I only wanted to show the best work," he adds.
Among the newly commissioned artworks are billboard-sized murals by Sophia Lacin and Hennessy Christophel of LC Mural Design. Displayed at third-story level, the elevated murals are visible to pedestrians on R Street.
Malinowski is a fan of the large-scale artworks. "The murals are a postcard being sent to the people who pass by, as if to say, 'Here's this magical place,'" says the architect. To provide even more space for public artwork at WAL, the architect says he has designed the hallways of the new building with many niches and offsets in the hope that residents would fill the empty spaces with artwork over time.
"It's like a blank canvas," he says of the building. "I am willing to bet that if we were to come back in 15 years, there would be enough artwork in the hallways to fill a museum."
Editor's note: Portions of this article have been changed for factual accuracy.