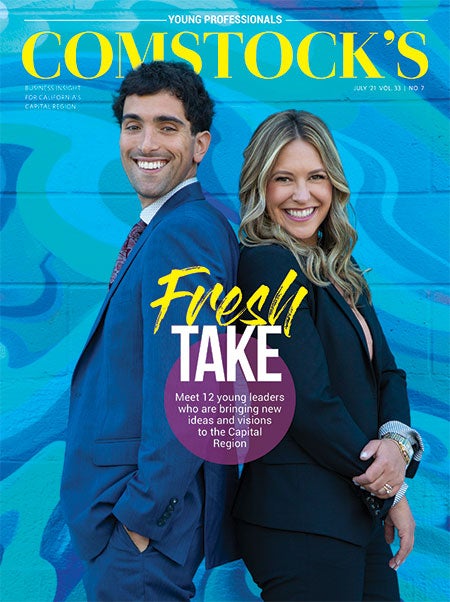 This story is part of our July 2021 Young Professionals issue. To subscribe, click here.
Glitzy reality TV stars, a rebellious high school senior, adventurous archeologists and home improvement gurus galore. These are just a few of the familiar faces and figures filmed on screen in the Capital Region. "Lady Bird," the coming-of-age story about a stubborn teen aching to flee Sacramento for New York City, may be the most well-known feature film shot here in recent years, but it's not the area's only show business success story.
The local industry, which stretches from the peaks of Lake Tahoe in El Dorado County to the stately charms of East Sacramento's Fab 40s neighborhood and onto Northern California's rich agricultural fields, provides a boost to the economy, and its supporters say, can draw tourism and build civic pride. Supported by the Film Liaisons in California Statewide, a professional network of local film commission offices throughout the state, the industry encompasses feature films, TV series, commercials, music videos and more.
When the coronavirus pandemic shut down most businesses in March 2020, many worried the halt in film production would inflict lasting economic damage — not just on production companies, but on local jobs, hotels and tourism.
Kathleen Dodge, film commissioner for the El Dorado Lake Tahoe Film & Media Office, based in Placerville, remembers the uncertainty caused by the state's stay-at-home orders, which were issued just a week before her annual film industry mixer, a large event staged in association with the El Dorado County Chamber of Commerce. The event is open to the public and designed to allow the public to network with filmmakers and producers, or even sign up for the chance to appear as an actor or extra in a production.
With the state thrown into lockdown the mixer was canceled, and all production forced into hiatus. "Everything just stopped," Dodge recalls. "Nobody knew what was going to happen." However, Dodge, an industry veteran, knows entertainment folks are a resilient bunch. "There's an old saying, 'The show must go on,'" she says with a laugh. "And it did, brilliantly."
'We Are All Hollywood'
Dodge has been busy lately with the El Dorado Lake Tahoe Film & Media Office. Its domain, which includes scenic mountains, forests and meadows with rustic Old West charms and elegant vineyards, is popular with out-of-town production companies.
The television shows "Modern Family," "Keeping Up With the Kardashians" and "The Real Housewives of Beverly Hills" have all shot episodes in Lake Tahoe. The movie "Top Gun: Maverick," which will be released this November, also filmed scenes in the region, joining the ranks of Hollywood flicks such as the 1984 adventure epic "Indiana Jones and the Temple of Doom" and the 2006 crime caper "Smokin' Aces," starring Ryan Reynolds and Ray Liotta.
As film commissioner, Dodge's duties include coordinating permits and designing marketing campaigns to attract new projects. On average, she says, her office issues between 20-35 permits annually. "(The productions result in) between $1 (million) and $6 million in economic impact a year," Dodge says. "It's been consistent in keeping our (return on investment) at almost 2,000 percent for our office over the years."
Statewide, permits were issued for more than 450 projects between January and April of this year, a number consistent with average activity in previous years, according to Colleen Bell, executive director for the California Film Commission. Bell says state tax credits make California a lucrative option.
"We are all Hollywood. And when I think of Hollywood, I think of it as all-inclusive: everything related to entertainment within the entire state. It's a label and it's a title for all Californians up and down the state to identify with as part of their cultural heritage."

Colleen Bell Executive director California Film Commission
In June 2020, the commission wrapped Program 2.0, which invested $1.5 billion in tax credit reservations. Productions that received the credits generated nearly $11.2 billion in state spending, Bell says. Program 3.0, which launched in July 2020 and will sunset in 2025, is expected to award $1.3 billion in tax credits. Those figures, she adds, only tell part of the story. "These numbers don't reflect all the expenditures that are not qualified for tax credits that do take place. Again, ancillary businesses that benefit from having entertainment production in their communities," she says.
Earlier this year, Gov. Gavin Newsom added to those coffers with an additional $30 million in credits for California's film and TV tax incentive program. The credits, Newsom announced during a May 14 press conference, are designed to convince production crews to relocate to California from states like Georgia, which recently passed legislation to restrict voting rights and has been homebase for the popular TV series "The Walking Dead" for more than a decade. "This is an opportunity for those productions, TV and others, in places like Georgia, whose values don't necessarily align with the production crews to consider coming back to the state of California," Newsom said.
Thanks to such incentives, California remains a popular option for TV, film and commercials, Bell says. And while Los Angeles — Hollywood in particular — may be widely thought of as the glamorous, star-studded movie capital of the world, Bell says the state's industry isn't geographically limited. "We are all Hollywood," Bell says. "And when I think of Hollywood, I think of it as all-inclusive: everything related to entertainment within the entire state. It's a label and it's a title for all Californians up and down the state to identify with as part of their cultural heritage."
There are 41 film commission offices across the state with vistas that include rugged mountains, snaking rivers, breathtaking coastlines and arid sand dunes. Eight are in the Capital Region, including the Amador County Film Commission, Stockton & San Joaquin County Film Commission and Yolo County Film Office.
"Arguably, California has the most diverse landscapes and topography," Bell says. "This provides the opportunity for different communities to highlight what they have to offer filmmakers."
'The "Lady Bird" Effect'
Jennifer West wasn't film commissioner when Sacramento native Greta Gerwig directed scenes here for her 2017 Academy Award-nominated film, "Lady Bird." In fact, the bureau she works for, the Sacramento Film + Media office, didn't exist then and the commissioner job was a part-time gig with the city's tourism office, Visit Sacramento.
In the pre-"Lady Bird"-era, the city starred in numerous productions. Scenes from the 1999 Academy Award-winning film "American Beauty" show off the leafy streets of East Sacramento, as does the 2000 John Travolta film, "Lucky Numbers." Several episodes of home-improvement shows have been produced here as well, including "Yard Crashers" and "Turf Wars."
The success of Gerwig's film, however, which stars Saoirse Ronan in the title role as a high school senior at odds with her mother (Laurie Metcalf), created a new opportunity, West says. Recognizing the demand for more projects, the city launched its Sacramento Film + Media office as part of its Creative Edge plan, a 2018 initiative to bolster the local cultural and creative economy, which included turning the commissioner role into a full-time job. West stepped into the expanded role in January 2020.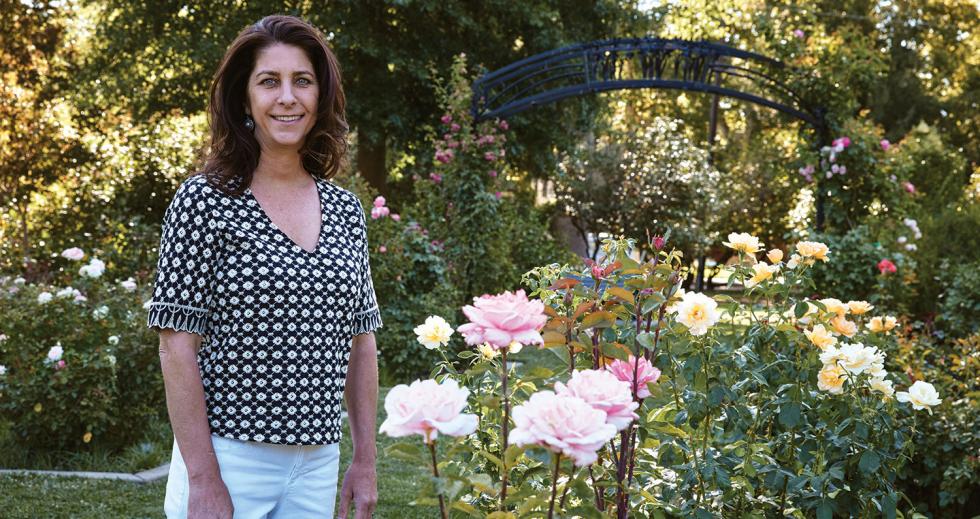 "The hope is to provide opportunity for more films like 'Lady Bird' to have more film days in Sacramento," West says. There are still obstacles, she adds, including a lack of basic infrastructure. Among her upcoming goals: Increasing support services, which includes adding prop and wardrobe houses, offering trailer rentals, training local crew for television and feature film projects, and eventually building a soundstage.
"It is my hope that, like bigger film markets, increased film production will drive the private sector to invest," West says. The benefit is clear, she adds. In 2020, productions injected $1.5 million into the Sacramento economy, with revenue that included money spent on hotels, local staffing, car rentals and catering. "I began keeping metrics in January 2020 … so comparisons will be exciting in years to come," West says.
There's another tangible boon in the heightened tourist interest a marquee production can generate. Many of the productions shot locally present the region as a stand-in for another location, such as the 2005 film "Memoirs of a Geisha," which is set in Japan but includes scenes shot in Old Sacramento, El Dorado County and along the American River. Films that distinctly reference the area's beauty and charms, however, may attract visitors.
In Sacramento, for example, the "Lady Bird" effect has sustained ripples long beyond the film's release, including a popular pre-pandemic walking tour inspired by the film. Mike Testa, president and CEO of Visit Sacramento, says seeing the region on the screen can present a significant opportunity, particularly with films that actually represent the city, such as "Lady Bird" or the 2005 indie "Her Minor Thing."
"When Sacramento appears as Sacramento … and (viewers) see it on the screen, it makes them wonder about the Tower Bridge or realize that we have rivers," Testa says. "It's a primary education for people who've never been here before."
Over in El Dorado County, a self-guided "Modern Family" tour has allowed fans to check out places where the popular series filmed a vacation episode. The county's film office also produces a map of notable spots where more than 40 films have been shot, including the Clint Eastwood-directed 1982 film "Honky Tonk Man," shot in Latrobe, and the 2013 Vera Farmiga horror film "The Conjuring," which filmed scenes in Placerville. Dodge, the El Dorado County film commissioner, plans to soon add the Tom Cruise blockbuster "Top Gun: Maverick" to the map.

Part of her job, Dodge says, is acting as a liaison between productions and those who can offer services or location shoots. "You have a beautiful apartment and I have a movie that needs an apartment, but you've never done this before," she says. That's where a film commissioner comes in. It's not just about opportunity, it's about relationships.

"It's all very personal," says Dodge, who 30 years ago relocated to El Dorado County from Los Angeles, where she'd worked in film and television. Recognizing the wealth of prospects in the region, she convinced the county's chamber of commerce to hire her as its inaugural film commissioner. "I'm lucky to be the face of the film industry here. El Dorado County has come together so completely to support this venture, and that's why we're so successful."

A Cultural Record

When COVID-19 shuttered everyday life, it wasn't initially clear what that meant for business. During the strictest months of quarantine, all production shut down — but action continued behind the cameras.

West and the Sacramento Film + Media office, for example, used the break to build a new website designed to attract filmmakers as a one-stop information hub on locations, the permitting process, grants, local unions and production services. Meanwhile, Dodge continued to network, market new gigs and keep in touch with crews forced into hiatus.

Then, in June 2020, Gov. Newsom announced guidelines for restarting film and television productions with health and safety guidelines, which meant productions could resume, albeit under strict safety protocols, including testing, daily temperature checks and on-set hand-washing stations.

Ultimately, the pandemic didn't have a significant impact on the number of permits issued. Both Dodge and West say they issued approximately the same number of permits in 2020 as they had the year before. "We (have also) seen an increase in film days," West says. "No small feat during a pandemic, with increases specifically in film days for commercials, TV series, TV reality series,and internet-web projects."

Now, regional productions could see another uptick in activity. In June, the state fully reopened, ending requirements for social distancing and occupancy limits. Whatever the numbers, Dodge says the impact goes deeper than dollar figures. "When we are successful, it touches us in many ways, not just economically, " Dodge says. "It increases the pride people have in the community and it gives them opportunities to participate. It also builds our cultural history — we have a record of all of this in the films."

The Capital Region has been featured in countless productions over the decades. Here we highlight 10 movies and television shows filmed locally.

"Cool Hand Luke." This 1967 Paul Newman classic includes footage shot in Lodi, Stockton and elsewhere in the Sacramento-San Joaquin River Delta region.

"Indiana Jones and Raiders of the Lost Ark." This Steven Spielberg classic from 1981 used the exterior of the Conservatory of Music building at University of the Pacific in Stockton as a stand-in for the Connecticut university where archeologist Indiana Jones (Harrison Ford) taught.

"River's Edge." Scenes from this seminal 1986 crime drama about a shocking death and its aftermath were shot along the American River. It stars Crispin Glover, Keanu Reeves and Ione Skye.

"Wisdom." Brat Packers Emilio Esteves and Demi Moore were spotted around downtown Sacramento during filming for this 1986 film, which included scenes shot at American River College.

"American Beauty." The 1996 Kevin Spacey and Annette Benning drama includes aerial shots of East Sacramento near Mercy General Hospital.

"City of Angels." Nicolas Cage and Meg Ryan starred in this 1998 movie, scenes from which spotlighted South Lake Tahoe's Emerald Bay and Fallen Leaf Lake.

"Almost Famous." Remember that iconic moment on the bus when everyone's singing Elton John's "Tiny Dancer?" That scene of this 2000 movie was filmed in Sacramento.

"Big Love." The cast and crew from the popular HBO series, which aired from 2006 to 2011 and starred Bill Paxton, Jeanne Tripplehorn and Chloë Sevigny as polygamists, were regulars around Yolo County as they filmed scenes in Woodland.

"The Mentalist." This television drama, from 2008 to 2015, about a psychic investigator (Simon Baker) was set in Sacramento and included scenes outside the State Capitol building.

"Frances Ha." Greta Gerwig's 2017 directorial debut "Lady Bird" may be the better-known movie, but this 2012 indie directed by her partner Noah Baumbach and in which she stars is its creative companion. The story of an adrift college graduate (Gerwig), the film includes a particularly poignant moment filmed at the Sacramento International Airport.

–Rachel Leibrock

–

Stay up to date on business in the Capital Region: Subscribe to the Comstock's newsletter today.