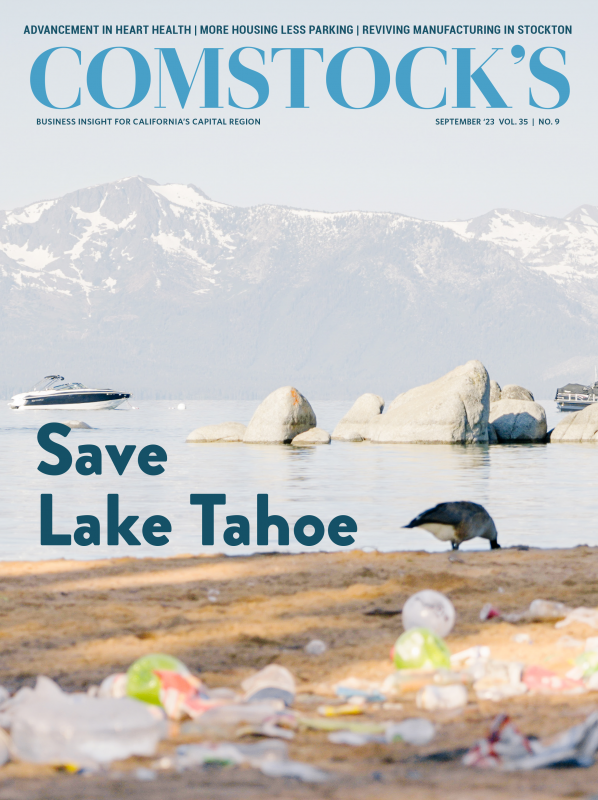 This story is part of our September 2023 print issue. To subscribe, click here.
The future of manufacturing in Stockton could be people like Christopher Lee.
Lee is a 20-year-old machinist who works at Geiger Manufacturing, a shop south of Highway 4 that dates to the early 1900s. At his home in nearby Lodi, Lee has a Tormach 770M machine he recently purchased used from Facebook for $12,500 that allows him to do machine work on the side.
Geiger Manufacturing is something of a do-everything machine shop spread between a few buildings. The company assists on efforts like the Delta-Mendota water project, with Lee working on studs for valve changes on this day in late July. His home machine allows him to tackle small freelance projects like head gaskets or making high school coins.
"I do tend to prefer the more artistic side," Lee says. "But I don't have a problem doing the industrial stuff either."
In the late 19th and early 20th centuries, Stockton was a manufacturing powerhouse, helping to send items to market like America's first mass-produced tractors. Stockton's manufacturing sector declined over many decades, though there are now local leaders working to strengthen it again. While some large, multinational manufacturers operate today in Stockton, it's also small, scrappy companies and people like Lee who leaders could work with on a resurgence.
Why Stockton's manufacturing sector thrived and declined
At the San Joaquin County Historical Museum, Executive Director Phillip Merlo has a front row seat to how strong Stockton's manufacturing sector once was.
Between the 1890s to the 1920s, Stockton likely had the highest manufacturing GDP per capita in California, Merlo says. This was due to various factors including the city's proximity to fertile agricultural land, good transportation connectivity because of the Delta, and a school superintendent, James A. Barr, who advocated for engineering education.
"You had the ingredients required for a very strong innovation economy," Merlo says.
The most famous success story of this era was a Fortune 500 company that still exists, albeit far away now from Stockton: Caterpillar. One of the company's predecessors is Holt Manufacturing Company, whose first president, Benjamin Holt, the inventor of the first crawler-type tractor, has a street off of Interstate 5 in north Stockton named for him.
"The tractor was actually invented in Maine," Merlo says. "But Benjamin Holt was the first person to realize, 'Hey, this model of locomotion is the future of agriculture.' And so he bought the patent."
Today, Merlo's museum is filled with historic items, like the Holt 2-Ton tractor built between 1921 and 1924 that offered 15 horsepower and sold for $375. There are also agricultural machines from other companies of Stockton's golden age, such as tractor builder Samson Iron Works, earth moving company R.G. LeTourneau and Stephens Brothers Boat Builders.
One thing these companies have in common is they've all long since left Stockton. General Motors acquired Samson Iron Works and discontinued the brand a century ago. Caterpillar relocated to Illinois in the 1920s, with LeTourneau setting up a plant there shortly after. Caterpillar is now based in Irving, Texas, while LeTourneau closed in recent years. Stephens Brothers has been defunct since 1987.
There are different reasons Stockton's manufacturing sector isn't as robust as it once was. In general, there's less manufacturing in America these days, with about 13 million jobs in the industry as of January 2023 compared to more than 19 million in 1979, according to United States Bureau of Labor Statistics data.
Stockton's problems in recent years are also well-chronicled, with the city getting hit hard by the Great Recession and filing for bankruptcy in 2012. The city still grapples with one of the highest violent crime rates of any American city and, like many places in California, has a large number of people experiencing homelessness.
"The city has been challenged," says Carrie Wright, Stockton's director of economic development. "We're the 11th-largest city in California now. So we have kind of big city issues like every big city does."
There are encouraging signs, though. San Joaquin Partnership Interim President and CEO Bob Gutierrez says that in regard to Stockton's past economic problems, the city "has done an excellent job course-correcting on that and is being recognized as one of the top cities of their size from a fiscal standpoint."
San Joaquin County Supervisor Tom Patti says there's been a lot of recovery going on for Stockton. He sees manufacturing as something that could be useful for bolstering other economic development efforts locally.
"We're constantly saying we want to be a Silicon Valley on the east side of the Altamont, but we really haven't developed that pipeline," Patti says. "But if we expand and enhance manufacturing, then the technology follows."
What Stockton's manufacturing sector looks like now
There are still some large manufacturing operations in Stockton. Applied Aerospace Structures Corporation has 360 employees, Diamond Foods has 400 and Niagara Bottling has 538, according to data provided by the San Joaquin Partnership.
Some big-name brands manufacture locally as well, with Pepsi and Nestle in Stockton and Kraft-Heinz and Tesla in nearby Lathrop. Aside from Caterpillar, another well-known company that can trace its roots to Stockton is Duraflame, which developed out of a local company, California Cedar Products. Duraflame still has 100 manufacturing employees in Stockton, according to partnership data.
Another member of south Stockton's manufacturing corridor, Marble Palace, has around 150 employees working over three city blocks, fabricating natural and manufactured marble bathroom and kitchen products. Its technology helps it produce as many as 20 kitchens per shift, says Jose Hurtado, operations manager for Marble Palace.
Hispanics or Latinos comprised nearly half of Stockton as of 2020, according to U.S. census data. Marble Palace's workforce is a microcosm of this, with Spanish spoken more frequently than English on the manufacturing floor. The company offers good opportunities for immigrants; it's willing to hire people who haven't gone to college, trains from within and pays competitively.
"Once you're in this industry, what I noticed is, it's probably my personal opinion, they make a career out of it," says Hurtado, who is originally from the state of Chihuahua in northern Mexico and who wore a shirt during his interview identifying himself as a Cal Poly dad.
The vast majority of Stockton manufacturers appear to be smaller businesses. Wright says that 99 percent of companies in the city have fewer than 99 employees.
"They're inherently small businesses," Wright says. "They're inherently invested in the city. And I think it makes kind of the fabric of our city more exciting."
It's companies like M Calosso & Son, which makes boxes for packing agricultural produce and other goods. Founded in 1924 by Italian immigrant Lorenzo Michele Calosso, the company is now in its fifth generation of having family members work for it. David Heinze, M Calosso's general manager, says generational factors help keep some Stockton manufacturers around.
"They just keep handing it down from father to son to grandson and just keep it going," Heinze says. "I know several companies that we do business with, it's the same thing as we are."
The same goes for Geiger Manufacturing, which is in its fourth generation as a family business. The company's 75-year-old president Roger Haack, who has worked for Geiger for more than 40 years, is the first non-family member to run it.
"I like solving problems," says Haack, whose workforce includes his sister-in-law.
Still, even for venerable Stockton manufacturers, operations can be small. M Calosso's workforce is about 40 people. The company currently runs one shift, from 7:30 a.m. to 4:30 p.m. each workday, though hours can stretch during the busy seasons. Geiger is down from around 25 employees to 13 and runs one shift per workday, 6 a.m. to 2:30 p.m.
"The only way to start a company like this today is either start small or have a lot of money to start big," Haack says. "Because the in-between, it's going to be damn tough."
How local leaders are trying to bolster Stockton's manufacturing sector
If Stockton's manufacturing sector is to grow, it might come by attracting more people like Rosa Pelaez, who co-owns Stockton Gaskets with her husband. They used to live in the Bay Area before they got tired of the traffic and high living expenses. Their business has operated in Stockton for 17 years now and has seven employees.
"It's a very small town, but it has a great market," Pelaez says.
Local leaders are acutely aware of how many prospective workers commute to the Bay Area from San Joaquin County and surrounding areas of the Central Valley, with Gutierrez saying it's more than 100,000 people total. He and others don't just passively accept this, though.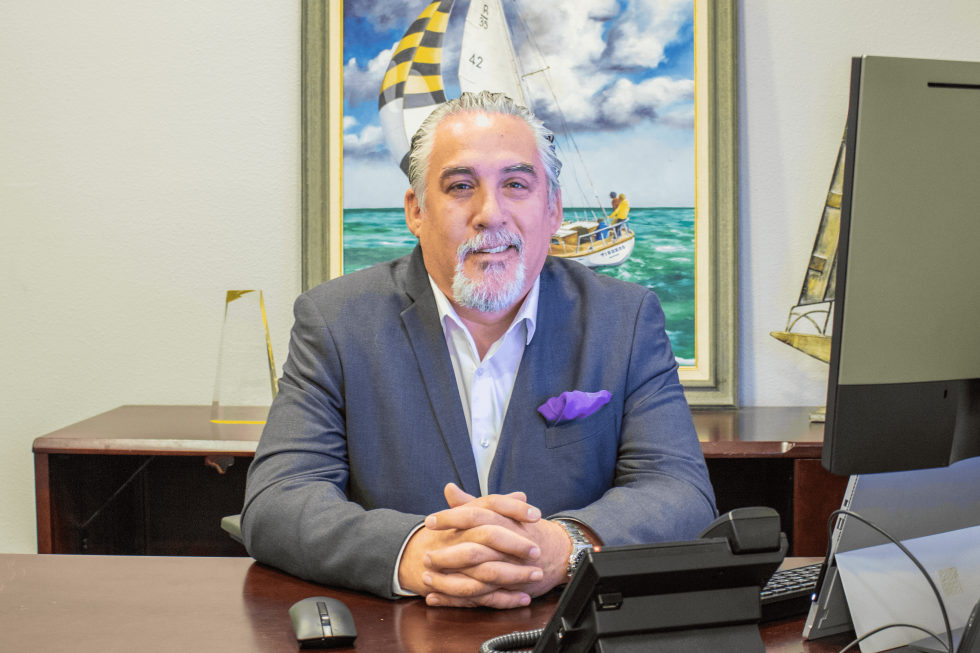 Gutierrez says the San Joaquin Partnership has seen a trend of manufacturers looking to relocate to Stockton, and the organization gets many calls from Bay Area companies. His organization greets such calls solicitously. "Our value proposition is to shower them with resources and ask them questions and find out what their needs are," Gutierrez says.
Wright says the city and the partnership each also have access to data that allows them to see where Stockton residents are commuting most often, when business leases are up in the Bay Area and if these companies might be expanding. The data allows Wright and others to make "much more micro-targeted inquiries into businesses that we think would work well in Stockton," she says.
California Assemblyman Carlos Villapudua says the city has also been looking at building a manufacturing hub — the Mariposa Industrial Park Project, which would require the annexation of more than 200 acres of county land. He notes that Tracy is working on a hub of its own.
Logistically, Stockton is well-positioned, with an airport, freight rail by BNSF Railway and Union Pacific, and various major highways.
Then there's the Port of Stockton, which has the fourth-highest traffic of any California port and boasts more than 7 million feet of warehouse storage space, according to director Kirk DeJesus. The port also announced in July it had secured a $45.9 million state grant for rail infrastructure improvements.
But the port's waters are just 33 feet deep, making it infeasible to import or export some goods from there. Villapudua has been supportive of a white paper from the port that went to Congress and the U.S. Army Corps of Engineers proposing to dredge and deepen the channel. Deepening to 40 feet could provide $54.3 million in annualized benefits, the paper notes.
"We really need to go deeper so that we can bring in more cargo, and then it would solve many, many problems," Villapudua says.
Even without this, though, people are hopeful for Stockton's manufacturing future, with Merlo saying, "The roots of becoming a manufacturing powerhouse are already here."
Stay up to date on business in the Capital Region: Subscribe to the Comstock's newsletter today.