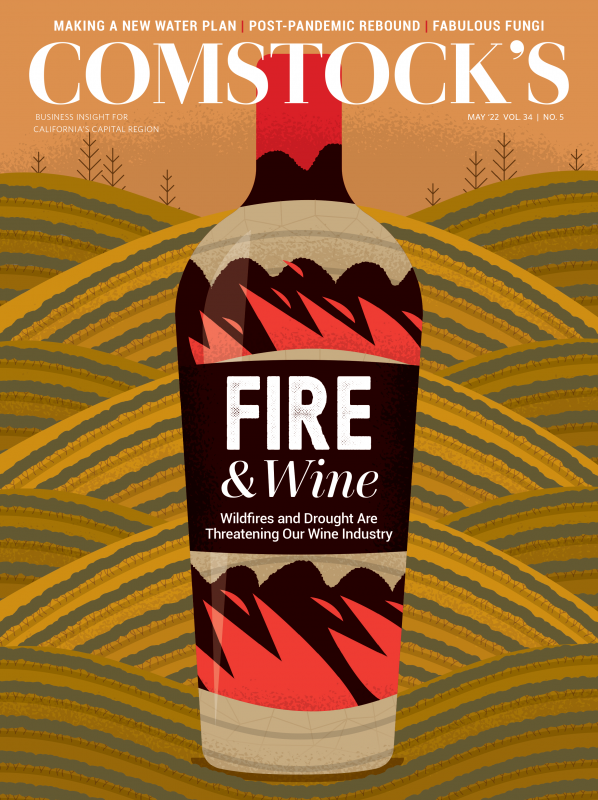 This story is part of our May 2022 print issue. To subscribe, click here.
2020 wasn't a pleasant time to be in charge of job training and placement, but that's where Heather Henry found herself as executive director of the Workforce Development Board of Solano County. In the first couple of months after the COVID-19 lockdowns hit, Solano lost nearly all the job gains of the previous five years, she says. Layoff notices poured in: Her office gets an alert when larger companies let go of 50 or more workers, and normally she gets five of those a year. In the first six months of the pandemic she got more than 80. "Every day has felt like a year," she says.
She's still got a big job ahead. Businesses are telling the board that applicants don't have the skills they need. That makes rapid retraining — in six months or less — a big part of the county's post-COVID-19 economic strategy. In late March the board of supervisors voted to put $5.5 million toward workforce retooling. As part of it, the county is launching a three-week culinary training program to turn out staff for restaurants that are eager to hire and pay $20 an hour and up, Henry says. To address the desperate shortage of child care, the county is running a boot camp to help people start their own family-run businesses to offer the service.
As local governments around the Capital Region plan how to move on from the bruising pandemic economy, common themes run through their strategies. As in Solano, many are retooling their workforces to meet business needs. Others are making economic diversification a priority after two financial crises a dozen years apart. Some focus on creating sparkling downtowns, which are more important than ever in attracting workers. And governments are emphasizing speed and flexibility in responding to emergencies that can crater local businesses.
Economic development strategies matter. They make a statement to outsiders about how serious an area is about growth, says Robert Eyler, an economist who consults on regional economic development and is interim associate vice president for government and regional relations at Sonoma State University. (He's written some of those plans himself.) "Having an updated strategy on the surface is almost like a marketing document," he adds. "The trick is the execution."
If so, they'll be crucial to the region's much-needed recovery. Area employment remains below its pre-pandemic level, and consumer sentiment is the lowest in at least four years, the Sacramento Business Review noted in January 2022.
Here's how local leaders say they're planning a comeback.
Diversification to inoculate against crises
Rancho Cordova City Manager Cyrus Abhar saw the value of a broad economic base up close during the pandemic. The city's hotels and restaurants suffered, just as they did everywhere. Many offices closed but didn't shut down, so office space occupancy held steady. And with people ordering online, demand for the city's industrial and warehouse facilities climbed as companies sought out space for manufacturing, storage and logistics.
A new way Rancho's leaders want to broaden the city's economy is by expanding the reach of its office parks. Pre-pandemic, city officials had started drafting plans to allow more multifamily development in those parks, a nontraditional use. Abhar points to California Northstate University's recent construction of a new dorm in one as an example of what's to come.
Back in Solano County, Vacaville City Manager Aaron Busch says his city has always been known for its retail and service businesses. But the pandemic validated the city's push to diversify its economy and focus on high-growth industry segments, he says.
The most important piece might be its drive to become a biotech hub. Its biotechnology park was already home to Kaiser Permanente and Genentech, which together employ about 2,000 people. Since the pandemic, two other big players — biotech companies Agenus and Polaris Pharmaceuticals — announced they're buying land there. Building a biotech cluster has turned out to be a smart move now that the federal government wants to onshore more biomanufacturing in the wake of the pandemic, Busch says.
In Placer County, County Executive Officer Todd Leopold says leaders have been focused on bringing in businesses and industries to complement areas the county is already strong in — health care and agriculture.
To that end, the county is pursuing development of the nearly 14-square-mile Sunset Area Plan just north of Roseville. County supervisors approved the plan in December 2019 that calls for a mixed-use area that offers eco-industrial manufacturing, research space and more, plus residential housing, a university campus and a town center. What's been missing until now was the backbone infrastructure to support that development, Leopold says. So the county is using federal American Rescue Plan Act of 2021 dollars to build it out, mostly water and sewer lines, he says. County leaders got a boost when online used-car giant Carvana bought land there in May 2021 for one of the company's hubs, which Leopold says will bring in about 850 jobs.
Maybe no place saw why branching out matters like the City of South Lake Tahoe after a one-two punch from the pandemic and Caldor Fire. City revenue from its hotel tax fell by about $650,000 in both April and May 2020 — a 90 percent drop — then took another $1 million hit in both August and September 2021, says City Manager Joe Irvin. "The pandemic and fire showed us that having all our revenues in one basket centered on tourism and visitation is risky," he says.
"The pandemic and (Caldor) fire showed us that having all our revenues in one basket centered on tourism and visitation is risky."

Joe Irvin, city manager, South Lake Tahoe
Just as the pandemic hit, the city council appointed a committee to draft a five-year strategic plan to promote economic development and recovery. Finalized a year later, it makes economic diversification a key priority and calls for the city to improve retention of its workforce, potentially through scholarships and grants for training. It also envisions transforming its midtown into a recreation, arts and community hub that includes a new recreation and aquatics center, which is in design now.
Things will be great when you're downtown
Petula Clark's 1964 hit, "Downtown," could be a theme song for a few area economic development leaders. Take Elk Grove, historically considered a bedroom community. Darrell Doan, the city's economic development director, says he doesn't use that term anymore. Before the pandemic, half to three-quarters of its residents left every day to work and spend money elsewhere, he says. That changed after March 2020 when many workers stayed put. City leaders hope to keep it that way, but this time not because of a health disaster. Since 2013 the city has been setting aside land to build employment inside city limits, Doan says.
Part of that effort is Project Elevate, which would convert a 20-acre city-owned parcel into a high-density core on an urban street grid pattern, with one- to five-story buildings. If all goes as planned it will have a central plaza, retail, dining, entertainment and office space, a hotel and wide sidewalks to put pedestrians in a shopping mood and promote outdoor dining. Right now the city is soliciting developers as part of a five- to 15-year plan. "We have to elevate that quality and quantity of experiential retail and dining for our residents because they're going to other cities to get it. And I don't want that money leaking out of my community. I don't want anybody to ever leave Elk Grove to spend a dime," Doan says.
San Joaquin County's biggest cities want to reenergize their existing downtowns. The City of Stockton's leaders, who rolled out a new economic plan in January 2022, want to change the look and feel of the city's economic corridors, including downtown, says city manager Harry Black. Using federal American Rescue Plan Act of 2021 money, the city is investing in improvements such as better lighting, treescapes and business facades.
In the City of Tracy, City Manager Michael Rogers says leaders are updating its master plan and other city blueprints, a process that involves a lot of community input. In those meetings, Tracy residents tell leaders they want more downtown amenities, Rogers says. They've responded by investing in downtown recreation infrastructure. In August 2020 the council approved a plan to build a new aquatics center to complement investments the city already made in new youth sports fields, using revenue from a half-cent local sales tax. Rogers thinks bringing in swimmers from around the region will create a ripple effect for downtown businesses: "We want people to use the aquatics center but also dine at our restaurants and buy at our shops downtown," he says.
The City of Sacramento wants to expand use of an existing financial tool to fund investments in infrastructure and more downtown and elsewhere. Known as an Enhanced Infrastructure Financing District, it acts something like a lockbox to set aside money for things like public parks, libraries and bridges. A city freezes property tax revenue at the current level and then uses future increases in that revenue — say because a new apartment complex grows in value — to pay for the improvements.
In his February 2022 State of the Downtown speech, Mayor Darrell Steinberg proposed to designate the entire central city a financing district and use the money for projects like the stalled waterfront redevelopment. "My point was that economic development and sustainable growth ought to foster more sustainable growth, and we ought to take some of the benefits of that growth and put it right back into infrastructure, right back into the climate, right back into affordable housing," Steinberg says. (The actual boundaries of the proposed financing district are still under review, says city spokesperson Jennifer Singer.)
Across the river, the leading edge of West Sacramento's economic planning is the Bridge District, a decades-long project to turn an old industrial riverfront into an urban, mixed-use neighborhood, says City Manager and Port of West Sacramento CEO Aaron Laurel. It's zoned for a mix of housing, retail and office space and has about a thousand residential units to date — mostly apartments and some town homes — with space for more than 5,200 once built out, he says. The city sees it as an asset that can attract companies looking to relocate where workers have access to an urban waterfront that offers restaurants, stores and downtown living. "It is, I think, kind of the crown jewel for not just West Sacramento but I like to think the region," Laurel says.
Move fast — 'just hit launch'
Area leaders say there's another lesson about economic strategy that came out of the pandemic: Be flexible and move fast. City of Woodland Business Development Liaison Erika Bumgardner points to the city's delivery of $235,000 in federal relief money to 42 businesses in about two months as "kind of unheard of in government." With no time to sit on those dollars and build out a program as they normally would, "we just hit launch," she says.
A major focus of Woodland's economic development is the Lab@AgStart, a 4,800-square-foot facility that's the Central Valley region's largest shared-use wet lab space for startups, Bumgardner says. Opened in May 2021, all of the lab's 28 benches were occupied by 11 companies within the first 10 months. Now an expansion is in process that will add another 3,000 square feet, and the city is targeting 2023 for groundbreaking at the Woodland Research & Technology Park — 350 acres with up to 2.2 million square feet of space for companies looking to expand operations, Bumgardner says.
In the City of Roseville, municipal leaders and others began drafting the city's next five-year economic development plan this spring. The pandemic showed the city needs a plan that's flexible — the one being drafted will be more of a "living document," says Economic Development Director Melissa Anguiano. It will organize its economic development work under strategic focus areas but not specifically prescribe what might be done under each. That will allow leaders to adapt as conditions change, she says.
In the meantime, Roseville remains one of the fastest-growing California cities by population. Anguiano points to medical device maker Penumbra's expansion last year, Amazon's new distribution hub, and expansions by Sutter Health and Kaiser Permanente as examples of what she hopes is more to come.
The success or failure of these plans will become evident a few years out, Eyler says. They'll be measured by whether counties and cities grew employment — especially in jobs that offer social mobility — and by how many outside investors sink money into the area or are talking about doing so. "Economies that have a strategy that's updated and have a visible, consistent utilization of it — that's where it will pay off."
–
Stay up to date on business in the Capital Region: Subscribe to the Comstock's newsletter today.