Artist Shane Grammer knew he had to paint the brick chimney the moment he saw a photo of it — the only part of a friend's house in Paradise still standing after the Camp Fire devastated the town. The fire started tearing through the area on Nov. 8, 2018, becoming the deadliest and most destructive wildfire in California history.
Grammer, who grew up in nearby Chico, saw social media posts from many childhood friends who had lost their homes. When his friends, Shane and Jennifer Edwards, posted a photo of their destroyed house, he felt compelled to spray paint a mural of a woman with the chimney as his canvas. He had only intended to create that one mural, which he completed on New Year's Eve, and returned home to Los Angeles where he works as a freelance artist in the theme-park industry. Soon other displaced residents asked him to do more. "As an artist, I've spent my life trying to create art that moves people emotionally," Grammer says. He had found his calling. Over the course of two weeks in Paradise, he painted 14 murals.
Grammer's artwork was documented by photographer Terence Duffy for their project "Beauty From the Ashes." Duffy recalls the morning he drove to the first site: "You pull in and you start to see fences and these plastic white-picket fences melted. Then you see the houses, and then all of a sudden you slow down — I rolled down my windows and turned the music off — and you see complete and utter devastation that you're not even ready to see."
Sacramento law firm Hughey Phillips covered the team's expenses. "I followed the Paradise Camp Fire stories closely, and the images of total and complete destruction of families' homes and belongings were heartbreaking," says Partner Kevin Hughey. Then he saw a photo of the first mural. "[Grammer] called me a couple days later and explained the enormous emotional impact his mural had on his friend's family and other Paradise victims. They were touching recounts that, to me, conveyed the victims were happy to not be forgotten about by people outside Paradise and, more importantly, that Shane's work provided them a sense of hope and optimism about the future."
Hughey introduced Grammer to Duffy (both had previously done creative work for the law firm). Hughey says his firm was thrilled to be involved in a project that brought residents of Paradise at least a "little relief, hope or encouragement for the future."
Grammer says he has been blown away by the positive response to the project and the hope it has brought to the community. "It is something that has stamped me as an artist forever."
Shane Grammer painted the portrait of 8-year-old Eleanor on what remained of a wall in the front of her destroyed house, near a tree in the front yard where she often played. Eleanor is the daughter of a friend Grammer had gone to school with (the family survived the fire), and he based the mural on a photo he found on social media. "She was looking to the side and looking up," Grammer says, "and I thought it was kind of hopeful — looking to the future."
On photographer Terence Duffy's first morning driving through a neighborhood in Paradise, he saw the remnants of two trampolines and imagined children bouncing over the fence looking at each other. He passed scorched swimming pools where celebrations likely happened. "You can kind of build these stories of what might have been," Duffy says.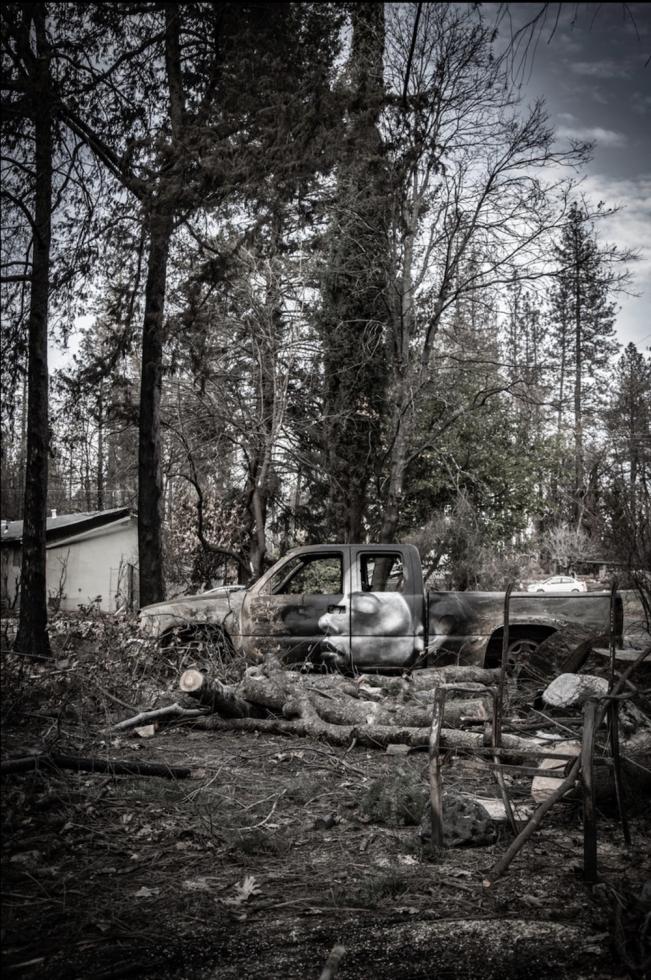 That night he returned to his motel room and started touching things around him, like a bed and chair. "How does something like this disappear?" he recalls thinking. "So I was touching everything and feeling how tactile it was. Then I went to go wash my face and saw how much soot was on me and I looked in the mirror, and I just lost it."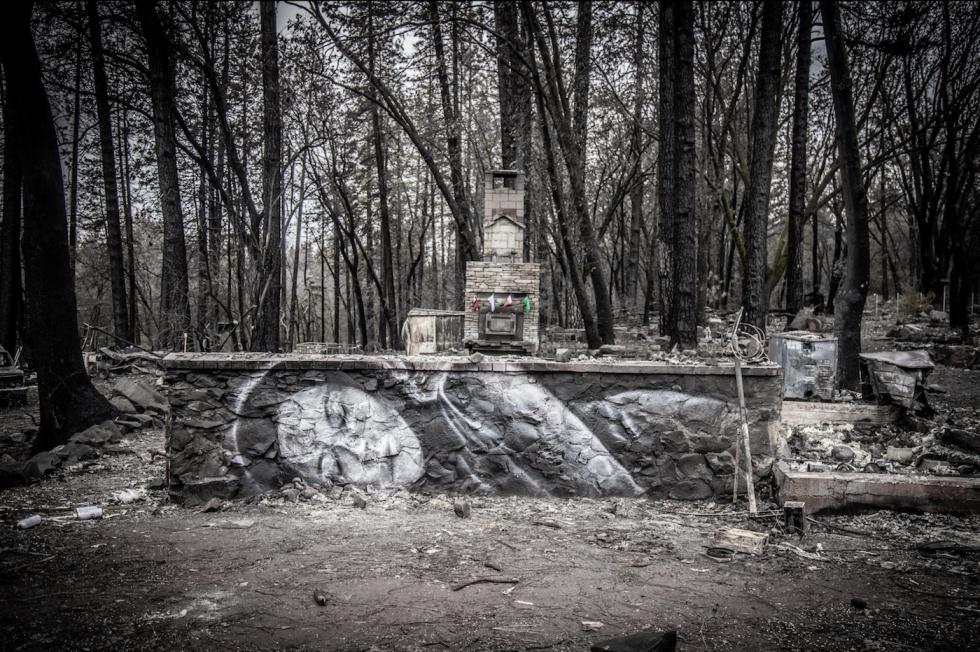 As word of Shane Grammer's first mural spread, he was inundated with requests to create more artwork. One came from a man who wanted Grammer to paint on a wall only about 4 feet tall and 16 feet wide — a less-than-ideal canvas for a muralist. Grammer says he prayed for inspiration. "I fell asleep, woke up the next morning, I turned over in bed, there's my beautiful wife, just laying there," he says. "Oh my gosh, that's my low rectangular shot. I quietly got my phone and — snap. I took a picture and, OK, that's what's going on the wall."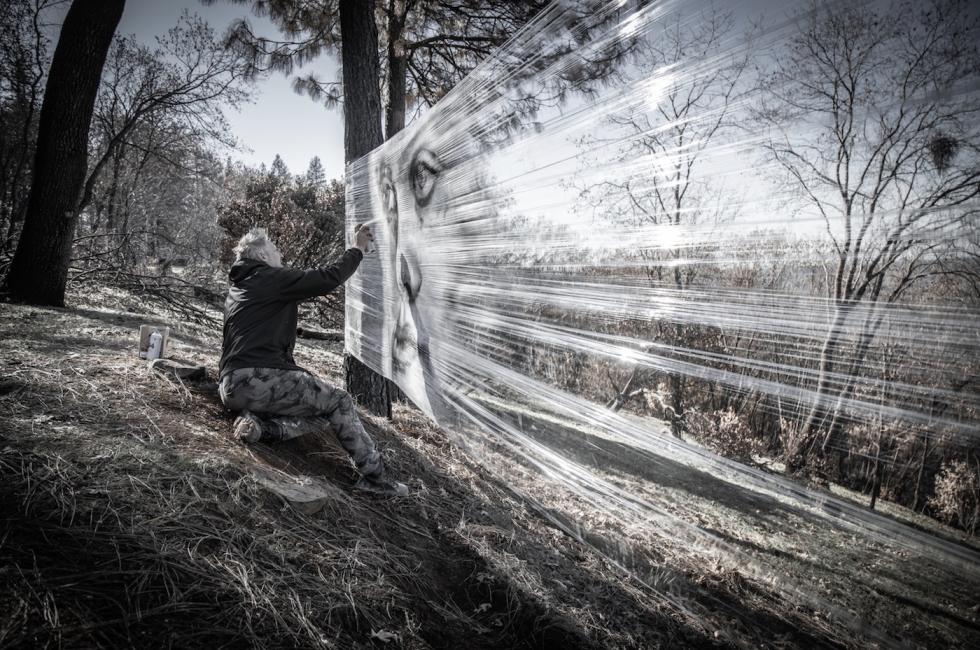 Shane Grammer says the black-and-white portrait of a woman on a sheet of plastic wrap as a temporary art installation took him a couple hours to paint. Only a handful of days later, the art was gone — shredded to pieces by rain and snow. Working on the "Beauty From the Ashes" project brought Grammer, 47, back to his love for street art, something he's done since he was 19. Grammer says he's painted murals on orphanages, schools and other buildings in Mexico, Peru, Brazil and Cambodia as part of ministry-related projects. "It is a gift God has given me to bring joy to areas that have been devastated," he says.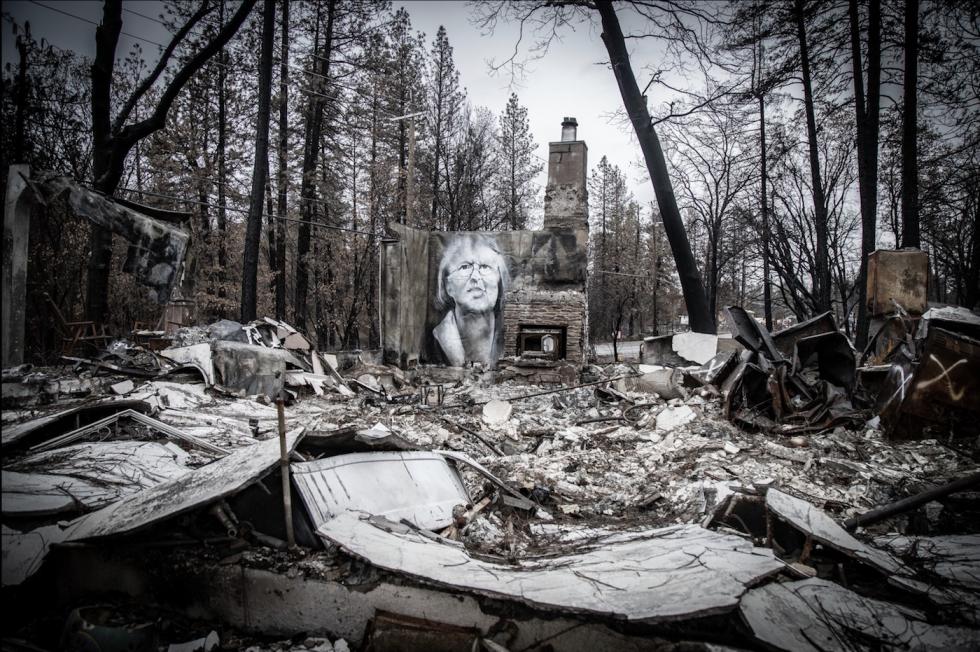 When artist Shane Grammer learned a man who was "like a second dad" to him had lost a loved one in the Camp Fire, he asked to honor the woman, Helen Pace, 84, with a mural in her likeness. Pace was the mother of the man's sister-in-law. "That was a real tough one because it was working off a photograph of somebody," says photographer Terence Duffy. "You walk around, and you find little things — elements of her world."
Beauty From the Ashes
Art exhibition and fundraiser featuring work by Shane Grammer and Terence Duffy
When: Friday, June 7, 5-10 p.m.
Where: Museum of Northern California Art 900 Esplanade, Chico
Info: www.monca.org