Last week we had some fun with our top 10 worst covers of the past 25 years. But it hasn't all been bad – quite the opposite. We've done a lot of work that we're proud of, and this was a hard list to narrow down. These covers made the list partly for the artwork and partly for the story – both the articles and the "behind-the-scenes" memories associated with them. Enjoy!
10.) Room at the Inn: Photo by Tim Engle (June 2011)
Long-time Comstock's photographer Tim Engle was the creative mind behind this cover, which was tied to a story about the economic impacts of local conventions, namely those held by lobbying groups, industry associations and political organizations. The Citizen Hotel's political decor made it the perfect setting for the shoot, but it was Engle's years-long plea to photograph someone wearing a donkey mask that brought it all together. And thank goodness too, as we were all growing wearing of explaining why ass masks did not align with our vision for editorial design.
— Christine Calvin, managing editor
9.) Bio Crops: Photo illustration by Mike Graff (Nov. 2011)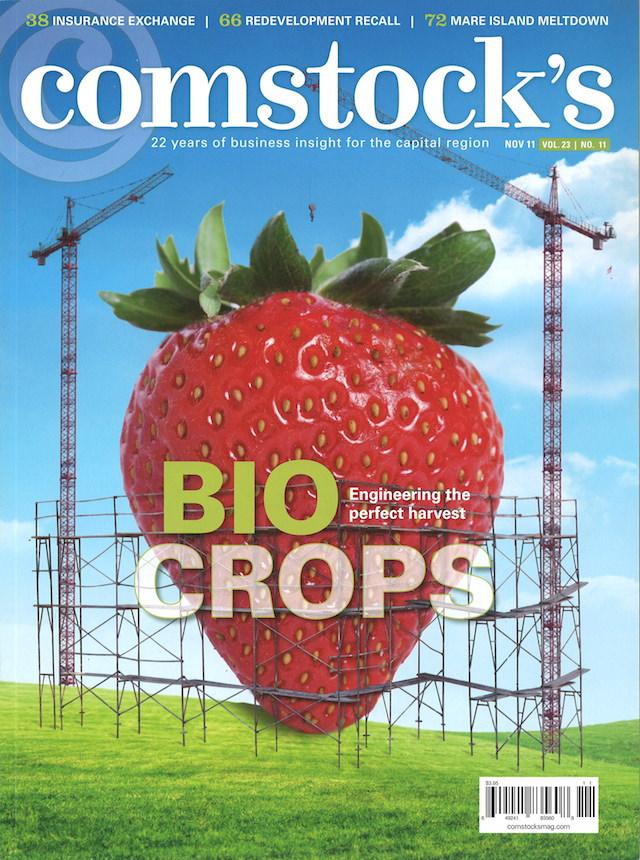 During a production meeting, Editor-in-Chief Doug Curley pointed to an illustration of a giant tooth enset by scaffolding (original art commissioned for a cover of the Journal of the California Dental Association) and said, "I want that." We commissioned Mike Graff to make it happen, and the end product didn't disappoint. He shot both elements, the scaffolding and the strawberry, and the final image was pulled together in Photoshop. The issue won a Maggie for the best overall business/finance consumer magazine.
– Kelly Turner, former art director
8.) Marketing Clean: Photo by Mike Graff (Oct. 2010)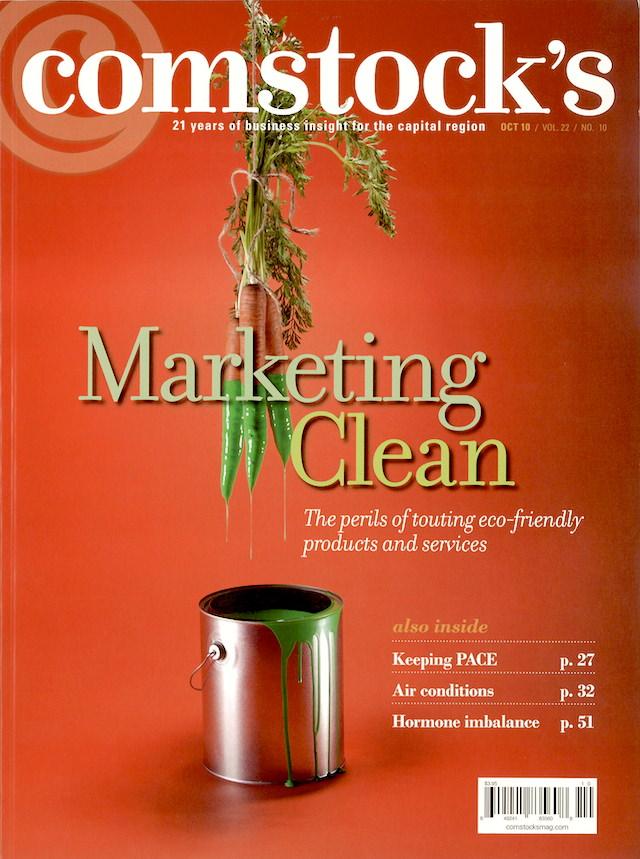 We wanted to illustrate the marketing technique known as greenwashing by literally painting something green. After hours of brainstorming, we ultimately decided on carrots, feeling the contrast of orange and green would work well aesthetically. A rabbit was the runner-up, and we feared calls from the animal rights people so thankfully the carrots worked. Once again, I called in the help of a friend, and we used his ranch to build and photograph a roadside stand of greenwashed products for the inside lead image. It was a Maggie finalist for best cover.
– Kelly Turner, former art director
7.) Morale Dilemma: Photo by Mike Graff (Jan. 2011)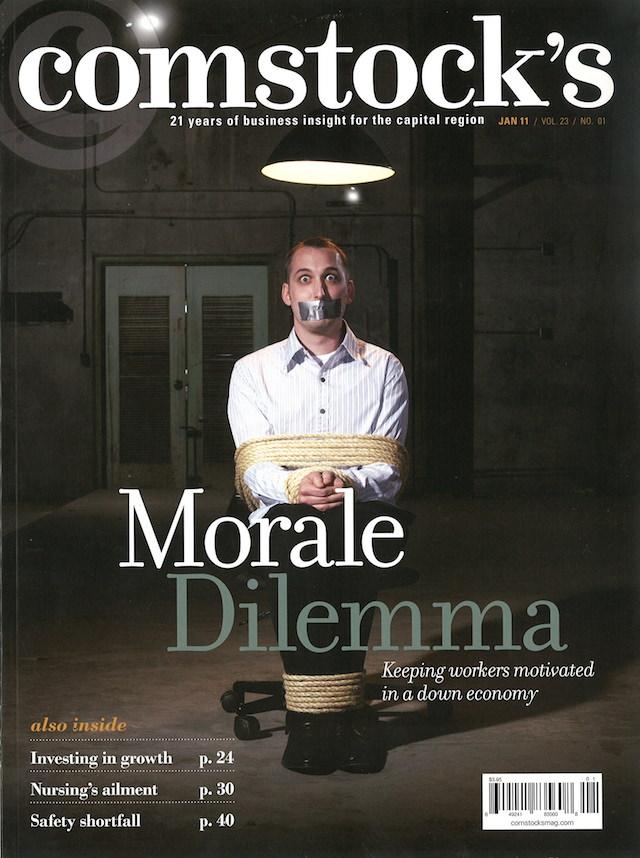 During a brainstorming session with Mike, we tried to come up with the most outrageous ways an employer could retain top employees.
"Well, we could tie someone to a chair in a dark warehouse… and then maybe there's this mob guy with a pipe, and another thug guy holding a briefcase full of cash…"
After a few phone calls, we lined up the talent, an empty warehouse at McClellan Park and, as usual, Mike came up with all the props we needed. My close friend and former roommate stepped in as the employee. He graciously allowed me to tie him to a chair and duct tape his mouth shut. This won a Maggie award for best cover.
– Kelly Turner, former art director
6.) Work of Art: Photo by Mike Graff (May 2013)
This cover, featuring Leidhra Johnson of Uptown Studios, represents Comstock's first big step toward appealing to a new generation of readers. The article itself did great on social media and got picked up nationally on a number of story tracking services.
It was also the beginning of my relationship with Comstock's. I was at The Sacramento Press at the time and posted a discussion topic on the piece, which received 10 comments to former associate editor Allen Young's zero. Later, he offered me a freelance gig. A few months after that, when Young left for the Sacramento Business Journal, Comstock's offered me a job.
– Allison Joy, digital editor
5.) Plastic Man: Photo by Mike Graff (March 2012)
We knew from the very beginning that Allen Young's cover story on male plastic surgery had to include a mannequin. Originally, we wanted the mannequin to be "shopping" for new body parts, but after visiting a local supplier's warehouse of mannequins, the shopping photo was moved to the inside lead, and the creepy, almost life-like close-up became the cover. I was told we received multiple calls from concerned readers that absolutely hated it, and that made us love it even more.
– Kelly Turner, former art director
4.) Command and Deliver: Photo by Kyle Monk (March 2014)
This shoot was actually less challenging and more fun that I had anticipated. Coordinating a shoot with 12 people seemed like a daunting task but, as it turned out, working with a young, tech-savvy team made for a painless experience. It was a shoot we had all been waiting for – the first fold-out cover in our magazine's history. Everyone was involved: Allison helped brain-storm, Doug reached out to the Citizen Hotel and Christine was our official caffeine supplier.
It was an amazing experience to direct a shoot with such great people, in such lovely surroundings (the Citizen Hotel) with a talented artist like photographer Kyle Monk. Even though it took all of Super Bowl Sunday (yes, Super Bowl Sunday!), we left feeling excited and energized.
– Zuza Hicks, art director
3.) Strong Man: Photo by Kyle Monk (March 2013)
Christine and I discussed having the "Strong Man" concept as a follow-up to the previous year's men's health cover, "Plastic Man." Immediately, our minds jumped to vintage circus posters, but with a twist. The story, written by Jeff Wilser, was about hormone replacement therapy for men. So we juxtaposed our strong man against a not-so-strong contemporary. Kyle Monk was commissioned as photographer, and he called in a brilliant crew of stylists and assistants to flawlessly recreate the vintage look.
– Kelly Turner, former art director
2.) In the Making: Photo by Kyle Monk (Dec. 2013)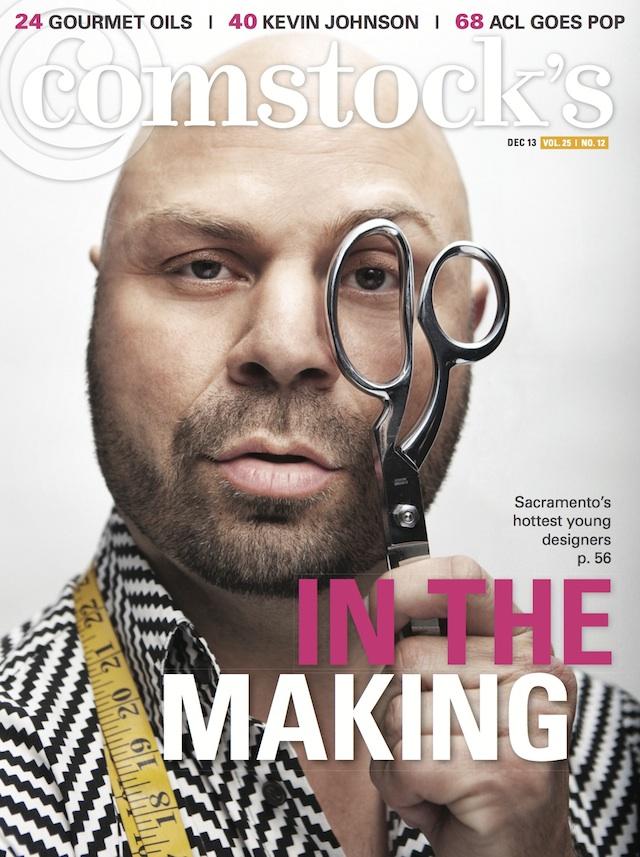 When Richard Hallmarq agrees to a photo shoot, you let Richard Hallmarq do what he wants. To photograph the winner of the television hit "Project Runway," we once again visited the creepy mannequin warehouse (we were originally there for our "Plastic Man" cover), and photographer Kyle Monk was able to capture Hallmarq at his best: dressing mannequins and vogue-ing with a pair of scissors.
– Kelly Turner, former art director
1.) California Dreaming: Photo by Ryan Salm (Sept. 2008)
Award-winning Tahoe photographer Ryan Salm shot this image of a sun-worn day-laborer for the cover of our Sept. 2008 issue. The corresponding report, a 3-part series by Rich Ehisen on California immigration policy, won the Maggie award for best series of articles.
– Christine Calvin, managing editor