Many small farms and agriculture-related businesses were damaged or destroyed when the LNU Lightning Complex fire tore through Northern California. The fire began Aug. 17 as a series of fires caused by lightning, and burned more than 363,000 acres across five counties in 26 days, killing five people and injuring five more, destroying nearly 1,500 structures, and damaging hundreds more.
Clay Ford, owner of Clay's Bees and Pleasants Valley Honey Company in Vacaville, lost 73 beehives in the fire; 16 survived. Because the fire hit at night — when most bees stay inside their hives, unlike during the day when the forage for nectar — the bees didn't escape the hive and were incinerated.
Ford, who has been a part-time beekeeper for about a decade, sells honey from the hives at the Vacaville Farmers Market and rents bees to Northern California farmers who need to pollinate crops. Comstock's spoke to Ford about the impact of the fire on his beekeeping business and how he believes, "The bees will fly again."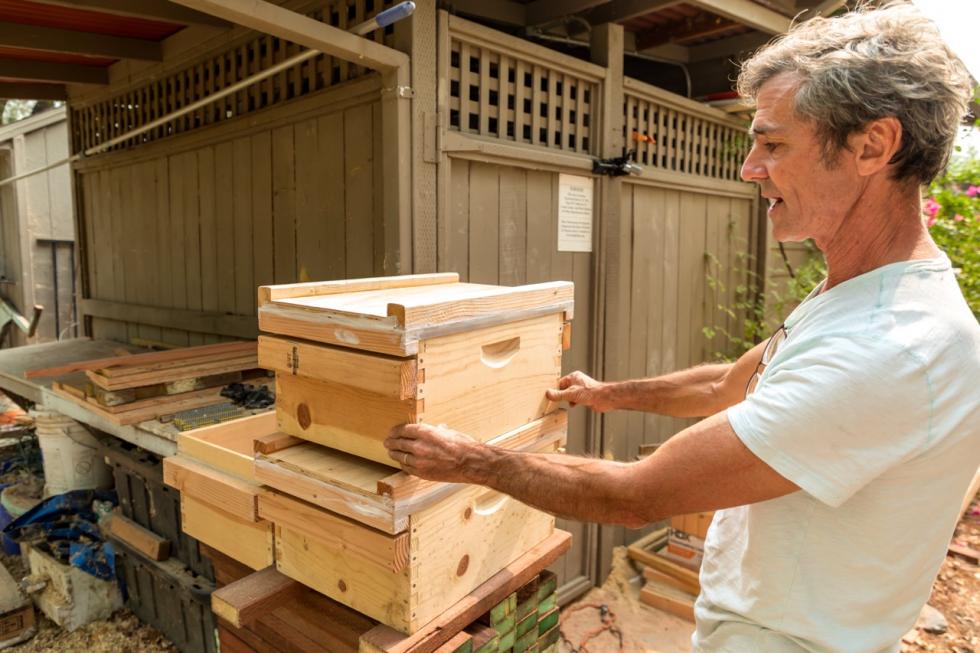 How did you get into beekeeping?
I wasn't particularly thrilled about dealing with flying, stinging insects when my friend first approached me about it. But he asked me to help him find a home for some of his bees for pollinating the almonds. I looked on Craigslist and a few other places and found a farmer and saw a little bit of money transact, and he said, "Hey, Clay, you need some side jobs. Why don't you buy some of my bees?" And so I did. It's been a neat adventure ever since. I think from that time in the spring (of 2010), by the time fall rolled around, I had 20 hives. I generally run about 80-100 hives depending on winter losses.
How did this fire affect you and your bees?
On the morning of Aug. 19 — actually, even prior to that — we had heard the fire was over in Napa across a couple of mountain ranges. By morning, it jumped into Pleasants Valley and had pretty much taken out the whole valley just over that night.
We walked out in the morning, not knowing the fire was so close, and noticed the ash all over our driveway (in Vacaville). I had a friend (call) me shortly after and said, "Hey, Clay, let's try to get out there and see if we can save some of your bees." I'm like, "Oh, what do you mean?" And he says, "Yeah, all of Pleasants Valley is on fire." And I say, "No, bro, they're not gonna let us out there. It's too much of an active fire scene right now. Look, either my bees made it or they didn't."
I had six yards (farm fields) spread out over about 8 miles, and five of them were completely incinerated, which was a bit of a shock to me. I was hoping that maybe a couple of yards (only) got singed a little bit, but, no. It was devastating. Seventy-three out of 81 hives that I had in Pleasants Valley were burned up. It was a bit of a shocking thing, and I guess at first there was a bit of unbelief. You can't really wrap your mind around it. After that, it caused me to pause and wonder, well, OK, maybe there's other plans in my life that I wasn't aware of.
In one of your yards, did your bees survive?
Yes. I had eight hives in that one location where I didn't lose my hives. That was probably due to the landowner who was refusing to leave, trying to save his home and pretty much keeping fire away from everything. Out of the 81 hives that I had in Pleasants Valley, I lost 73 of the hives, and I had that one yard of eight hives survive. I had another eight hives over in Dixon at a little lavender farm (Araceli Farms), and they weren't touched by the fire.
What kind of support have you received from the community?
We have an organization called Pleasants Valley (Agriculture) Association, and they sort of rallied around each other. A lot of them lost farms and animals and all kinds of stuff. But there's a woman, Lisa Murray, who is our advocate, our website-designer extraordinaire, our communications expert. She put together a list of where all the farmers were, what they lost, how they could be helped and encouraged everybody to (share the) Venmo link … to help people be able to feel part of the rebuilding. So I did that, and then I had another person find me on my Facebook page, and she had been a fundraiser for her whole life and wanted to build me a GoFundMe page.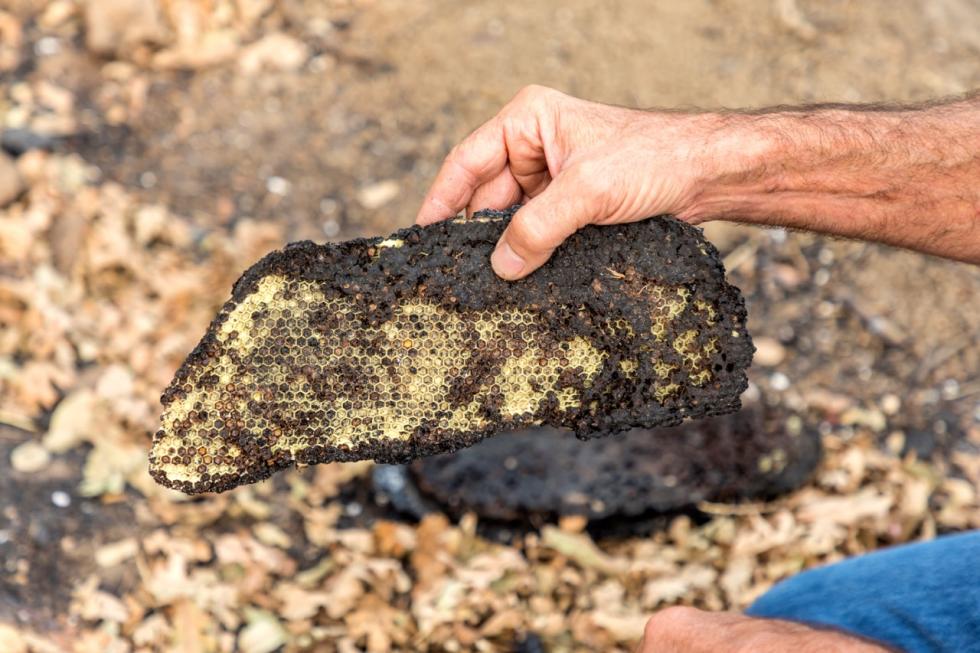 Do you have the resources to rebuild now?
Honestly, the finances have, for the most part, come together for the material costs. It's just the incredible amount of labor. I figure I lost probably three years' worth of labor, building all the equipment and working with the bees and getting the comb built up. … But I'm actively and furiously and gratefully rebuilding at this point. I've already constructed a lot of boxes and made a lot of the pallets that they sit on, and I've started making the tops.
One (beekeeper) friend of mine … called me up and said, "Hey, Clay, as soon as you get boxes made, come out to my bee yard, and we'll go through my hives and we'll take some splits (move some bees into Clay's new boxes) and that way you can at least have some bees going through the wintertime." I probably won't be strong enough to do very much with the almonds, because you need a certain strength hive to be able to provide the pollination for the farmers, but at least I'll be going again. Bees build up (their comb and strengthen their hive) in the spring. … They don't build up very much in the fall when they're more on maintenance mode.
Tell me how you make these boxes.
A lot of things are streamlined in terms of efficiency. There's a company based in Minnesota, I believe, and they have a branch in a Woodland called Mann Lake. They sell a lot of bee-supply type stuff, and they sell also the boxes either premade or preassembled or painted and assembled or whatever. A lot of times, I'll get the boxes from those guys, and I'll affix my handles on there and paint them and get them ready for the frames and all that type of stuff. But the tops and the bottoms, I pretty much build from scratch from lumber and plywood.
Why do you build the tops and bottoms from scratch?
I've got a construction background. I've been in construction all my life. I don't build the boxes because they're all finger jointed, and I don't have the equipment to create all the fancy finger joints on the boxes. It's really easier to go ahead and buy those. But the tops and the bottoms — I jokingly say "I build bee furniture." I more or less build these things like I'm building a piano, which my old construction boss used to say, "Clay, we're not building a piano, we're rough framing." You can't teach an old dog new tricks. So I'm still building a piano with regard to my bee equipment.
Is there anything you will do differently next time to prepare for fire with your bees?
Probably yes. To adequately prepare for it, I would probably cut down to the ground all the dry grass and blow all the flammable stuff away from the hives. That might give me a little bit better of a success rate.
The Community Alliance with Family Farmers is providing grants to family farms affected by wildfire. For more information, visit www.caff.org/2020firefund.
–
Stay up to date on current events affecting business in the Capital Region: Subscribe to the Comstock's newsletter today.