Life often has been unkind to economic development directors since California put its redevelopment agencies out of business last year. Randy Starbuck tells it first hand.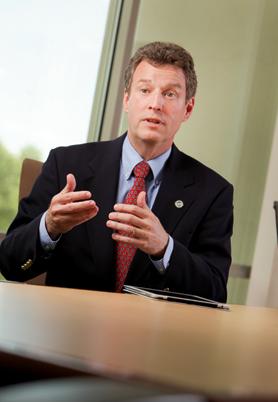 He went to this year's International Council of Shopping Centers convention to help developer Howard Hughes Corp. drum up interest in the half-built Promenade Mall in Elk Grove. It should have been rich hunting ground since more than 30,000 delegates converged on Las Vegas, including shopping center owner/operators, major developers and retailers.
At lunch, a man noticed the California-shaped pin on Starbuck's lapel; Starbuck explained his mission.
The man said, "California? You guys don't have any money. I don't even want to talk to you," and then walked away.
Starbuck began as Elk Grove's economic development director in October 2011. The redevelopment agencies shuttered months later.
"I'm going to go on record saying this is one of the biggest mistakes that this governor and Legislature have ever made," Starbuck says. "Redevelopment had a huge role to play in revitalizing our economy, and they just took it away."
His previous job was directing economic development for the Bay Area city of Pittsburg. He was credited with securing more than $400 million in new private commercial, industrial, mixed-use and retail development. Just as important, the space leased up quickly, says Garrett Evans, Pittsburg's assistant city manager.
"He did a fantastic job," Evans says. "Randy could jump into an arena and quickly find a way to make it work."
Now, Starbuck has to find a way to lure more business to Elk Grove without the enticement of checks.
Comstock's: How does your new job differ from your previous one?
Starbuck: Pittsburg was only half the size of Elk Grove. Elk Grove is a younger community, not only in terms of the age of the city but the age of the residents. The last time I checked, I think 70 percent of the population of Elk Grove is younger than I am. They brought me in to revitalize downtown Pittsburg in terms of new housing, a school and things that make it a community: a bank, places for people to go and recreate, making sure you had a safe environment. Here in Elk Grove, the task is still jobs, but we have so much of the infrastructure already in place that my efforts are really focused on letting the world know that we have a beautiful place in Elk Grove.
Comstock's: How can you do that without redevelopment money?
Starbuck: We will have to work hard to see what will replace that void. And don't ask me what that will be. It just makes life harder. You have to be more creative, find ways to do things that don't require money. That includes things like being faster with our permit processing. To the people who say, 'We need millions of dollars to come into your community,' we are going to have to scramble to find those dollars.
The man said, "California? You guys don't have any money. I don't even want to talk to you," and then walked away.
Comstock's: But all California cities lost their redevelopment agencies. Doesn't that at least put everyone on equal footing?
Starbuck: The thing is, we're not competing just with each other. We are competing globally. The (International Council of Shopping Centers) conference had delegates from 50 countries. I saw people from Oklahoma, Washington, D.C., Illinois, Indiana. They have tremendous tools and assets at their disposal because their governments are investing in their future. Rick Perry, the governor of Texas, has a half-billion-dollar war chest he can throw at any project he wants to.
Comstock's: What can you throw?
Starbuck: We have a lot of the industrial-zoned space and some of that flex space that job creators can use in the light-industrial arena. The problem we have is we don't have a lot in the over-50,000-square-feet area. If someone walks in and says, 'I need 300,000 square feet of industrial space,' I don't have it. Creating that kind of space is hard in this environment. You don't have a lot of people doing speculative investment right now. The real challenge now is to create those land areas where we could say we can do a build-to-suit. We need to create some of those spaces right now. We're working to finish the Southeast Study Area environmental documents (which could pave the way for future development beyond current city lines). You have to find ways to save time and money so that your developers don't have to pay that cost out of pocket.
Comstock's: Elk Grove scored a couple of big employers before you arrived: the California Northstate University College of Pharmacy and California Correctional Health Care Services.
Starbuck: The pharmacy school was specifically looking for a property we had where they could expand their school. We were fortunate enough to have the right assets that the user needed. The same with Correctional Health Care. That was a team effort between the city of Elk Grove and Pappas Investments (a Sacramento real estate developer). But the bulk of economic development doesn't happen with a 1,500-job company. You have to create an environment where 15-employee companies can thrive. That's harder to do. Just getting in touch with them and understanding what their needs are is really time-consuming. If you get 200 of those, that's lots of employment.
Comstock's: Specifically, what are you targeting?
Starbuck: Cities have got to become more savvy about what they are looking for. For a while, it was the banner of clean technology. Well, clean technology is very broad. You really need to hunt down where you think you have a competitive advantage in clean technology. The ability to build solar panels — that advantage still exists in China. What I am looking at is the whole movement of waste to energy. I have been working with Cedar Kehoe, our integrated-waste manager. We have been looking at ways to take organic product out of our municipal waste stream and use it to create energy. There are over 400 companies in the U.S. right now that are chasing the core technologies. What they are looking for is a municipal partner. What makes them willing to talk to Elk Grove is our willingness to play in that environment.
Comstock's: What are the major lessons you've learned in 30 years of doing this?
Starbuck: The biggest lesson I have learned in my career is that just because I have been doing this so long, it doesn't mean what I did in 1993 will be applicable in 2012. I walk around now carrying an iPad, and all my promotional materials are on the iPad. Thirty years ago, we carried around these big packets. And you were stuck with those things for a year until they were gone. But now, a computer can change those in a heartbeat. The ability to be open-minded over time is absolutely critical. There is no one right way or wrong way anymore to get it done. Literally, we are all learning from one another.
Three years ago, Gov. Jerry Brown pulled the plug on local government redevelopment agencies and the estimated $5 billion a year they spend rebuilding inner cities to combat urban blight.
Say what you will about the severity of state and federal budget woes, but it's arguably the small towns that are bearing the real brunt of today's economy.