General building contractor Tilton Pacific Construction (TPC) has recently completed a magnificent venue at Sonoma Raceway for Speedway Motorsports that will act as the track's race-day hospitality center and site of many events. Located at the apex of the track's hairpin Turn 11, the state-of-the-art facility is the cornerstone of the Sonoma Re-imagined project.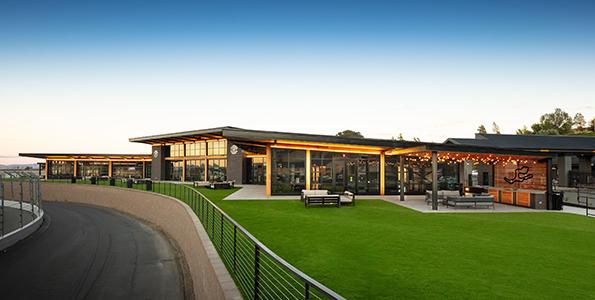 TPC has its roots in the 1980s and its sights focused ahead. Named for Jim Tilton, who founded the company in 1989 and developed a long-term strategy for continued growth, the firm today is headquartered in Rocklin with a regional office in San Jose. In 2012, Gregg Hall and Harvey Hwang became partners in the business and the company's staff and construction volume have continued to grow ever since. Hall as CEO and Hwang as COO now guide TPC and their 90-plus team members into the future.
The firm takes on commercial projects of all types and sizes in markets including hospitality, automotive, retail, restaurant, entertainment, industrial, education, churches, medical and senior living. Licensed in six western states, TPC annually completes more than $120 million in construction volume and has completed $1.2 billion in the past 34 years.
TPC broke ground on Sonoma Raceway's Turn 11 in June 2021 and completed the project in less than a year, committed to having the building ready by this year's Toyota/SaveMart 350, a NASCAR Cup Series event on June 12. "To have the building of this high caliber open for its first official event only a year after breaking ground is a monumental accomplishment, especially considering the current construction climate of material delays and staff shortages," says Gregoire Zaldua, senior project manager.
Turn 11 offers luxury hospitality during major motorsport races and will be available for corporate and community events throughout the year, providing a significant economic boost for all of Sonoma County. Designed by the architectural firm Perkins Eastman, this spectacular structure is both welcoming and awe-inspiring. This extraordinary 19,000 square-foot hospitality destination has the perfect blend of racing pedigree, market location and amenities. Turn 11 at Sonoma Raceway offers three flexible indoor/outdoor room concepts, making it ideal for enviable viewing experiences during major race weekends, bespoke private events, corporate off-sites and product innovation showcases for up to 1,500 guests. When it's time for more formal brainstorms and presentations, the conference spaces provide the latest audio-visual capabilities along with a sense of relaxed luxury.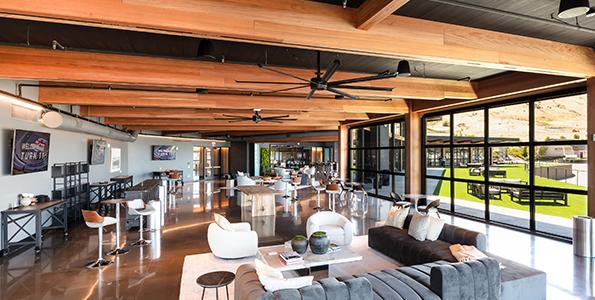 From a VIP drop-off circle designed for valet service, Turn 11 guests enter into a grand space that can be utilized as one enormous venue or separated into two or three venues with folding glass walls. "Guests will find that the facility perches them right on this iconic road course's thrilling hairpin Turn 11," says Tilton Pacific CEO Hall. In addition to flexible space, Turn 11 features a main kitchen and prep kitchen, outdoor fire pits and kiosks, and seven 19-foot-wide-by-12-foot-tall hydraulic glass garage-style doors that open onto the track.
"This facility is a product of forward-thinking design and construction," Hall says. "Its 25,000 board feet of redwood was sourced from California coastal timberlands that are managed to Forest Stewardship Council standards, which promotes responsible forest management. Also, all landscape irrigation is from onsite recycled water and storm water runoff is slowed and treated in bio-retention basins within the landscape before going to the sewer and ultimately the nearby bay."
Sonoma Raceway and event guests of Turn 11 will benefit for many years to come from this grand venue. Hall concludes, "We're pleased to be able to build this ideal facility for Speedway Motorsports and we look forward to helping them with the next opportunity."