Daniel Correa slides a Neapolitan artisan-style pizza in and out of an authentic Forno Valoriani wood-fired mobile oven parked on Yosemite Street in Stockton. The crowd of about 100 people on Friday night in March watches every second of the 90 seconds it takes to bake fresh pizza. "We bring something different to the neighborhood," Correa says of his business, Fired Mobile Pizza Oven.
Born and raised in Stockton, Correa and his wife, Sarah, lived near the Yosemite Village neighborhood before moving to north Stockton. Correa had a vision of creating specialty pizza with punk rock music playing in the background at his own brick-and-mortar space. "My life goal was to own a pizza restaurant, but I wanted to do something unique. I was always fascinated by wood-fire pizza," Correa says.
He spent hours doing research on the handmade process of making dough from scratch. Correa's day job as a wine and spirits distributor had him commute from Stockton to Oakland, but after 10 years in the industry, he was burnt out. In 2015, while still working his full-time job, he started the journey toward his lifelong dream. Now, he runs a Stockton-based mobile pizza oven that serves customers across the Central Valley and uses cross collaboration between small businesses to support entrepreneurs from his hometown.
Taking the Plunge
When Correa first pitched the idea about a pizza restaurant to his wife, the thought of owning a restaurant was daunting, until the couple attended a wine tasting event in Amador County: "We spotted a mobile pizza oven trailer at a wine event," he says. "I knew that's what I wanted to do. We came to a compromise, and I invested in a Forno Valoriani wood-fired oven made by Mugnaini," a California-based pizza oven manufacturer. He made a $30,000 investment on a used oven for sale in Salt Lake City.
Although he had no background in the restaurant industry or skills in pizza making, Correa was determined to learn how to handcraft specialty pizza. "There is a science to it — the dough, the oven and the type of wood to use. I want it to be authentic," he says. After they purchased the oven in 2018, Sarah posted a photo on social media and they got positive responses from the community wanting to support their new venture. Correa says everyone wanted them to start making pizza at events.
"I clearly was not prepared, and it was a disaster," Correa says. The first year in business had growing pains. He learned each day to balance the cooking and management of the business. With each pizza made from scratch, the process and timing to make specialty pizza needed preparation and care. Correa says all the focus went into the new business, but he did not have a name for the brand until he was fired by his previous employer. "I was shocked when it happened, but that is how Fired Mobile Pizza Oven was born," Correa says.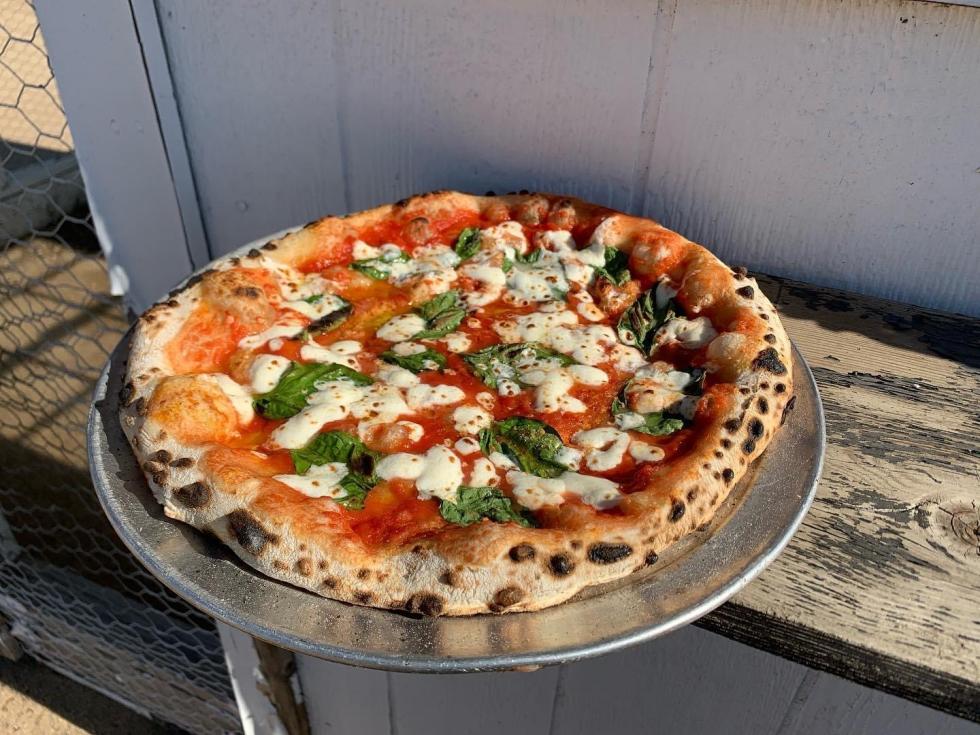 Although Sarah works full time as a sales and marketing manager for Westervelt Ecological Services, she helps with the business on her off time. His family also provides assistance with setup and customer service at catering events. "My sisters help take orders. My cousin and his wife travel with me to serve pizza. Even my dad will phone in and ask where I am popping up next to come show support," Correa says.
Early on, Fired Mobile Pizza Oven traveled across San Joaquin County into backyards and neighborhoods. The family-run business has since expanded to wineries and breweries in Lodi.
Idol Beer Works owner Grant Hamilton and co-owner Angela Gatti launched their brewery in Lodi in September 2017. The following year, Gatti says she was looking for local food trucks on social media to serve her customers and found Mobile Fired Pizza Oven on Instagram. "I've seen these mobile pizza oven trailers before and reached out to Daniel to see if they would be willing to come serve customers at the brewery," Gatti says.
With small-business owners turning to each other for support, Correa does an outdoor pop-up every Sunday. "They created a following," Gatti says. "We collaborate our promotions through social media and the response has been positive."
Expanding Its Reach
With the Lodi community supporting his business, Correa's next goal brought him back to his old neighborhood in Stockton at Yosemite Street Village. Correa contacted Jimboy Rabanal, owner of Yosemite Meat Market and Deli, to collaborate on his new business venture. Rabanal says he went to high school with Sarah and heard about their investment in a mobile pizza oven. "I was excited about their pizza and how we can work together to offer it as another option for our take-out menu," Rabanal says.
The entrepreneurs formulated an idea to promote Fired Mobile Pizza Oven to midtown Stockton neighborhoods through social media. "During the pandemic, we created 'Fired Fridays' where people could pre-order their pies and pick them up here on Yosemite Street," Rabanal says. With locally sourced ingredients, Correa's passion for pizza brought great flavors to new customers in Stockton.
The pop-up was a success and people lined up for Neapolitan style pizza. "You can see the process from start to finish on what you get with your pie — it's authentic," Rabanal says. "Everyone was excited to see something new. … It gave people a small window to come pick up food." 'Fired Fridays' eventually moved to Wednesday for a night market pop-up at Yosemite Street Village. "Daniel was an anchor for our neighborhood. People knew there would be two things at our night market — fresh produce and Fired pizza," Rabanal says.
Correa says these pop-ups were significant to sustaining the business. When the pandemic started earlier this year, all of the scheduled catering events were canceled through the summer. He continued to overcome challenges even with the scarcity of items he needs to maintain the business.
With the success of the small, wood-fired pizza oven, Correa expanded his business, debuting a new food truck trailer at Idol Beer Works. "The truck streamlines everything we do with our pizza. I already had everything planned out for the year but the pandemic slowed the process of finishing work on our project," Correa says. Gatti says the expansion is a welcomed addition and customers in Lodi are already arriving to support their small businesses each week. "I've had customers come out to our brewery just because they know Fired pizza will be here," Gatti says.
The collaboration between small businesses will continue throughout the year, and Correa has been grateful for Rabanal's efforts. "Jimboy was instrumental in helping us gain traction in Stockton," Correa says. "I'm so grateful for all the support from our communities and my hometown."
–
Get all our web exclusives in your mailbox every week: Sign up for the Comstock's newsletter today!