For Sean McDonald, improving the food production system is the future of his business — and the entire agriculture industry. His work toward those improvements starts with … (drumroll please) … crickets.
McDonald is the CEO of Bitwater Farms, a new agricultural company in the Sacramento area that seeks to empower farmers worldwide with the ability to grow their own feed for poultry, fish and potentially other livestock like pigs and cattle. Instead of buying formulated feed mostly composed of corn or soy and shipped long distances, McDonald envisions farms of the near-future harvesting their own protein-rich feed base of crickets, which will save water, time and money. Bitwater Farms raises colonies of crickets, sells feed kits to farmers and consults on sustainable farming.
"If you put a chicken in a soy field, it's not interested in the beans, but it starts hunting insects immediately," McDonald says. He pulls up a video of a small chick he calls Daisy, running around like a tiny velociraptor snatching up crickets. "That's a natural validation for this concept."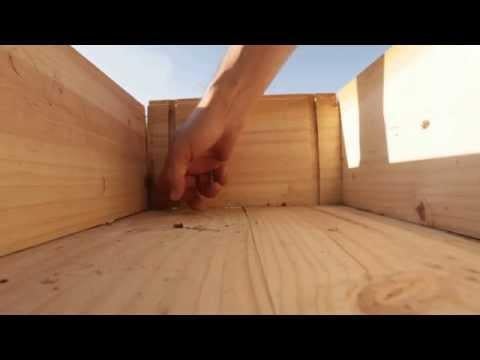 Crickets are incredibly lucrative: One ton can sell for anywhere between $7,500 and $20,000, depending on the quality of their market of origin (most of which are overseas). When used as a feed base for domestic livestock, crickets offer producers a better return on investment in terms of caloric energy, water consumed and money spent.
By most estimates, a single chicken egg requires around 200 liters of water to make it through the supply chain, and in the U.S. alone, the average person eats 250 eggs a year. Meanwhile, we also eat 160 million broiler chickens a week, and just one pound of chicken takes 280 gallons of water to produce. But crickets can help bring those numbers down, with as little as one gallon of water needed to harvest a pound of the insects. By contrast, soy, which is a main ingredient in chickenfeed, requires roughly 240 gallons to produce one pound of beans. Crickets also require little space and can subsist on unprocessed farm scraps, making them drastically cheaper and easier to manage than commodity corn and soy crops. The ability to produce and minimally process a feedstock like insects stabilizes and reduces overhead costs for poultry and fish farmers. Plus, surplus crickets can be sold back to Bitwater Farms, and the resulting cricket manure is a valuable, nutrient-rich fertilizer.
UC Davis agronomist Mark Lundy recently published a paper examining the sustainability claims behind the miracle protein source of insects, specifically crickets for human consumption. Lundy measured the effectiveness of the insects for human consumption by comparing protein conversion by chickens versus crickets on various types of feed. In general, the conversion rate of the crickets was not as high as touted by several dozen cricket-based food companies, but Lundy isn't ruling out the value of insects in our food chain, or our food's food chain.
"I don't see this as a negative result paper. To do this, people can measure the things in the waste stream they're feeding the crickets to determine if it's worth it, because there's no free lunch and everything produces a lower level of nutrients."
McDonald acknowledges the study and other points of dissent, but believes firmly in his model.
"I look at alternative proteins the same as energy: the answer isn't one, it's all," he says. "Insects can do some amazing things when it comes to resource use. Most of the data about insects is actually about killing them. Information to industrialize insect production is only starting to emerge," says McDonald. "The question to me became, how do you build a platform to empower a thousand farmers to also be insect farmers?"
Bitwater Farms has a long way to go before insect protein, even for livestock, becomes truly mainstream. With a team of 15 employees, board-members and investors, McDonald is proud of the success the company's made in its freshman year. He's coy about some details of the business, even the volume of crickets they handle a year, but McDonald does note the company's first big sale was to a large-scale agricultural company with a household name, and Bitwater Farms will maintain the facility for the next three years. But McDonald also notes that for companies like his to really impact the food system, more collaboration with the tech industry is needed.
"The folks in tech startups have a tremendous amount to offer, but also to learn from farmers," he says. "It's a 60-year-old industry meeting a 6,000year-old industry. There's a distinction between disrupting the tools of farming and trying to disrupt farm culture, which is not what we're doing. We're a farmer empowerment company."