Ask Elena Katnik's advice on opening a family-run business, and she'll caution against it. But not because it hasn't worked at TEAMride, a popular Sacramento-based spin studio.
"Sometimes I feel like only the strongest survive," says the 29-year-old co-owner, of running a family business, as it's no easy feat. "There's a deep love, we are so tightknit, I don't think anything can take us down."
Instead of tip toeing around colleagues and shying away from conflict and confrontation, Elena says she can be real because she's working with her sisters. With that open communication, more is accomplished with less wasted energy.
Elena and her sisters — Teresa Santarosa, 36, and Michelle Katnik, 33 — opened the first full body, indoor cycling studio in the area in December 2012, in East Sacramento. The boutique fitness studio, which focuses on one specific area of fitness, was met with immediate success.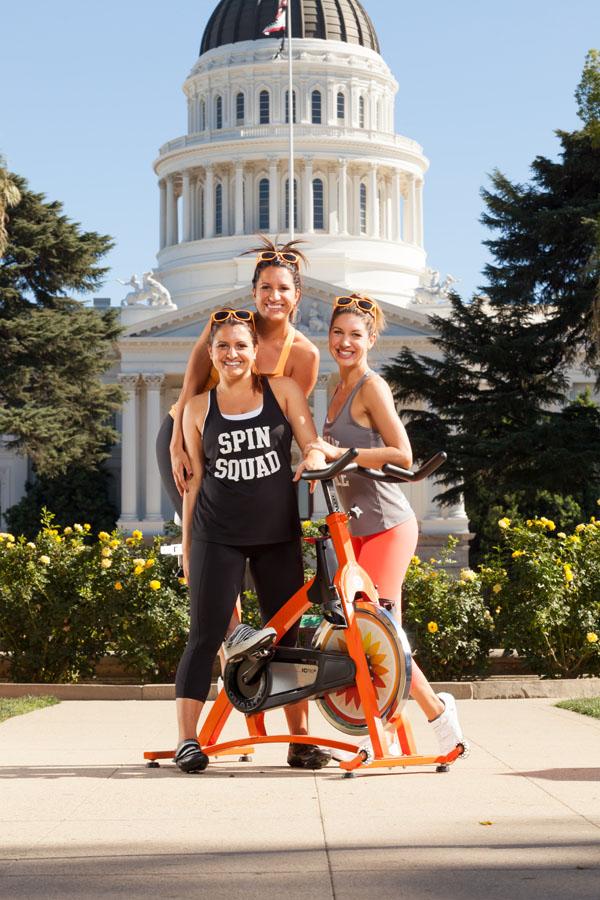 What started as 16 classes each week, with one to three students per class in a 27-student capacity space, quickly erupted to sold-out classes within the first few months, Santarosa says. Today, that location has more than 40 classes scheduled weekly.
"Every day, classes would go 'live' at 10 a.m. for the following week, and at the time people were at their computers booking their bike for a week out," she says, noting that TEAMride was the first in the area to offer this type of class reservation system. "From there we started adding classes, and they would sell out within three minutes."
They seem to have tapped into something quite lucrative.
Prior to deciding on TEAMride, the sisters floated other business ideas — a pancake house, frozen yogurt shop, clothing boutique — but decided to focus on the fitness industry after Michelle fell in love with the high-energy, music-driven workout experience while living in New York City. They were raised in Sacramento with entrepreneurs on both sides of the family, and stayed active throughout childhood. Plus, other than the yoga studios that sprung up after 2007, specialized fitness hadn't yet hit Sacramento.
The timing and response from the community felt natural. Due to the demand in East Sacramento, TEAMride opened a location in Midtown three years later (with 50 bikes), and in August 2016, branched out to Folsom.
"Combined, our strongest personality traits would fuel a strong business," Santarosa says. "We come from a big family on both sides, with a lot of heart and dreamers."
Building a Brand
From the start, the TEAMride sisters were adamant about establishing themselves as a professional brand, which they did by creating consistent communications. Their signature orange color scheme is on each bike, all over the studios, and on all their branded clothing and marketing materials.
Each Monday, a newsletter-style email is sent to "riders" that features news on upcoming events, themed classes, new apparel and the latest popular songs, with the week's schedules. This "concise and exciting" way of delivering the business' information has proven effective, Santarosa says, as clients aren't bombarded with "random" communications.
The instructors are professional, incredible people, who embody the company, Santarosa says. "We're proud to say our instructors are professionals, and from the inside out they are fabulous human beings that touch hearts throughout town," she says. "With them out there in our communities as influential people, they are natural leaders, so that grows our brand."
The Business of Boutique Fitness
In an otherwise stale gym industry, boutique fitness studios are the only area of growth, according to research reports in the U.S. Association of Fitness Studios, and others. And these classes tend not to be cheap. Classes at TEAM Ride are $20 a pop, or $200/month for unlimited classes.
The fitness studio industry is comprised of independent businesses that offer personal training, Pilates, yoga, indoor cycling, small group training such as boot camp, mixed martial arts and dance studios. Research in the aforementioned report estimates that there are more than 100,000 such businesses in the U.S., which represented a $22 billion industry in 2015.
"This dynamic speaks to an evolving social construct among consumers, in particular those of the millennial generation seeking specialized, novel and aspirational experiences," the report states.
Sacramento is no exception. Former 24-Hour Fitness gym member turned yogini and spin enthusiast Jany Slay says she's drawn to the group class atmosphere, which creates a sense of community that's supportive and encourages her to push herself. And the high level of intensity — which is paired with corresponding music — is what she needs in her life.
"I sometimes go just to dance on my bike," says Slay, a student at TEAMride. "It's like a party, it has to be fun too."
Slay's initial foray into indoor cycling didn't hook her right away. She admits she didn't enjoy it at first, as her background in yoga instilled a more breath-based mentality. But when she won 10 free classes through a raffle in summer 2016, she quickly got the hang of the routine. "And it's not awful," she says. "I think you have to give a new workout at least three shots before writing it off."
The critical components that keep Slay connected to both her yoga studios and TEAMride include the instructor, owners and fellow students "that really motivate me to go and spend the money and to actually push myself," she says. "That's where they're hitting the mark, they're making it your community."