In a state with more than 10,000 schools, spread throughout some of the most diverse climates anywhere in the country, is it even possible for cash-strapped school districts to find ways to improve the quality of California's education through green design?
That was the high-minded question that seven California architecture firms tackled as part of 7×7x7: Design, Energy, Water, a groundbreaking initiative to bolster the state's education system — and provide some much-needed improvements to aging campuses — put forth last year by the California Division of the State Architect, of the Department of General Services.
"We're trying to change the conversation and the dialogue on how we renovate these kinds of buildings," says California State Architect Chester Widom. "7×7x7 is a beginning, not an end to itself."
The California Division of the State Architect selected seven unique schools as case studies from throughout the state: two in Los Angeles, and one each in Desert Hot Springs, Oakland, San Diego, Santa Barbara and Orangevale.
"You can't design a building for California; you have to design a building for seven or eight locations or criteria in California," Widom says. "We wanted to show that we could, in fact, reach zero-net energy or at least close to it in all kinds of buildings."
The architecture firms selected did not actually renovate any of the physical buildings; rather, the case studies were meant to demonstrate methods big and small that school districts could employ to save money and improve the quality of education.
Over the years, the thinking on how environment affects learning has evolved, Widom says. In the 1980s, for example, there was a prevailing theory that kids would be distracted by looking outside if the windows were too big, leading to a wave of classrooms designed with miniscule windows up near the ceiling, or no windows at all. Today, he says, it's widely understood that natural day lighting, ventilation and air flow keep kids more engaged, alert and active in the classroom, directly improving how students learn.
"You don't take and put high school kids in the basement at 7 o'clock in the morning to learn calculus," Widom says.
Of the 15 architecture firms that applied to be a part of the initiative, seven were chosen — one for each school. The firms submitted their proposals in January, and this fall, Widom will take the show on the road, presenting the findings to school districts and at the Greenbuild International Conference and Expo in Los Angeles this October.
When it came to the capital region's case study in Orangevale, the Division of the State Architect picked one of the region's sustainable design leaders, Lionakis, which has been behind some of Sacramento's biggest green-building projects, like the state-of-the-art Sacramento Capitol Pavilion and numerous transformations of schools including Placer and Franklin high schools.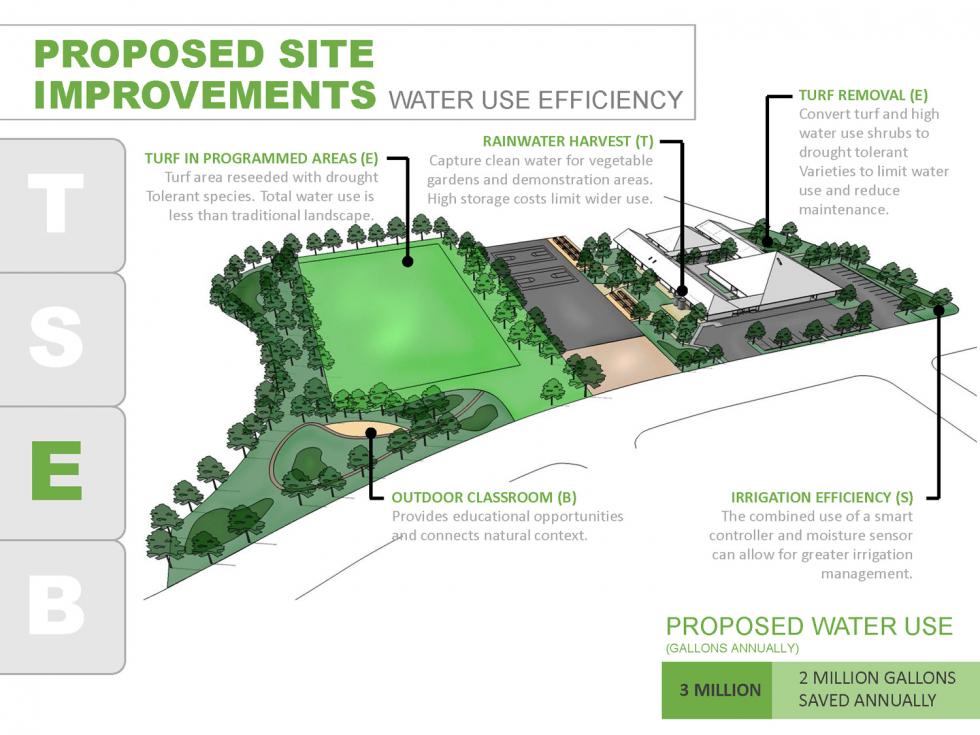 Trajan Elementary School in Orangevale has a common layout for schools in the Capital Region. Built in the 1980s, its single-story wood buildings fan out around a central courtyard in what's known as a finger-plan. It features a gabled roof and north-facing windows with little natural light, proposing significant challenges for the Lionakis team.
Lionakis principal and project manager Laura Knauss says they focused on a single classroom, proposing innovations that could then be replicated across hundreds of thousands of similar classrooms, and with ideas that go beyond physical construction.
"We like the challenge of working on existing campuses, it's sort of a silk purse from a sow's ear," Knauss says. "For us the challenge is how can you leverage the dollars to make the biggest bang for the buck, and to do that you really have to think holistically."
Among their proposals for Trajan Elementary, Lionakis suggested and installation of solatube skylights to provide natural daylight, double-paned windows for better insulation, energy efficient lighting and controls, and a smarter HVAC system.
But the most important changes that need to be made don't take place in the buildings, but rather in the people within them. In order for existing schools to make meaningful changes on miniscule budgets, they need to change the culture in the classroom. Even simple behavioral changes like turning the lights off during the day and opening windows instead of using air conditioning can cut the amount of energy required for a classroom in half, Knauss says.
It isn't all theoretical either, she says: Knauss and her team are already employing many of the renovations and strategies proposed in "7×7x7" at Sylvan Middle School in Citrus Heights bringing to life Widom's vision in a way he hopes can be applied throughout the state.
"We were focusing on behavior changes that people could do even if they had no money for renovation, if they were just starting a program in their existing schools would be very impactful," Knauss says. "Just to give people some confidence that, even if you have no money, go in and make a change in your school."
"Don't not do something just because you can't do everything," she adds
Widom's goal is to reach zero-net energy in all California schools by 2030. To do that, the most critical component to change the conversation aren't the architects, construction workers, or even the teachers, but rather the kids who will ultimately be the difference in whether the efforts pay off over the long term. "The next generation of stewards get it," Knauss says, "and the more that we demonstrate to them, the better stewards that they're going to be."