In Sacramento's Oak Park neighborhood, community dance lives, thanks to identical twin sisters Heather and Holly Singleteary, co-founders of the BlyueRose Dance Project at the Instituto Mazatlan de Bellas Artes.
BlyueRose Dance Project

Where:

Instituto Mazatlan de Bellas Artes, 4300 Stockton Blvd., Sacramento

Info:

916-955-4668, www.facebook.com/blyuerosedance
The twins have been dancing jazz, ballet, salsa and modern dance since age six, when they were latchkey kids with a single mom growing up in the Bay Area. They have not forgotten that personal history. It has, in fact, spurred them to offer dance instruction at a nominal tuition now for the 50 students in their classes, including a performing team of 20 dancers. Before recently becoming a nonprofit, they offered classes for a low cost through fundraising and paying out of their own pockets.
"We really do believe in the village mentality and we rely a lot on our village to donate their skills and time, as well as to participate in fundraisers," Heather says. "Now that we are a nonprofit, we are hoping to start getting grants."
This village mentality motivates every aspect of their project, which they launched in 2015. "We believe in bringing dance to all communities," Heather says, "especially those where dance is not accessible and/or affordable." Household income is often a vital factor in youth joining extracurricular activities such as dance class, which can cost a pretty penny. For a low-income neighborhood like Oak Park — where around 20 percent of all households live below the federal poverty line — Holly and Heather have brought dance to those who may not always have had this opportunity.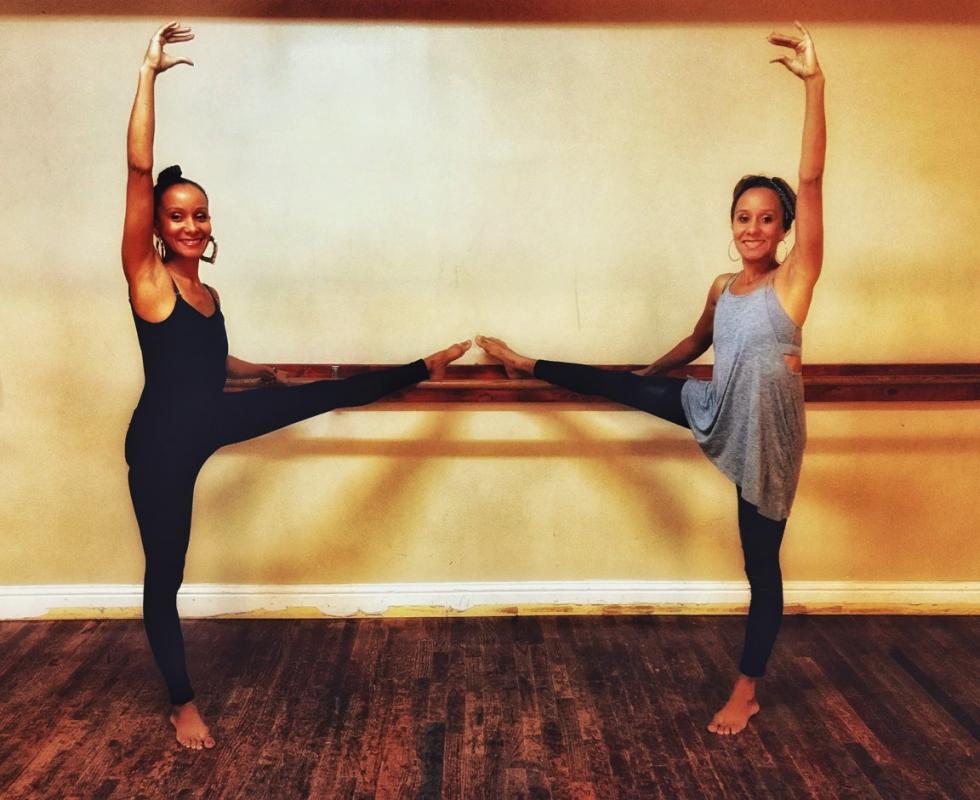 Their efforts have drawn the attention of one local elected official. "It's exciting to see that arts and culture are alive and thriving in Sacramento, from small groups like the BlyueRose Dance Project to the B Street Theatre and Crocker Art Museum," says City Councilman Jay Schenirer, who represents Oak Park.
Mentoring Youth With Dance
Heather and Holly's dance training is largely self-taught; as youth, they choreographed dance routines with a fusion of all the styles they acquired at community classes. Further, they watched videos of dancers Paula Abdul and Tina Landon, developing a unique dance flair.
"Creating something of our own was something we always dreamed of," Holly says. "But we were determined to be different. What we learned most from dance was self-confidence, discipline and creativity. With those qualities, life is easier to navigate. We wanted to teach a unique dance style that was a fusion of many styles."
BlyueRose dancers have performed at events ranging from the local Banana Festival to the Sacramento Women's March last January. The theme for the BlyueRose 2018 spring recital at Fairytale Town, on May 12, is the Woodstock Music Festival.
Last July's BlyueRose summer dance recital — featuring both youth and adult dancers — sold out at Guild Theater in Oak Park. Its theme was female empowerment and social justice. In dance and words, the dancers' performances foreshadowed today's #MeToo movement to end sexual harassment and assault. Some performers shared their personal stories, including one young girl who read about her experience with bullying.
Parents of BlyueRose students say they like the lessons that Heather and Holly instill in their children. "I appreciate that while they teach dance, they also teach social responsibility and connection to the community," says Alex Rachs, whose 12-year-old daughter Kennedy has been a BlyueRose dance student for two years.
Danielle Meadows appreciates the confidence that the teaching duo have conveyed to Charnay, her 12-year-old daughter, for the past two years. "Holly and Heather have also taught her to be kind and to respect her teammates," Meadows says. (Full disclosure: Heather and Holly teach dance to the author's grandson.)
The sisters say they see their program as "not only a creative outlet, but [as] a confidence builder." Sarah Thomas's 12-year-old son, Logan, has been dancing with these instructors for a year now. "It has transformed him," Thomas says. "He's found his passion in dance."
Volunteering Their Time
In addition to their Oak Park-based program, the sisters often venture to other locations to teach dance. They have taught volunteer dance lessons to students at John Still K-8 School, Encina Preparatory High School and Peter Burnett Elementary School in Sacramento, plus classes at the West Sacramento Community Center.
Heather also volunteers at the afterschool program operated by the Sacramento Chinese Community Center at Theodore Judah Elementary School in East Sacramento. "She has guided students on a lively journey by providing an outlet for them to express themselves in a safe and supportive environment," says Monik Vega, who coordinates the afterschool program. "Heather's dedication to the art of dance and professionalism is empowering students in our program to be happy, healthy and engaged."
The Singleteary sisters are trying to get their own studio on Stockton Blvd. nearer the UCD Medical Center than their current location. They have set up a GoFundMe link to raise funds for the new studio.