Patricio Wise started his career in banking in Monterrey, Mexico, one of Latin America's wealthiest cities. He was an economic analyst there, writing internal newsletters for a prominent financial group. He soon rose to more high-profile positions — fixed income and treasury trader, trading desk manager, derivatives desk vice president — before eventually relocating to Roseville in 2010, where he continued in high-finance with TRC Trading Corporation, a worldwide supplier of rice.
Wise spent more than a decade climbing the ladder in international finance, and he attributes his success to hard work and a belief in scientific methods. Last year, though, he started working with a different kind of formula: recipes, to be exact. He opened Nixtaco, a taqueria and craft beer spot on Cirby Way in Roseville, fully-equipped with a menu of cuisine inspired by his native Monterrey.
Wise started Nixtaco in June 2016, and continued his high-finance job while his new venture was established, a feat made easier by the hours one must keep to work in finance on the West Coast.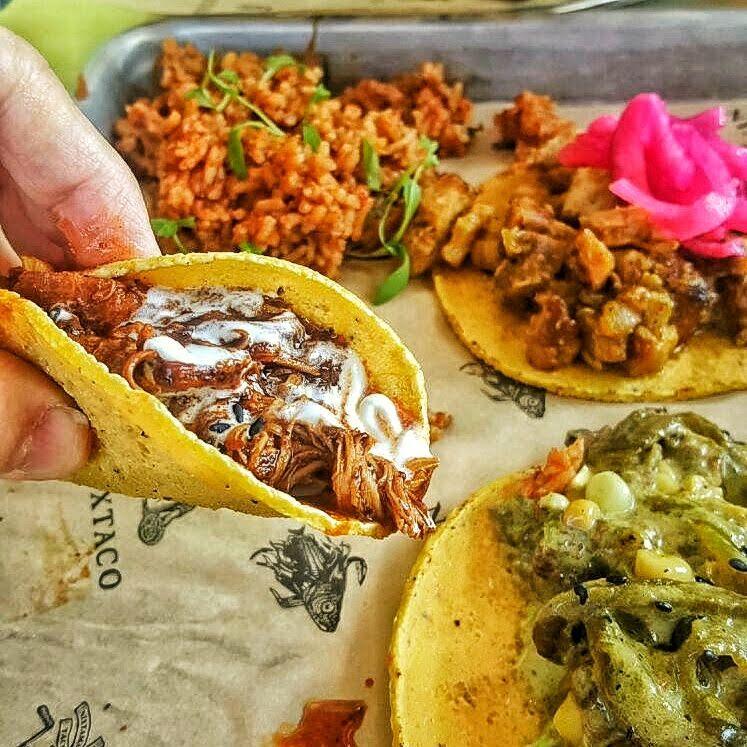 "You're up at 3 in the morning and you're done by noon," says Wise, who left his position with TRC Trading Corporation in October.
Wise now works full-time as Nixtaco's owner and chef. On the surface, his two careers don't seem to have much in common. Banking is all currency, interest rates and derivatives, while the restaurant business is concerned with freshness, spices and full stomachs, but Wise says he is taking the same pragmatic, methodical approach from banking and applying it to the art of running a restaurant.
This has added up to success, although Wise displays caution characteristic of a financial realist, saying there is still room for improvement.
However, the eatery's scratch-made tortillas and dynamic tacos have garnered praise from both the Sacramento Bee — "Nixtaco wins you over from the first bite," — and the Sacramento News and Review, which named Nixtaco one of the best 50 restaurants in the region. The Bee's restaurant critic even awarded Wise's poached egg brunch dish the title of best dish of 2016.
"That set the bar for us — incredibly high — and we have to live up to it," Wise says.
Cooking has long been a passion for Wise, and back in Monterrey, he and his wife, Cinthia Martinez, a Nixtaco co-owner who handles public relations, ran a supper club with 12 seats, a three-month waiting list and one rule: If you brought a new guest, you had to be there, in case your friend got so drunk or unruly that he or she needed babysitting.
The couple briefly continued the tradition in Roseville, but being in a new and smaller city derailed the weekly event. Missing his tradition, as well as the food back home, Wise started thinking of opening his own Mexican restaurant.
He noticed the area had many such eateries, but he didn't see the exact food he craved, noting, "There is no such thing as Mexican food, it's all regional," and most taquerias here drew from similar parts of Mexico, the states of Michoacan and Jalisco. Wise missed dishes such as chicharrón, Mazatlán-style shrimp tacos and barbacoa from the northeastern part of the country, specifically Monterrey, a city once colonized by France, Spain and settlers from other parts of Europe. The diverse tastes there have directly influenced the menu Wise crafts for Nixtaco.
Wise, who has three young daughters, is optimistic about his new endeavor.He's contemplating future market outlook, as any good financier would. While Nixtaco only seats a few dozen people, Wise's business plan for it is massive, filling a binder that would do serious damage if dropped on a toe.The reason is that the concept, from food to aesthetics to rotating draft selection, is built to be easily translated to new locations. Although at the moment, Wise is still focused on making his first the best it can be, a pursuit that's far more rewarding than finance.
Mike Fagnoni, executive chef and co-owner of Hawks in Granite Bay and Hawks Provisions and Public House in Sacramento, is a friend who also has a stake in Nixtaco, and he provided sage advice during Wise's transition. "I told him I didn't recommend it," Fagnoni says with a laugh. "There's certainly a lot more money to be made in finance."
Fagnoni also says, however, that restaurants are far more rewarding, far more fun than crunching numbers at a computer.
Inside Nixtaco there are black and white photos of the mountains in Monterrey and there are T-shirts with Wise's face on them that say "No tacos for you!" When Wise walks through the dining room, regulars tell him how much they love the food, or they stop him to say hi.
"I love this," Wise says, sitting at a corner table, sipping a beer from the bar after a sudden late lunch rush. "I get to make people happy." He laughs. "Or really really unhappy."