New beer releases at top-notch craft breweries usually come with plenty of fanfare, attracting the connoisseurs and the curious. In some cases, lines form hours before the beer goes on sale.
But the release of O'Sulli #349 at Track 7 Brewing was something else entirely, a beer brewed to honor a 26-year-old Sacramento police officer, Tara O'Sullivan, who was gunned down in the line of duty. This new beer came with an overwhelming sense of gloom mixed with the need to find hope and healing. Sacramentans wanted to come together to help a city and its police force get past the pain, anger and heartbreak.
The industry has a history of stepping up for those in need: Sierra Nevada brewed a special beer, Resilience IPA, and encouraged 1,200 breweries to do likewise, raising millions for victims of the November 2018 Camp Fire that devastated the town of Paradise. Russian River and Bear Republic created the "Sonoma Pride" campaign to help after wildfires destroyed numerous homes in and around Santa Rosa in October 2017.
In recent years, craft beer has boomed in the Sacramento region, and as new breweries matured, it became apparent that these new breweries had inspired a new way of creating community. Beer enthusiasts of all ages, young parents with their kids and dogs, and anyone else simply seeking a laid-back vibe could hang out in the afternoons, talk beer, play games, make new friends and feel like they were part of something special and inspiring. This was a feel-good slice of Americana held together with pints of really good beer.
In the days after O'Sullivan's death, veteran police officer Sam Blackmon, known for his homebrewing skills and for numerous collaborations with commercial breweries — including Flatland, Crooked Lane and 21st Amendment — was in a lot of pain. The month before her death, O'Sullivan was Blackmon's trainee, riding along on patrol duty and learning the ropes from someone with 20 years experience.
Blackmon was working the day of the tragedy, filling out paperwork, when the call went out of an officer down. He raced to the hospital and was there when O'Sullivan arrived.
"I didn't meet her parents until after she died," Blackmon says. "She was a quality person and they did a great job of raising her. That's all I could tell them — and she was going to be a great cop. It was tough. I was in tears."
The funeral was painful, but it started the path toward healing, he says. It wasn't going to be easy. He thought of what more he could do to honor someone who was destined to be a special kind of cop.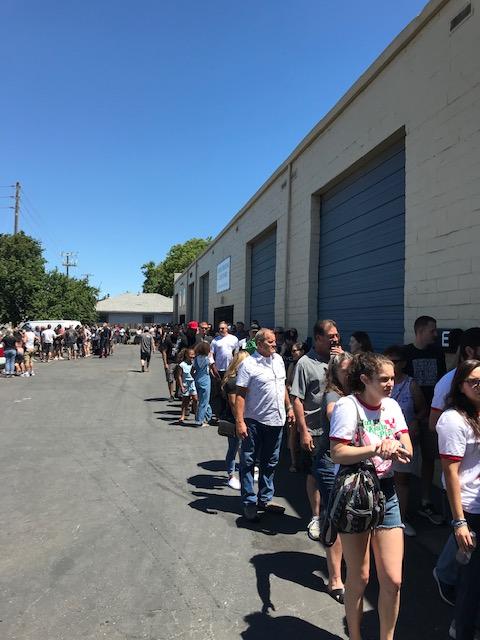 "Everybody at the police department knows I brew beer, and that I often brew with other commercial breweries locally," Blackmon says. "A lot of people kept saying, 'You need to do a beer.' I didn't want to do it at first, because I didn't want it to be tacky or exploitive. But enough people asked me about it that it became apparent that it just needed to be done. I wanted to pay tribute to her, and the one way I know how to do that is to make a beer."
Blackmon contacted Track 7 and got an immediate "let's do this." He met with Marc Morgan, the lead experimental brewer and, on a Tuesday at Capitol Beer and Taproom, wrote the recipe for O'Sulli #349. "It was humbling for me to even be considered to have the responsibility and privilege to do something like that," Morgan says. He and Blackmon worked out the hops they would use — Citra, Galaxy and Cashmere — and how they wanted the beer to taste.
By Thursday, they were brewing. Immersing himself in his passion for beer may have helped occupy Blackmon's attention, but it also prolonged the sense of loss. He says he felt the magnitude of the moment and didn't want to disappoint anyone. He and Morgan were meticulous. They went over the details. They tweaked all the little things until everything felt perfect. This would be a beer unlike any other.
"I wanted it to be a clear beer," Blackmon says. "This was a beer for the masses, something for everyone — a New School IPA with low bitterness, extra flavor, extra aroma hops."
As the day of the release event approached, Blackmon received a Facebook message out of the blue. O'Sullivan's parents, Dennis and Kelley O'Sullivan of Martinez, along with several other family members, wanted to be there. "Tara's dad … said, 'Hey, we're coming out. Where can we go? What can we do?' I cried when I got the message. That meant a lot," Blackmon says.
On July 13, hundreds lined up outside Track 7 in Curtis Park long before the brewery opened. Off-duty officers were there, mingling with all the regulars and many others who wanted to come together to mourn, to toast, to comfort. "The turnout was unlike anything I've seen at Track 7 or any other brewery," Morgan says.
The beer sold out quickly. Blackmon and Track 7 had brewed the equivalent of 2,000 cans of beer and patrons swept it up (the brewery does not plan to restock). The $9 commemorative cup Blackmon designed sold so quickly that Track 7 ordered 1,200 more and they sold out online. Blackmon says the proceeds (which still need to be tallied) will go to a memorial fund to provide scholarships for local children (The public can also donate to the Officer Tara O'Sullivan Memorial Fund). A GoFundMe account, created to raise money to train a police K-9 in honor of O'Sullivan, a lifelong dog lover, has raised more than $24,000.
"Once the whole thing was over, that was the exhale moment, and I could finally relax, and I felt really proud about the results," Blackmon says.
There was a time when Blackmon was just like O'Sullivan. He was 22 and optimistic, eager to make the world a better, safer place. The years fly by. The close calls add up. The goals change. Blackmon has seven more years before he retires. He's already planning his next career, as a professional brewer.
But he says the memory of the beer he brewed for a fallen officer — and how O'Sulli #349 brought so many together to work through the pain — will stay with him always.