In California, where 90 percent of American strawberries are grown, the time is ripe for a faster, better way to pick them. That's the idea behind Advanced Farm Technologies, a Davis-based startup that uses customized tools to lend farmers a helping robotic hand.
"In talking to growers, the topic of robotic strawberry harvesting kept coming up again and again," says Kyle Cobb, who cofounded AFT with Marc Grossman, Cedric Jeanty and Carl Allendorph. "Strawberries are a challenging and expensive crop to harvest."
AFT digs into a big market where they use robotics to address what Cobb calls a "really interesting technical problem." The startup's technology includes a robotic strawberry harvester with soft grippers on the end and tractor-mounted cameras to determine the ripeness of the berries. Compared to traditional growing methods that consist of in-soil beds 4- to 6-feet wide, this harvester can span several beds, reducing picking time.
AFT doesn't sell the machines, Cobb says, but instead offers harvesting as a service. For each grower AFT works with, the startup has a field operations manager that helps to integrate robotic harvesting into the farm's normal operations, including packing berries for the retail market. AFT gets paid based on how much the team can pack.
This agtech solution has garnered much support during a time when many California farmers are turning to machines amid widespread labor shortages.. According to a 2019 report by the California Farm Bureau Federation in collaboration with UC Davis, half of the state's farmers couldn't hire the employees they needed in the past five years, a complex trend partly due to an aging labor force and a dearth of young immigrant workers to replace them.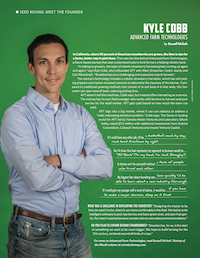 Read more about Advanced Farm Technologies cofounder Kyle Cobb in the December 2019 print edition of Comstock's magazine. For more Startup of the Month stories, click or tap here.

In November 2018, AFT raised $2 million in its seed equity round from two companies: Catapult Ventures in Silicon Valley and Impact Venture Capital based in Sacramento. The startup used that momentum to launch a Series A funding round led by Yamaha Motor Ventures and Laboratory Silicon Valley (YMVSV) with additional investments from Kubota Corporation, raising a total of $7.5 million. YMVSV is building its portfolio of technology companies spanning the food value chain, from in-field production and post-harvest to specialty crops. Investments include agtech startups to help feed the growing population sustainable food.

"From Yamaha's perspective, AFT's robotic approach to strawberry harvesting has the potential to alleviate the increasing shortage of field labor, which currently represents the largest pain point for specialty crop growers," says Nolan Paul, Partner and Global AgTech Lead for Yamaha Motor Ventures and Laboratory Silicon Valley.

Paul also highlights AFT's track record in developing and commercializing robotic technologies as a testament to the startup's growth potential. The cofounders of AFT previously launched Greenbotics, a robotics solar panel cleaning startup, which they sold to SunPower in San Jose in 2013. With a similar mission, AFT aims to use robots to improve costs for customers and working conditions for growers, and to create a generation of robotic farmers.

Even with robotics as the common denominator, AFT still had to face the specific challenges of designing a strawberry harvester. The engineers had to figure out how the tractor should function so it could move comfortably in the field. They had to write software so the tractor would know how to pick ripe berries, leave the green ones and pick fruit gently. In 2019, AFT became the first U.S. company to commercialize robotic strawberry harvesting using its innovative T-6 platform designed specifically for soil-planted beds.
Any new technology can't avoid its share of skeptics. But Cobb says the team stays humble, takes feedback from growers and has made changes to meet their needs. This is critical because farms have operated with human hands and traditional vehicles for a long time, he says, so introducing practical automated solutions requires a delicate touch.
Many consumers don't realize that the fresh produce in grocery stores is picked by hand, Cobb says. This makes any of those crops a potential market for automation. AFT's technology is particularly adapted to soft fruits and vegetables — peaches, apples, tomatoes, etc. — but for now their focus is strawberries.
"Strawberries, for us, is the start of something we want to be much bigger," Cobb says. "We hope to build farming for the 21st century, centered around all kinds of crops."