If you're a basketball fan, you live for June. This is the month when the NBA's two best teams do battle in a final seven-game series to prove who's king of the courts.
If you're a basketball player, you're not one to just sit around and spectate. You want to prove you got skills too. Problem is, finding people to hoop with is no walk in the park.
Donte Morris knows all about this challenge. Whenever he wanted to get a pickup game going, he would text five of his friends about meeting up at a park or gym. Without fail, one would text back, "I can't make it." The others would just forget. Morris and his twin brother, Dominic, would drive around Sacramento, looking for groups to play with. But the courts were empty.
"We thought there has to be an app out there that allows you to find players who want to play games," Morris says. "That's where the idea started."
In 2016, the Morris brothers launched Hoop Maps, which links basketball players looking for pickup games. Users can sign-in and set up a game or see games in progress highlighted on a map. To date, more than 50,000 users have downloaded the app (available on iOS, but they say the Android version is on the way). Most users are in New York, Chicago and L.A., but you can find pickup games happening all over the world, from Canada and Mexico to the U.K. and Saudi Arabia. It's a big hit on military bases and for college students traveling abroad, Morris says.
In this social media age, Hoop Maps also serves as an icebreaker. Instead of just showing up at a random court and dealing with the awkwardness of asking a group of strangers to jump in, users can connect beforehand.
Brandon Willis, who went to school with the brothers at Sacramento State, started using the app immediately. Now, Hoop Maps is part of his morning routine, where he checks to see who's playing near him. Since he was a kid, he's been in rec leagues and he played basketball in high school as a shooting guard.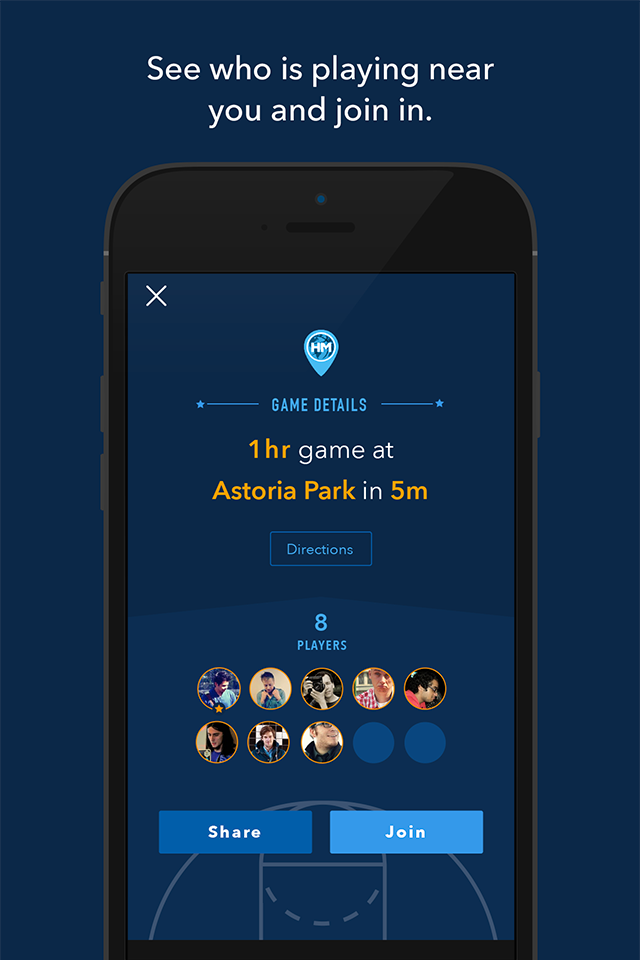 "It's a lot more convenient," Willis says. "Now that the app is available, I don't need to go looking for games at the gym or find people on Facebook or text someone."
Growing up in Oakland, the Morris brothers were baseball guys. They got into basketball after moving to Sacramento for college. After getting the idea for Hoop Maps, Donte Morris took a class at Hacker Lab in Midtown Sacramento, where he spent six weeks learning the basics of coding. But he knew he needed a developer to take the app to the next level. They connected with a developer and put up $5,000 to create the prototype.
The big challenge now is getting the word out about the app. In March, Hoop Maps was a finalist for the Sacramento Kings Capitalize startup competition. Now, the Morris brothers want to raise about $200,000 in a seed round from angel investors in Sacramento and the Bay Area. In the meantime, they work out of their home and only have an in-house developer on staff, which allows them to keep expenses low.
The seed funding could support a small office in Sacramento, but the bulk will go to the product, the brothers say. They want to add new features to the app, such as a point system to give players incentive to play more. For example, users would get points for playing a certain number of games or inviting a friend.
"That way, they can play against people in other states," Morris says, "which makes it more of a game than just playing every day."
The brothers aren't turning a profit yet, but by linking with sponsors, they plan to set up a revenue model similar to Groupon. After a user plays a game, a coupon will pop up from a sponsor such as Nike, Gatorade or a restaurant nearby, Morris says, adding that they have about 100 sponsors lined up now.
The NBA season will be over soon, but summer's the time to show what you've got on the court. Hoop Maps can assist you. For the Morris brothers, that means the identical point guards don't have to settle for playing each other. When asked who's better, Donte claims he's the king.
"He would say he's better," Morris says, "but I think I'm a more natural baller than he is."
Do you know an entrepreneur who has what it takes? Recommend their company for our "Startup of the Month" here.