You might say Dr. Charles Lee created a synthetic bone graft substitute by accident.
As a graduate student at UC Davis, he was looking to grow human stem cells into an "organoid," a replica of a bone produced in vitro. This would help patients dealing with loss of bone due to injury, surgery or disease. But as he experimented, Lee stumbled upon a breakthrough: He didn't need the stem cells at all. The structure he built as a scaffold for the organoid was enough, allowing him to save on the cost of stem cells and to avoid the controversy surrounding them.
When implanted, this scaffold would cause patients' own cells to move to the defective area and heal the bone on their own. The scaffold — a hyper-crosslinked carbohydrate polymer — received U.S. Food and Drug Administration clearance this year, marking a pivotal milestone for Lee's West Sacramento-based biotech startup, Molecular Matrix. The company plans to release its product for single-patient use this spring.
"The breakthrough came in 2013," he says. "We pivoted from the stem cell idea to a more cost-effective solution. With FDA approval, we can help patients this year."
Born in South Korea, Lee moved to Oxnard, California as a teenager. He was always struck by the concepts of biology, the adaptable frontier of the human body. Still, the road to his breakthrough wasn't a straight-shot. He admits he spent his 20s going through the motions: classes, studying, exams, repeat. He got married in 2002, bought a house, had two kids. He was chasing that elusive American Dream, he says.
But something was missing.
"You wake up one day and realize you want to do something more fulfilling," he says. "Part of my soul-searching was asking myself, 'What is my purpose in life? What is it that I'm going to contribute to society in this field?'"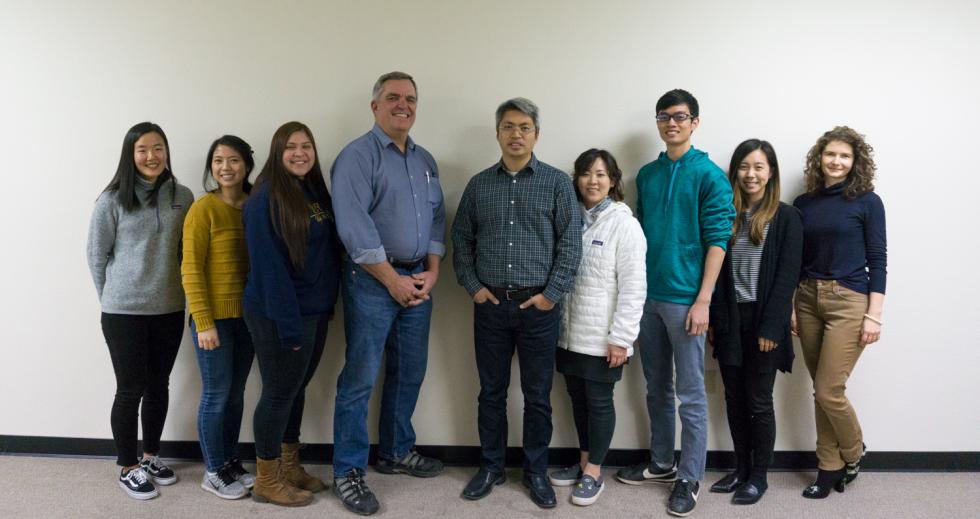 By this time, Lee had already received his bachelor's degree in microbiology and was working on his doctorate in comparative pathology at UC Davis. In the lab, he was growing adult human stem cells in Petri dishes. Problem was, these cells, when grown in an incubator, would spread out and form a single layer. To replace a damaged bone, these cells need to be bigger and wider, with more volume. But something like that can't stand up on its own, which is why Lee set out to construct a scaffold.
The idea to build a carbohydrate polymer came to him as he watched his wife, Esther, cooking.
"Scientists use proteins to make structures for organoids, but there wasn't anything with carbohydrates," Lee says. "So I thought, 'What if we build sugar into a giant structure?'"
From there, he started doing experiments at home, but didn't have the resources, equipment or funds he needed. So he brought the technology to UC Davis, where Lee is also an assistant adjunct professor in the Department of Cell Biology and Human Anatomy at the School of Medicine. After what he calls "rigorous exploration," Lee developed the optimal framework, nontoxic and degradable. The design, he says, uses a cross-linking pattern so tight that the scaffold maintains its shape under heat and pressure.
Of course, this wasn't an easy product to pitch.
"Whenever I brought up the words 'stem cells,' I had a hard time raising funds," Lee says.
Lee didn't quit, though. He met Jim Keefer, a clinical spine instrument specialist, who introduced him to the orthopedic industry and would become the company's COO, helping raise $2 million. He also had ongoing support from the Technology Management and Corporate Relations unit at UC Davis, which guided him through patent processing, networking and fundraising while he balanced dual roles as a researcher and entrepreneur.
Receiving FDA clearance is an important milestone for Molecular Matrix and for UC Davis, which could be considered "the company's first investor," says Dushyant Pathak, associate vice chancellor of research and executive director of Venture Catalyst at UC Davis. Along with the cutting-edge research and the technology that may change patients' lives, Lee's resolve stands out to Pathak as a key to the startup's success.
"A lot of founders give up along the way," Pathak says. "But despite the headwinds that Charles faced on multiple occasions, both technical as well as business, and the challenges of raising capital in a prudent matter, he didn't give up."
Lee attributes the success to understanding how and when to adapt to new information, which of course is something the human body does really well.
"The company morphed over the course of six years," Lee says. "Where I am now is not where I began, but life has its own idea."
Do you know an entrepreneur who has what it takes? Recommend their company for our "Startup of the Month" here.