Eric Sweet used to be a pilot, hauling cargo and flying corporate jets. Then he tried his hand at real estate. Now, through his Sacramento-based startup, Robotics Evolution, he's focused on educating youth on robotics by offering special arenas where their robots can compete in various competitions.
Robotics today blends programming, electrical engineering and mechanical engineering, Sweet says. In schools, robotics programs may teach logistics and design, but Sweet wanted to provide a space where young hobbyists could continue to learn about and play with robots in arenas beyond the classroom setting. Tinkering with robots, he believes, is a key component in building skills for manufacturing and technical jobs.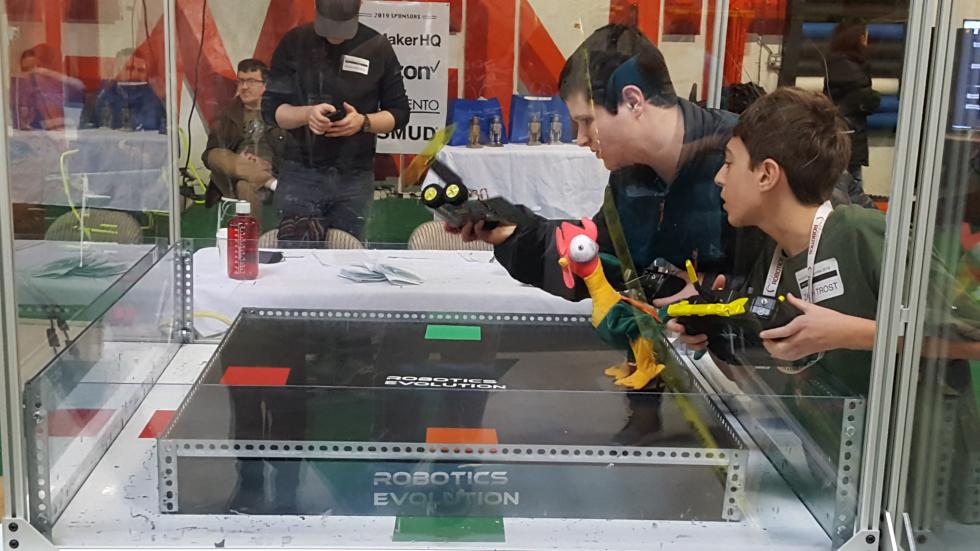 "Playing with walking robots will not teach a child to weld, [but] it may spark an interest in building things," he says. "Introduce the idea that making things, fixing things and designing things is something that they can do. They might then enroll in classes to focus on the things they would need for a trade."
The arenas he makes — from 8 by 8-foot city mazes and soccer fields to combat cubes — give spaces for users to experiment with their robots in different ways. In soccer games, kids can play with skittering robots (which are fast, but hard to control) or biped robots (which are slow and have to balance to kick the ball). In boxing events, robots duke it out to knock the other down, in a best two-out-of-three match. Robot races are coming soon, where the first to hit various objectives and cross the finish line wins. As the startup evolves, Sweet says he plans to build an indoor drone course that will give drone pilots a place a build and practice.
"The workplace is changing and how some jobs are done in the future may be different," he says. "We are working to develop interest in technical careers like manufacturing. Computer aided design, basic circuits and mechanics is a good starting point."
Sweet references a few manufactures in the region working to create pathways in education to equip students for the technical jobs of tomorrow, such as Siemens Mobility, Schillings Robotics, Tri Tool and J.L. Haley. These companies have helped him better understand the needs of the industry and how educators are working to meet those needs, he says. He highlights the need for machinists, welders and other skilled trade jobs that pay well, which students might want to do if they had more exposure.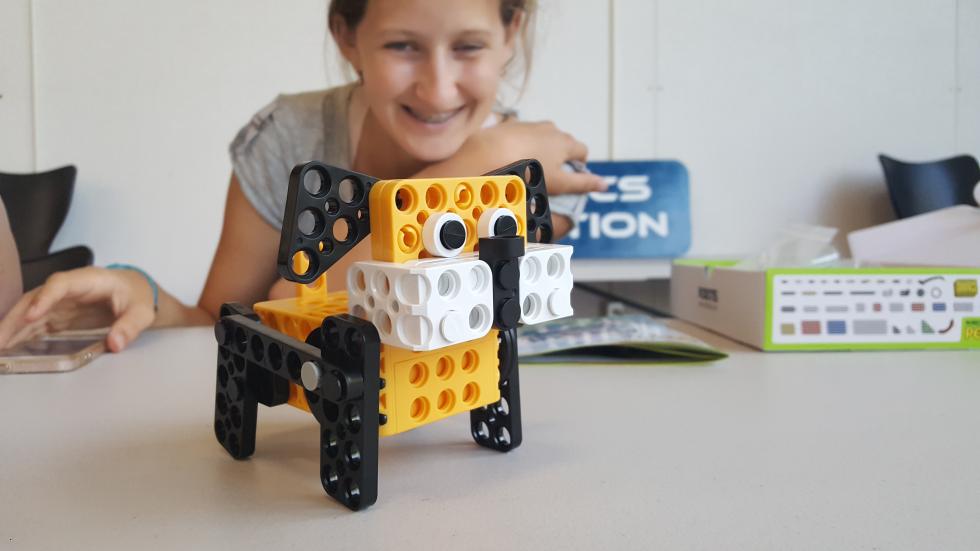 In December 2015, Sweet bought a 3D printer and built his first programmable walking robot. Soon after, Sweet got linked into the combat robotics community. At the 2016 Rocklin Mini Maker Faire, a family-friendly festival that showcases innovation and invention, Sweet says he was inspired by notable robot builders. In recent years, robot combat shows that aired in the late 1990s and early 2000s have experienced a revival in the U.S., China, Australia and the U.K. In shows such as ABC's "BattleBots" and the BBC's "Robot Wars", competitors design and operate remote-controlled machines to fight against each other. "Many kids are anxious to build their own," Sweet says."
At first, Sweet had trouble defining the focus of the business. But his time at Startup Hustle, a local bootcamp for entrepreneurs, helped him identify the problem his idea could solve: missed educational opportunities for kids who want to learn robotics but don't know what to do or where to go after they build a robot. In many cases, they are just left to sit on a shelf.
"He started building arenas where robots could fight, which is brilliant," says Dan Casas-Murray, program director at Startup Hustle. "It's a wonderful case study of what happens when you have passion, and how long it takes to get traction, and how being patient leads to revenue."
After starting online sales of robots and robot parts in October 2018, Sweet says, the business had earned more than $21,000 in sales in two months, and now operates out of a 700-square-foot atrium on Folsom Boulevard. Currently, the space can accommodate 10 to 16 people for classes and parties. It costs $300 ($275 on weekdays) for birthday parties, where kids learn about the new technologies and can play with the robots. Clinics for groups, clubs or individuals can learn how to design and build a robot for $75 per person.
If would-be hobbyists want to buy parts for a robot to build themselves, Sweet can help them with the design, print parts off thingiverse.com or design it with cardboard and make it out of sheet metal. The startup, which he says now runs on sales, was a finalist in the 2018 Making Your Mark competition put on by the Power Inn Alliance.
"We are a makerspace focused on robotics," Sweet says. "The 3D printers, laser cutter, break press and other tools provide the means to design custom parts for your robot. Our goal is to provide a space that people can come to on a drop-in basis."
Do you know an entrepreneur who has what it takes? Recommend their company for our "Startup of the Month" here.