Hole 11 had all the buzz.
All the players at the Round Hill Country Golf Course in Alamo couldn't wait to get there. This was in April at the golf tournament by the Building Owners and Managers Association Oakland/East Bay.
Hole 11 was sponsored by Air Systems Service and Construction, a mechanical contractor based in Sacramento. For its Germany theme, the company went all out: The staff wore lederhosen, played German music, served bratwurst and German chocolate cake. But the big draw was the pub — a bounce house-looking (not for kids) inflatable structure with a brick facade.
"Everybody wanted to get to the pub," says Kelli Ann Bilicki, account manager for Air Systems Service and Construction. "It really made us stand out. We were the hit of the tournament."
The pub was a rental from Shenanigans Inflatable Pubs, a family business based in El Dorado Hills. Co-founder Kathy McDonald saw on social media that these inflatable pubs were popular in Europe and decided to launch Shenanigans this year with her sister, Julie, to serve the untapped market in the Sacramento region and beyond.
The pubs can be rented for corporate events, weddings, birthday parties or any other type of festivity. Prices range from $400 to $600 per day with additional shipping fees for deliveries outside the region. Right now, Shenanigans has two inflatable pubs, imported straight from Ireland. The bigger one is "The Mac," which can hold up to 50 guests. The smaller one, "The Malloy," holds up to 30 guests.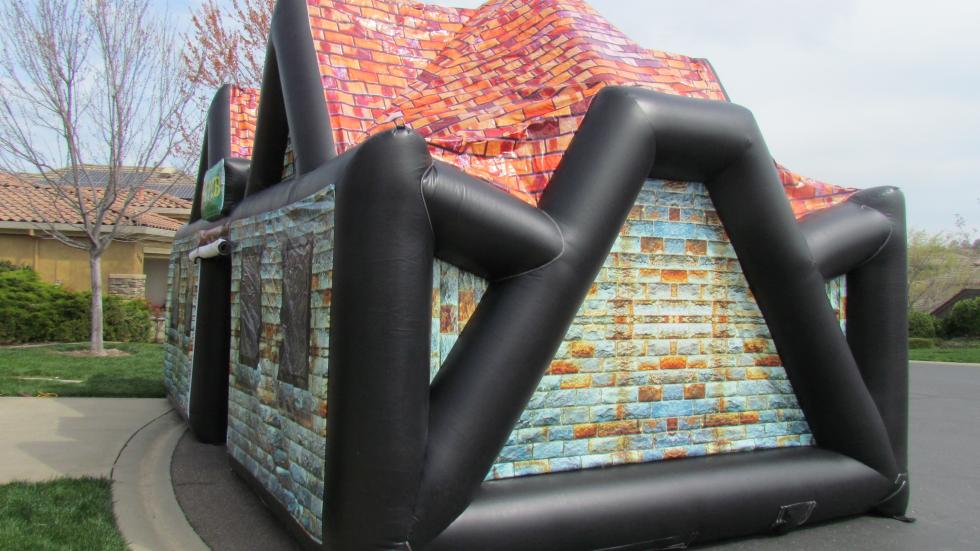 The company also rents out whiskey barrel pub tables, portable bars and chairs, and can provide custom banners for hosts to personalize their pubs. Another option is a party package that includes not only the pub and decor, but also a caterer who prepares Irish food and a licensed bartender to serve the alcohol.
As a host, you can use them as "inflatable man caves, make-your-own beer garden [or] rent two and have a pub crawl, etc.," McDonald says. "With the right decor they can be used as a haunted house, with fencing and a graveyard in front, or Santa's House at Christmas. They are very versatile."
McDonald currently has a full-time career in the office equipment industry. But with 25-plus years of experience in the event rental space, her decision to launch Shenanigans with personal funds wasn't a random move. She has also worked with her mother before, so she understands the delicate balance needed to mix family and business — in the early 2000s, they started a business that hired servers and bartenders for private parties at various technology companies.
When it comes to working with family, challenges do arise, McDonald says, but the key is to always keep things professional, respect each others' opinions and make sure the customer is happy.
"In the long run, we aren't doing anything so serious that it's worth getting upset over," she says. "We are in the party business. We are doing something new and fun."
Shenanigans struggled in the beginning with how to deliver the pubs to the events. These are large free-standing structures that McDonald says "require TLC." Early on, her brother-in-law delivered some of the pubs. Now the sisters also work with another delivery person, who loads them in his truck and sets them up as needed. Once in place, the pub takes about three minutes to inflate, powered by an electrical outlet or generator.
The sisters advertise mostly through social media. They have done some cold calling, too. These pubs have been rented out mainly for birthday parties and golf tournaments. To date, Shenanigans has done a dozen rentals and the reservations keep growing by the week.
Every year, Dawn Murphy, a Rocklin resident of Irish descent, hosts a St. Patrick's Day party at her house. She had seen inflatable pubs on Facebook, but didn't think it was a realistic option for this year's party until she came across Shenanigans. She rented The Malloy and had it set up in her backyard.
"When everybody came and saw that, it was quite shocking," she says. "I can't think of another time when I've seen a blown-up pub in our area. The rarity is what made it a real big hit."
Do you know an entrepreneur who has what it takes? Recommend their company for our "Startup of the Month" here.
For sports fans, it's not about wins and losses, but how you experience that game that counts. Brian Dombrowski learned this shooting videos for youth and high school sports events in the Bay Area. He was filming original content for coaches, but they weren't the only ones interested in his footage.
Typically, fruit goes through many hands — farmer, packer, shipper, broker — before reaching the supermarket. Based in Lodi, Branch to Box focuses on cutting out the middlemen (hence the name) to provide the freshest possible fruit to offices.