Brandon Weber stood in front of a group of Sacramento entrepreneurs and local leaders, including Mayor Darrell Steinberg, and confronted a truth: Efforts to support the regional chapter of the California Innovation Hub have slowed in recent years.
The Governor's Office designated the California Innovation Hub in 2010. Ideally, the Sacramento iHub, which covers 13 counties, contributes to the region's competitiveness by spurring partnerships, economic development and job creation among entities such as government agencies, academic institutions and venture capitalist networks. "The idea of the iHub here is basically to bring the stakeholders together," Weber said to attendees on the patio at Canon in East Sacramento on July 9.
Weber — who also owns coworking space The Urban Hive and is CEO of I/O Labs downtown, which houses the Sacramento iHub — spoke of how local working groups for the iHub had grown smaller and smaller. Weber said it could be good to mix in events like this inaugural iHub Connect to generate renewed interest. "Honestly, it's easy to discount these social things but they are really important," Weber said to Comstock's after he finished addressing the crowd.
Comstock's previously reported on Weber's bid to launch the entrepreneurial workspace I/O Labs ("The Next Act" in December 2016), through which he serves as director of the Sacramento iHUB. I/O Labs also remains a work in progress, with Weber saying two of the four floors for I/O Labs are complete at 1007 7th St.
The success of both the regional iHub chapter and I/O Labs could have broader implications for Sacramento, with Danielle Casey, executive vice president for the Greater Sacramento Economic Council, telling attendees at the July mixer that "innovation is a key piece" for regional strategy.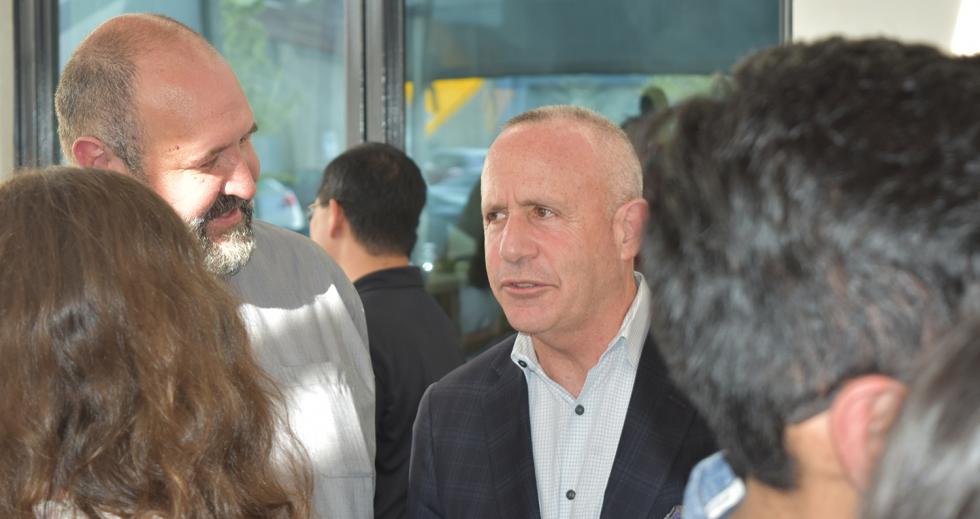 Those present at the mixer also included Louis Stewart, chief innovation officer for the City of Sacramento and who previously ran the California Innovation Hub program through the Governor's Office of Business and Economic Development for seven years. Stewart noted that at the height of the iHub program, California had 15 of these hubs across the state — today, Sacramento is one of just five programs.
The evening included an introduction of new iHub coordinator for the Sacramento region, Cameron Law, who'll serve an 18-month term. Law is the executive director of Social Venture Partners.
Weber also gave an update on a new website being developed by I/O Labs and Sacramento Employment & Training Agency that will serve as a resource hub for entrepreneurs, providing information on topics such as funding options and legal aid. "A lot of times, entrepreneurs don't have any idea what's accessible to them in the (regional) ecosystem," Weber told the crowd.
Attendees Richard Markuson, a lobbyist who represents construction contractors and engineers, is skeptical of what the new website might do for his clientele. "I'm not sure if that's going to help construction," Markuson said. "There's virtually no unemployment for skilled workers right now." Markuson says he'd like to see a niche website to recruit pre-apprenticeship trainees for construction.
Harder to gauge from an evening like this will be measurable outcomes, such as angel or venture capital funding to any attendees or expansion of the region's technology sector. On these points, Sacramento sometimes seems to trail distantly to the Bay Area. But Sacramento has helped pave the way for a lot of work San Francisco is doing with Verizon by kicking off discussions about new fiber and 5G, Stewart said. "We're operating at a peer level," Stewart said. "We actually have something here that we need to leverage."
Mayor Steinberg didn't address the crowd, but he did tell Comstock's he agrees with Stewart. "Sacramento is no longer the best-kept secret when it comes to technology," Steinberg said.
Innovation cannot occur within a vacuum. While it's nice to have an office door that shuts the world out, successful entrepreneurs understand that the best ideas are molded through collaboration.