Transparent the rapper had it all: the talent, the success, the dream life he'd worked toward from the time he was a little boy. But the man behind the rapper, Dwight Taylor Sr., didn't recognize the person he had become: he says he was acting selfishly and had disconnected from his family. He had lost sight of his real priorities.
"P-u-r-p-o-s-e, that's on the inside of me. If I don't do what I was created to — then I might as well be dying see…"
"…cause without a clear a purpose I have no foundation for how I'm making decisions or what I'm spending my time on and that's wrong."
Entitled "Purpose," Taylor still delivers this spoken-word piece, penned when he performed as Transparent. Rhyming is in his blood. When his mother, Stacey Mitchell, got pregnant with her son, she was a 17-year-old aspiring singer (she still sings, now with a choir in Richmond). Back then, Taylor's father, Wendell Taylor Jr., went by DJ Nasty Mix T and had a rap group called the I.G.O. Posse. Taylor says his young parents were an unstable presence in his life; he split his formative years between both sets of grandparents.
While growing up in the Bay Area in the 1990s, Taylor says he was always writing rap lyrics. He recounts being in history class with the textbook blocking the teacher's view so he could write rhymes in his notebook. "Music was my life," he says.
Taylor released his first mixtape at age 24. He released his debut album, L.I.F.E. (Living In Favor Everyday), at age 27. He wrote about hope, encouragement, empowerment and motivation along with his experiences with pre-marital sex, cheating on his fiancée, selling drugs and marriage. "Some great things happened," he says of the years spent in the music business. "I was on BET, I had four songs on ESPN SportsCenter and Showtime, I was on TV — that part was dope. I hit the charts on iTunes featured on people's songs." By choice, he remained an independent artist.
Amid the success, Taylor married his wife in 2008 and started a family. While his career was taking off, his personal life was in jeopardy. "I got lost in the sauce of the music entertainment industry," he says. While he still cared about the uplifting and real-life messages he delivered through song, he got distracted by fame. "People adoring me and loving Transparent the artist and the music guy and the entertainer, I kinda lost myself."
Over the past decade, Taylor went from being a successful artist to a professional motivational speaker, student success coach and educational consultant — a career shift that he says has been critical to his overall happiness.
Leaving His Former Self Behind
During the height of his musical success, Taylor faced a hard truth: As much as he promoted authenticity within his music, he was not living that in his personal life. "My family would be in the audience, and I'd be rapping and talking and they'd be like, we don't know that guy," Taylor says.
After separating and later divorcing in 2014, he wrestled with leaving the industry he loved. "I had to ask myself, why am I really here? Does it really matter if I'm impressing these people? Or does it matter more if I'm making an impact?" Even though it was painful, Taylor says he had to examine the ugly parts of his life: pride, self-absorption and putting himself before his family. "I really needed to get back to the basics, who I truly was created to be, and that can be difficult."
That same year, Taylor and his eldest son moved from Fairfield to Sacramento to live with his dad. As a practicing Christian since 2005 and having grown up watching his grandparents "live their faith every day," Taylor turned once again to religion as he yearned to make sense of the chaos in his life. He continued to wrestle with what it would be like to live the rest of his life focused on fame and monetary success without authenticity. "I was at the point where I was either going to gain the world and lose my soul, or I was going to really become who I was meant to be on this earth," he says.
In 2015, after more than six years performing professionally, Taylor left his musical career without a clear path. All he knew was that he wanted to keep sharing messages to inspire others.
Then the Sacramento City Unified School District tapped Taylor to speak at a conference for educators about student engagement. They asked what name he wanted printed on the brochure — his alias or his real name. "I said if I'm truly going to be Transparent, if I'm truly going to make the switch, then people need to know who I am authentically, and authentically, I'm Dwight Taylor Sr." He says the change invoked a significant shift in the way he viewed himself.
Forging a New Path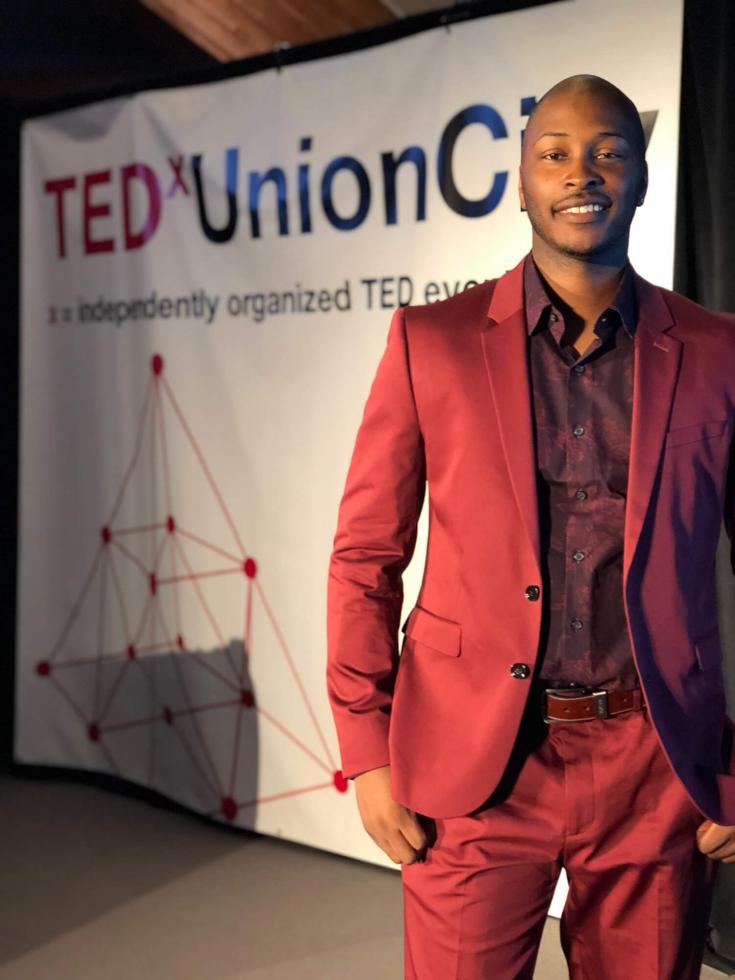 Leaving the music industry created space for the unexpected: Taylor became a published author releasing "Domin8 Your Day: 100 Empowering Statements that Encourage Greatness" in 2017. Of the title he says, it's more than a catchy saying — it's the mindset adopted for his own evolution.
Taylor released the new student edition of his book this year; it incorporates interactive technology for students to use with their smartphones alongside his self-help advice. Working with Sacramento-based app company InterApp, he created educational video content that pops up on smartphones to accompany each chapter. Taylor believes that in order to reach students, he must meet them where they are, even if that means getting inside their phones.
The No. 18 pointer in the book — "stop your noise so you can move with poise" — reflects his relationship with the music industry. "I was never taking time to just stop and self assess and breathe and say, 'Is this helping or hindering me?'" He decided to quiet the noise in his life, including social media and the need for fan adoration.
Taylor now sets Mondays aside for self-reflection, and the importance of self-awareness is a message he also gives students: "When you can know what you like and dislike, what you won't compromise for, what you will settle for … when you know those things and they're core to who you are — you can make healthier decisions out of that mindset," he says, adding that it was his emphasis on self-awareness that brought him and his wife back together. They remarried in 2016 and she moved to Sacramento with the younger two children.
In addition to writing, Taylor is regularly on campuses working with students. He works with seven public school districts in Sacramento County, along with two private Christian schools, coaching students and doing public speaking events. He says he has worked with more than 250,000 K-12 and college students across California and beyond, including New Orleans, Georgia, Australia and the Grand Cayman Islands.
Cindy Hollander, principal of Sequoia Elementary School in Sacramento, says Taylor has had a big impact on her campus. "Mr. Taylor has come to Sequoia on multiple occasions over the past three years to inspire and influence staff and students to have a growth mindset, be the best at what they do and to be individuals," Hollander says. "We have teachers using his book to teach students and create projects from the learnings."
Taylor says he still uses his gift for music, when necessary, as a tool to connect with students and then share his message.
"cause since I found my purpose, my life been more simple, anything that does not line up with it, I tell it get gone and stay gone. I wrote my vision and made it plain, I'm focused on making change and they still trying to make it rain, and that's a shame, I call it lame. I believe in equality but we are not the same. I'm on a different level. Pedal to the metal, destination excellence, cause I was taught to never settle."
"I don't know if I've had more success now," Taylor says. "I know I've been more significant now."