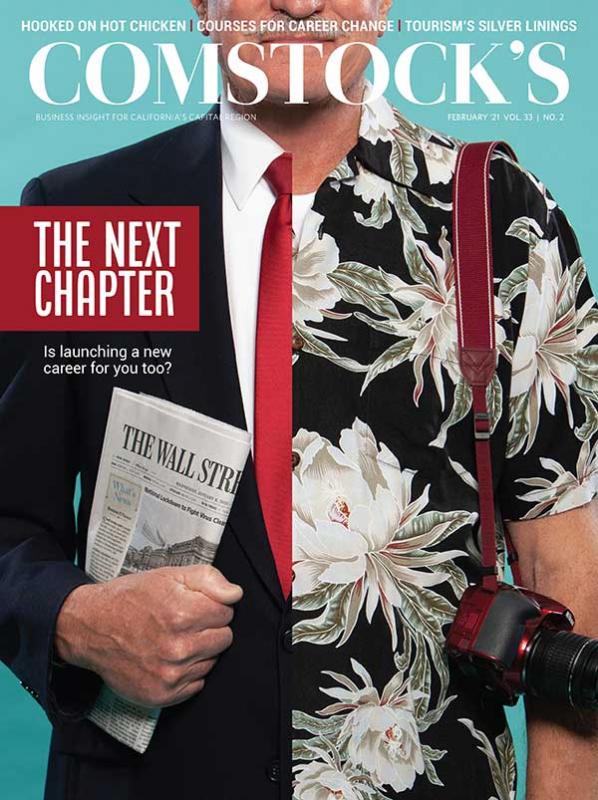 This story is part of our February 2021 issue. To subscribe, click here.
Al Calderone has held a variety of jobs in his life — courier, glazier, landscaper and minister of a church in Williams that has been closed since the coronavirus pandemic hit in March.
Now, in the heart of historic downtown Winters, from a 600-square-foot store on Railroad Avenue, Calderone, 63, builds guitars, teaches the craft of guitar and ukulele making, and gives lessons at ARC Guitar. His business is a rarity — a brick-and-mortar shop devoted to building musical instruments.
Lutherie is a calling he found late in life, fulfilling a dream he had since he was a child in New Jersey. Calderone, who has played guitar since he was 9 years old, moved to California when he was 28. He always dreamed of owning a guitar-building business, but a lack of confidence sidetracked him. "It seemed like such a daunting endeavor," he says. When he was in his 40s, he taught himself how to build and repair guitars, studying books he bought when he was in his teens. "The craftsmanship and workmanship ability (I had) ended up being a surprise in my life," he says. "I didn't realize I had it in me. My only regret is that I didn't act on it sooner."
"When it's done, it's basically a piece of themselves that's been breathed into that instrument. It's personalized, an artistic expression."

Al Calderone, owner, ARC Guitar
In 2009, Caldorone used a $20,000 state redevelopment grant to move his business, which he had been operating out of his garage, into the century-old building where ARC Guitar has become a familiar fixture on the city's main drag. The shop, just around the corner from The Palms Playhouse music venue, is a great fit for the eclectic area, says Sue Moualim, executive director of the Winters District Chamber of Commerce. "Businesses like ARC Guitar are important to the historic downtown district in Winters," says Moualim. "The downtown has a great relaxed and authentic vibe, so a handmade guitar shop such as ARC Guitar is right at home in a community whose residents and businesses are no strangers to artistic talent."
Since he started the business, Calderone has built 64 acoustic guitars; the price for a custom guitar starts at $2,800. He has also fine-tuned his business operations, becoming more environmentally friendly over the years to improve his ecological footprint, using water-based materials instead of toxic solvents and finishes, and sustainable woods, like California walnut, instead of many of the heavily restricted tropical woods.
Calderone has taught more than 100 students how to build a guitar or ukulele, with about 90 percent ending up with a finished instrument. Before the pandemic, a student could take up to three years to finish the course and a guitar. But due to new restrictions, Calderone has instituted an intensive three-week, one-on-one, socially distanced course in his back student area. He continues to teach guitar, bass and ukulele lessons two days a week and repair instruments.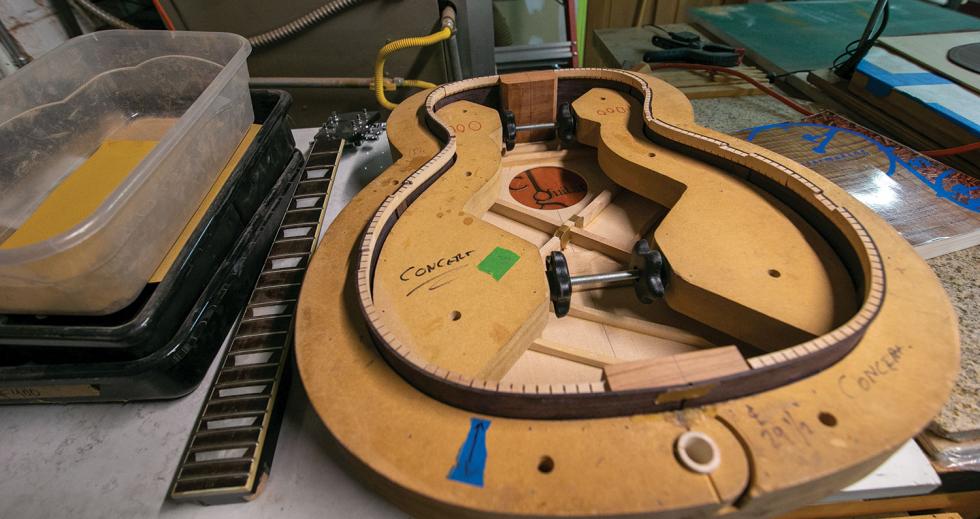 A student pays a minimum of $4,000 to start the guitar- and ukulele-making class, with costs increasing depending on the type of wood and materials and the number of classes required to finish the piece. Students choose between four guitar models, beginning with the smaller sized parlor, up to concert, dreadnought and jumbo.
While not inexpensive, the result is a finished instrument with a student involved in every facet of choosing the wood and materials, design, and implementation. "When it's done, it's basically a piece of themselves that's been breathed into that instrument," Calderone says. "It's personalized, an artistic expression. You don't get that when you go into a store and pick one off the shelf."
When his course is completed, he says, students have learned more than just instrument building. "They're learning other things too — learning about life and philosophy. I guess you might say I'm an old sage or wannabe sage."
–
Stay up to date on the effects of the coronavirus on people and business in the Capital Region: Subscribe to the Comstock's newsletter today.