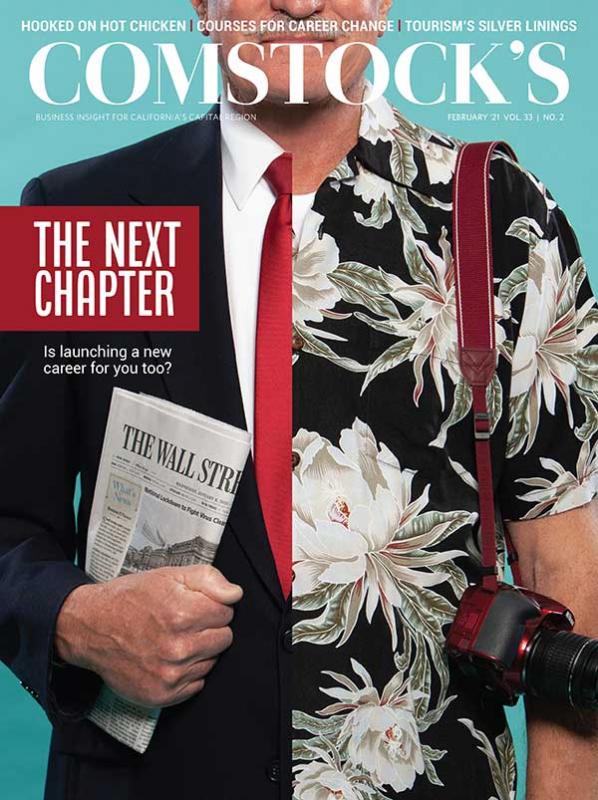 This story is part of our February 2021 issue. To subscribe, click here.
Abandoned psychiatric hospitals and cabins in the woods — that's where terrible things in many horror films take place. But in August 2020, in a remote lodge in the Sierra Nevada, terrible fictional things happened that were actually a wonderful nonfictional thing for Michele McCormick: her first role in a feature-length film.
"My character is a kind of an evil character who set some of the horrible events in the movie," McCormick says. "It was great fun." Her part in the film, "Don't Fear," directed by Deon Taylor and starring rapper-turned-actor T.I., isn't a big one, but "I'll be in it for at least a couple of minutes," she says.
For McCormick, getting into acting and modeling "was completely a lark." She launched MCC Communications, a public relations company, in 1991, after working as a publicist in the 1970s and as a freelance writer and photographer in the 1980s. Her husband, Don McCormick — whom she met during her stint as a publicist for the American Freedom Train, a steam locomotive that traveled cross-country in 1975-76 with exhibits celebrating America's bicentennial — was in the U.S. Army and that required them to move around Europe and stateside, so working as a freelancer made sense for McCormick.
They settled in Sacramento in 1985, and McCormick took a job at an ad agency, "decided it was really my thing" and opened MMC. Some of her clients were Del Webb, the U.S. Department of Agriculture, VSP and Wells Fargo Center. "My goal when I started, it was that I would ultimately sell it," she says, since she wasn't going to have a pension to rely on. She sold MMC to Circlepoint, a firm based in San Francisco, in 2008, and agreed to stay on for three years before retiring.
But it was around 2010, when McCormick was preparing to do some PR interviews, that the idea of modeling was planted into her head by a makeup artist. She told McCormick she should try doing lifestyle modeling. "And I said, 'Well, and what is that?'" McCormick says. She learned lifestyle models were "the real people that are in TV commercials," advertisements and industrial videos, "not the glamour models." So after she retired, she submitted photos to local talent agency Cast Images, which agreed to represent her.
"I knew nothing about Photoshop or digital darkrooms. It was just a whole new arena of interesting, fun stuff. … For me, photography is another form of communication. So, I'm a communicator."
She has since worked on print and video spots for clients such as Apple, AncestryHealth, Carson Valley Medical Center and Comstock's (in 2012, she appeared in a photo for a feature story).
Post-retirement, she's also put herself behind the camera, focusing on nature photography and showing in local galleries. But she may not have even retired in 2011 if it weren't for her husband. McCormick says she was grappling with the idea of retiring but still wanted to work. While she was considering her options, she came across a portfolio of photos she had taken in the 1970s when she was doing freelance photojournalism and thought, "Why did I stop doing this?" Then her husband bought her a digital camera for Christmas. (He died in 2014.) "I thought, 'Well, this is kind of a message,'" she says. "I knew nothing about Photoshop or digital darkrooms," she says. "It was just a whole new arena of interesting, fun stuff."
Her online portfolio consists of travel photos, landscapes, flowers and birds. "For me, photography is another form of communication. So, I'm a communicator," she says.
McCormick has shown her photos at Viewpoint Photographic Art Center in Sacramento and participated in art auctions at Blue Line Arts in Roseville and the KVIE Art Auction.
She says modeling and acting has been more lucrative than photography for her. "I feel like as I get older, there will just be more and more opportunities," she says. "I've gotten better at doing auditions. … I love both sides of the camera."
–
Stay up to date on the effects of the coronavirus on people and business in the Capital Region: Subscribe to the Comstock's newsletter today.