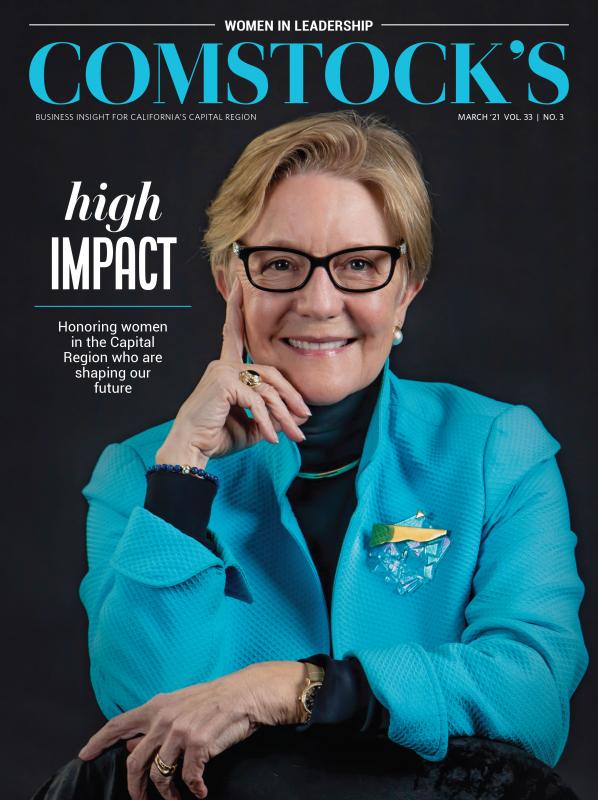 This story is part of our March 2021 Women in Leadership issue. To subscribe, click here.
Despite upward trends and optimism about a more equity-driven decade, 2020 began with the reality that women were still drastically underrepresented on boards, executive teams and in elected offices. And across all industries in the workforce, women's salaries are approximately 19 percent less than men's.
And then came March. The COVID-19 pandemic changed the way most people work and live, but women have faced the brunt of the impacts, according to McKinsey & Company's "Women in the Workplace" study of more than 40,000 women in 2020. Women, particularly women of color, were more likely to have been laid off or had work hours cut than their male peers. A Bureau of Labor Statistics report showed that in December 2020, more than 156,000 women lost jobs, and 16,000 men gained jobs.
For those women still in the workforce, the pressures of juggling their professional and personal duties are at an all-time high. A May 2020 report by the nonprofit women's advocacy group Lean In found that women who have full-time 40-hours-a-week jobs and children and a partner were "1.5 times more likely than fathers" to spend around 20 hours a week on housework, child care and other caregiving. Timewise, that equals having a part-time job on top of their full-time job.
There are 2.1 million fewer women in the U.S. workforce today than there were a year ago. This could mean $64.5 billion per year in lost wages, according to the Center for American Progress.
While the pandemic continues to be a cause for uncertainty for the future, we know that there will be a future, and we all have a decision to make: It will either be a future by default or a future by design.
Supporting the economic prosperity of women means supporting the economic prosperity and overall welfare of everyone. We have the opportunity to build things in a new way, a better way in which there's more balance in women's compensation, representation in the power dynamic and — the most precious of resources — time.
While the road to economic recovery, gender pay parity and equitable female representation may be long, there are things that employers and employees can do now to ensure a better future.
1. Review hiring practices. For everyone who is in a position of leadership, use your platform to bring parity. Consider what biases might exist in your hiring practices. Increase efforts to not just diversify candidates for positions but also the interviewers to avoid tendencies to hire the same type of person.
2. Prioritize equal pay. Review your payroll and ensure the women on staff are compensated appropriately compared to their male counterparts. A new hire's salary history may include unequal pay, so do not rely on it when determining pay (plus, it is prohibited by California labor laws to ask applicants about their salary history).
3. Invest in child care. Work to create an organizational culture with empathy at the heart. This includes eliminating barriers to child care, which is one of the most effective ways to narrow the pay gap. Allow flexibility in workers' schedules so they don't have to choose between leaving the workforce or taking care of family responsibilities.
There also are actions that women can actively take now to best position themselves (and other women) for their careers.
1. Advocate for women. Data shows the fastest track to leadership is when women advocate for other women. Programs like She Shares and California Women Lead are great outlets to flex mentoring muscles.
2. Volunteer. With so many people out of work, resumes are going to have gaps between jobs, and volunteering can fill those holes. It can provide a risk-free environment to learn new professional skills or keep your existing tool kit sharp and ready for new opportunities, as well as offer a new network of people that might be advantageous when re-entering the workforce at a similar level and pay. Plus, volunteering has been shown to reduce stress.
3. Finish that certificate or degree. A 2018 report from California Competes found that women with formal education beyond high school have higher earnings and can have better upward mobility. For many, transportation, child care and access to higher education were barriers to completing degrees that had been started or even considered as an option at all. Several local institutions, such as Los Rios Community College District, Sacramento State and the UC Davis School of Graduate Management, are offering more remote-learning opportunities than ever. These schools, as well as many others, are also providing wraparound services and community-building opportunities to help guide students. Finishing a certificate or degree while building a network of colleagues may be just the thing you need to jump back into the workforce.
The best way to shape the unknown is to take an active hand in building what we want it to be. Whether it is becoming more engaged in community, running for office, being present for family, building one's skill set or taking a few moments each day to reflect, with a community working toward equality for women, the future will be brighter for everyone.
Amanda Blackwood is president and CEO of the Sacramento Metropolitan Chamber of Commerce and the first woman to head the organization in a full-time role in its 126-year history.
–
Get all the stories in our annual salute to women in leadership delivered to your inbox: Subscribe to the Comstock's newsletter today.