The market for social gaming in America will reach an estimated $1.25 billion in 2011, and social gaming startups — which didn't exist three years ago — will account for about $835 million of that total, according to Inside Network Inc., a data collection firm that monitors Facebook, apps and the gaming industry. Sacramento's own KlickNation Corp., a Facebook-game developer staffed by gaming addicts, techies and three former Marvel Comics artists, is one such small firm with big aspirations.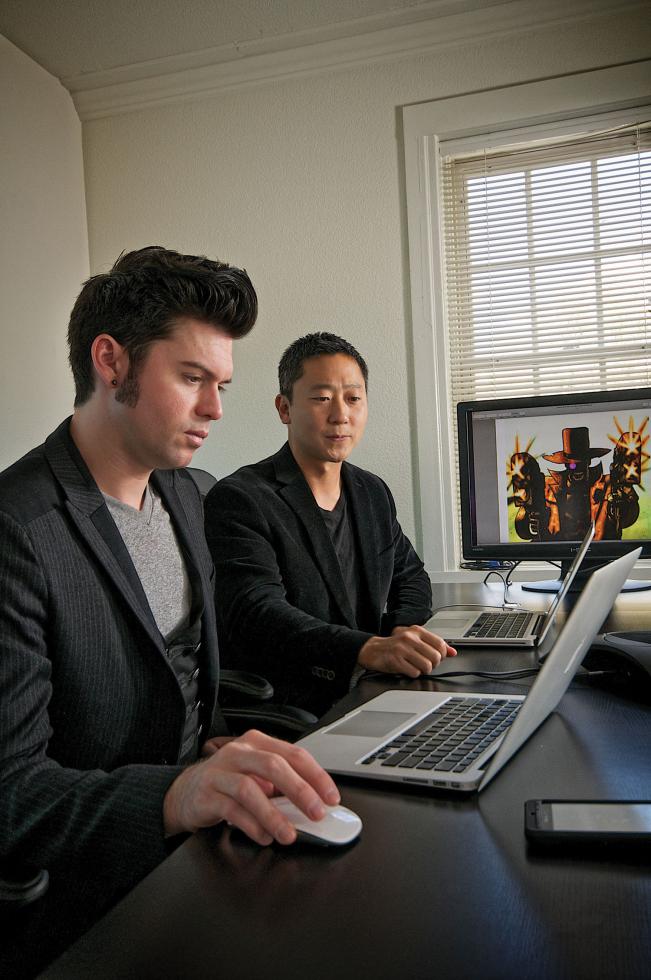 For the past 18 months, KlickNation has churned out virtual games from the old brick building on 20th Street that formerly housed the Sacramento News & Review. In that blink of time, the company's staff has ballooned, revenue has gone from zero to "multiple millions" and some serious industry relationships have been solidified.
"Virtual products are something you cannot touch or sniff," says company co-founder and CEO Mark Otero. "You cannot hold them in your hand, yet we sell millions of dollars worth of them; tens of thousands of dollars in sales daily."
KlickNation creates addictive role-playing games under the industry's widespread "freemium" business model. The games are free to play; it's the digital game enhancements that bring in the revenue. In KlickNation's Superhero City, for example, players can spend between $2 and $25 to purchase super powers, weapons and bionic limbs. Industry stats suggest that 97 percent of players will never make such a purchase, but the microtransactions from that other 3 percent mean big money.
"Many successful social games can expect between 1 cent to 15 cents or more per day per player per game," says Richard Muncaster, the company's vice president of corporate strategy, in an email. "The amount can be lower than 1 cent or greater than 15 cents depending on the type of game, the game's demographic and maturity of the game."
The wildly popular FarmVille game, for example, can expect to earn much less than a niche war game, but the farming game appeals to a vastly larger audience. Mass-market game CityVille has nearly 90 million monthly active users worldwide. KlickNation's four games have a combined 1 million players making "thousands of transactions a day," according to Muncaster.
The bank account wasn't so full on day one. In fact, it was almost empty. Otero launched KlickNation for about as small of a budget as is possible in the 21st century: $40,000. And that money came from an unlikely sibling company: Mochii Yogurt.
Otero sold his house and cashed out his stocks and 401(k) to open the frozen yogurt shop in 2007. He wanted to earn enough money to launch a second company, and Mochii, located at 16th and P streets in Sacramento, was profitable immediately.
The market for social gaming in America will reach an estimated $1.25 billion in 2011, and social gaming startups — which didn't exist three years ago — will account for about $835 million of that total.
He holds a degree in computer science from Sacramento State and an MBA in marketing from UC Davis, and wrote the specifications for KlickNation's first game, Superhero City, in the backroom at Mochii between scooping yogurt and balancing the books. The game was released in July 2009 with just $10,000 to spare. "We knew we had to make a play at Facebook," Otero says.
Worldwide, Facebook is one of the largest providers of "massively multiplayer online role-playing games," a genre of video games through which a large number of players interact within a virtual game world.
Facebook plays host to about 61 percent of the market's social gamers, according to UBM TechWeb, and that trend is only gaining momentum. In the past year, daily active user traffic to the top five Facebook games has more than doubled, according to Inside Network. Among the top 175 games, excluding the top five, the number of games with more than 100,000 daily active users rose from 67 in February 2010, to a peak of 107 before Christmas.
Zynga, the market's largest provider of massively multiplayer online role-playing games, has seen more than 270 million of its games downloaded worldwide since launching its first social networking game in 2007. Since then, the company has launched CityVille, FarmVille with 48 million players and Texas HoldEm Poker with 37 million players.
The foundation for KlickNation's success rests on its alternative target market: educated, English-speaking men aged 30 to 50.
"Our niche is a big niche, but it's a niche the other companies just aren't focused on the way we are," Otero says. "We're not a mass market type of game company. If you think of TV, we're the Syfy channel. It's specific and very hard-core."
The demographics for the bulk of casual Facebook gamers are roughly 75 percent female with an impressive bulge in the curve between the ages of 25 and 50.
"I was a geek, a Dungeon Master, president of the computer club," Otero says. "This is my dream."
Bright orange walls and ergonomic chairs. A black conference table flanked by a half-dozen scruffy-chic men (zip-front sweaters, double-pierced ears, turn-of-the-millennium tattoos) and three times as many digital devices (nobody brought just one).
Tablet computers are becoming the tool of choice in multiple industries, adding convenience to simple tasks such as note taking, to more complex operations such as tracking sales. Tablets haven't replaced laptops yet, but sales trends favor the handheld devices.