Where in your local supermarket do you find the curry leaves? How about dumplings filled with red bean paste, or maybe smoked duck. Does your local grocer have fresh menudo, warm tortillas right out of the oven, or miso broth prepared that morning on-site? Independent grocery stores focused on specific ethnic cuisines are thriving in Sacramento, enjoying a boom in customers from beyond their base cultural markets. Traditionally found in ethnic enclaves old and new, these shops are expanding their reach to customers from all neighborhoods searching for hard-to-find items.
Ethnic shops as a market sector are expected to reach $31.2 billion in annual U.S. sales in 2016, with thousands of new stores expected to crop up nationwide in the next few years. According to the National Grocers Association, there are some 70 independent grocery stores in the Sacramento area, generating $361 million in annual sales and responsible for creating about 3,000 jobs. Latino shoppers are now the grocery industry's most important demographic: At least six Latin American nations each have more than 1 million residents living in the U.S.
Kaiton Wong, who owns Red Star International Groceries on East Parkway, says Sacramento offers a prime example of culinary diversity. The shelves at Red Star are filled with jerk sauces and Irish Moss (a peanut-flavored milk beverage), and the freezer is stocked with everything from cow skin to Jamaican spinach patties. But Red Star is best-known for their Puerto Rican pasteles: mashed plantain pockets filled with salted pork, wrapped in banana leaves and boiled.
"People thrive on being able to obtain foods and groceries from their home country. There is nothing like having food from back home to bring back the memories of childhood," says Wong. "Our specialties are African, Caribbean, Central and South American, and South Pacific cuisines, but we also cater to American customers who love to explore and cook international dishes." Wong says many regular customers are seeking flavors from home, but a growing number are coming in to diversify their pallet.
According to the National Grocers Association, there are some 70 independent grocery stores in the Sacramento area, generating $361 million in annual sales and responsible for creating about 3,000 jobs.
The Florin area has some 48,000 people, more or less equally spread across ethnic lines, who live and work in the immediate area. Large portions of Sacramento's Asian population — Japanese, Hmong, Chinese, Laotian and Korean — have made the neighborhood home since the late 1800s, when it was an agricultural epicenter famous for Japanese-farmed strawberries and Tokay wine grapes. World War II saw much of the Japanese farming class shipped to internment camps, and that — coupled with post-war changes to the wine market — led Florin's historic farmlands to dry up, making way for commercial and residential development to swallow up the acreage. The cultural heritage remains however, in shopping centers with names like Pacific Rim Plaza and Little Saigon.
"Our ethnic grocery stores are gold mines of unique and specialty products you can't find anywhere else," says Verna Sulpizio, executive director of the Florin Road Partnership. "Whether you're looking for that treat you last had on vacation or something that was shipped to you by a friend in another country, you can find the most amazing food, fabrics and fresh fruits, all at incredible prices."
One of the larger independent grocery chains, 99 Ranch Market, has a 70,000-square-foot location in the Southgate Shopping Mall on Florin Road that features Eastern foods from fresh Asian produce to noodles, meats and canned foods. Crates of live crayfish and soft-shell crabs sit next to the seafood queue, and shoppers can find honeycomb beef tripe and crinkled pig ears at the meat counter. More than a dozen varieties of Korean kimchi, a potent mix of shredded cabbage fermented with ginger and garlic, sit on the refrigerated shelf with packaged soba noodles, tofu skins, spotted quail eggs and egg custard tarts. The food court inside 99 Ranch is filled with the smells of roast duck, grilled seitan tofu and crackling pork skin.
Ethnic grocers also offer people with dietary needs like vegan proteins or gluten-free baking ingredients options that are not always available at major retailers: amaranth, millet and sorghum can be found in bulk at Indian markets, as well as flours made from chickpea or lentil. Asian noodles made from rice, legumes, sweet potato or even acorn meal (Korean dotori guksu) are worth a try as well. Meanwhile, fresh corn flour and masa harina are popular items with customers of all backgrounds at local markets like Mi Rancho and La Superior. Patrons who enjoy gluten just fine can also stock up on fresh tortillas, pastries from the panadería, fresh horchata and chicharrones from the taquería.
And just because a product is unconventional doesn't mean it has to be shipped in. Oto's Market on Freeport Blvd. has been Sacramento's Japanese headquarters since 1979. The store offers kabocha, an Asian winter squash, from Uncle Ray's farm in West Sacramento; white corn from Takemori Farms in Elk Grove; and shishito peppers from R. Kelley Farms here in Sacramento. Oto's also boasts a myriad of unique mushroom varieties grown on a farm in Acampo, in San Joaquin County.
This trend of assimilating ethnic foods into everyday cuisine has amplified, thanks to the explosion of food magazines and television shows since the late 1990s. The Food Network, which launched in 1993, has been instrumental in educating Americans on everything from the concept of a fifth flavor (umami) to fusion cuisines or even food trucks. The demand for offal, the internal organs and entrails of a butchered animal, has increased dramatically in recent years — bolstered by foodie media and local farm-to-fork campaigns, like Sacramento's Have An Offal Day cook-off in August. Chefs have become celebrities, and thus the art of cooking is emulated by amateurs at home. Millennials, having grown up in an era of mass globalization, often see ethnic cuisine as simply another element of a balanced diet.
Conventional grocers aren't blind to the rising popularity of globalized dining. Latin and Asian foods are gaining shelf space in stores like Raley's, Safeway and Kroger. Not long ago, Italian food like prosciutto and high-quality olive oils were specialty items not found in the average supermarket. American shoppers didn't incorporate the cuisine into mainstream kitchens until the late 1970s. It took a generation of Italian delis and grocers like East Sacramento's Corti Brothers to help cultivate that taste for people raised on meat and potato staples.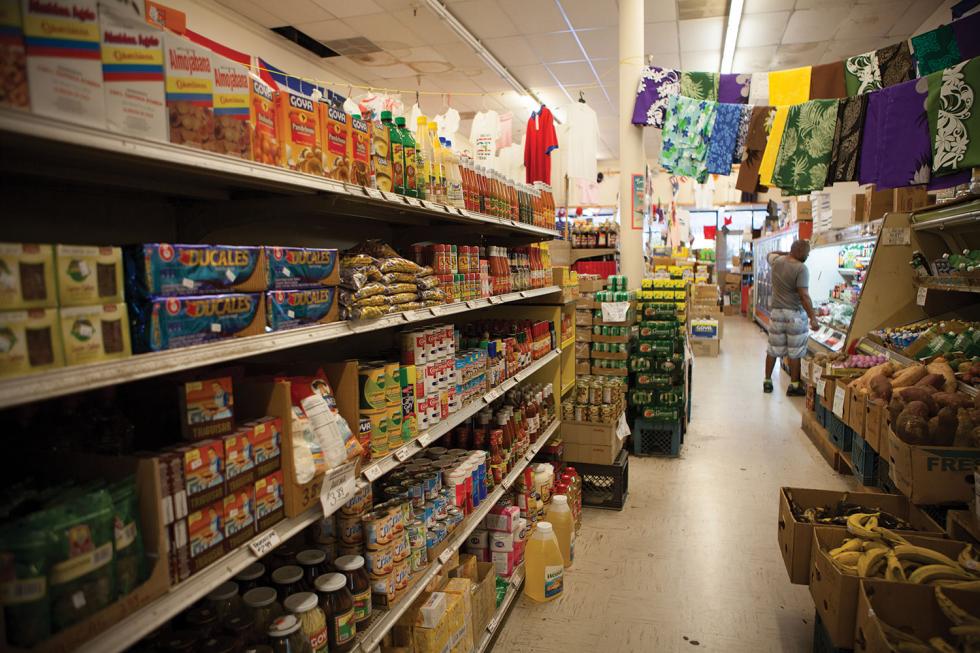 The big chain grocers have a harder time responding to customer demand for fresh Asian produce like durian fruit and burdock root, or less popular cuts of meats. The balance of demand versus cost is compounded by the difficulty in sourcing a broader selection, as large wholesalers are also not likely to carry much past the basics. But the impetus for change is growing. Natural and specialty food markets have some of the highest profit margins in the industry. Whole Food's net profit margin in 2012 was 3.79 percent, while big-box grocers like Kroger and Safeway only eked out 1.91 percent and 1.77 percent, respectively. Smaller businesses that focus on specific local demographics and items like gourmet products and prepared meals can reap higher margins, fueling the niche wholesale market.
"Independent markets can thrive as long as they have knowledge of their customers, sell the products they need at a fair price, keep a clean and organized store, and are courteous," says Wong. "It is a combination of all of these that determines whether a store can be successful and remain in business, even with the age of Super Walmart and big chain grocers."
Did we miss your favorite market? Tell us in the comment section below.