Trail Coffee, a bustling café on an activated corner in downtown Stockton, has come a long way from its startup as a back-alley roaster. In the last four years, the business has moved twice, rebranded and expanded into a 3,500-square-foot roastery, café and test kitchen in the refurbished Owl Drug Store building on E. Main and California streets.
The recent evolution of Trail, a company that co-owns a coffee farm in Nicaragua and has been roasting in the Central Valley since 2000, was orchestrated by founder Bing Kirk and his stepdaughter Gianna Vicari. Kirk reached out to Vicari in 2014 after customers repeatedly requested he serve the coffee he roasts. Vicari was living in Brooklyn, making jewelry and working in a boutique. Kirk figured she could use her ingenuity and creativity to help the business grow.
"I had an idea that we could start this adventure of a café and coffee roasting business," he says.
Together Kirk and Vicari created a new identity for what is now a vertically-integrated business overseeing its own growing, roasting and retail operations. Rebranding from Jesus Mountain Coffee, the new name of Trail Coffee Roasters represents the international coffee trail from seed to cup. In addition to opening its flagship café amid downtown Stockton's resurgence,Trail sells its coffee to more than 300 stores in Northern California and has increased its roasting production by 1,000 pounds per month since 2014.
On the Mountain
Trail's history goes back to 1976 when, after graduating from San Jose State University, Kirk visited Nicaragua and was introduced to the coffee trade. "I went for a month and stayed two years," he says.
Kirk left Nicaragua when the revolution began in 1978 and returned to Stockton. He earned a general contractors license and went into the real estate development business with Mike Atherton, a long-time friend with whom he traveled in Nicaragua. Around 1998 they bought 1,000 acres on Jesus Mountain in Nicaragua. This is where the farm still operates. Atherton remains co-owner of the farm, which is managed by his daughter. Kirk says this mountainous region, with its abundant water springs, cultivates the potential for the rich flavor and aroma of Trail coffee.
Roasting brings out the flavor of the beans, and the process has fascinated Kirk for years. In 2000, he invested in a Diedrich IR-12 roaster and started roasting as a hobby in his office in a Manteca industrial park. After retiring from the development business in 2014, he moved the Diedrich to the alley site in Stockton where he would roll up the steel door and sell freshly roasted coffee.
"I was selling only roasted coffee at the alley site, but people were coming in and saying it sure would be nice to get a cup of coffee here," Kirk says. "So I would make a pot of coffee, people would buy the beans and leave."
He had the idea to open a café, but he couldn't do it alone. That's when he called his stepdaughter. Vicari, who first visited the farm on Jesus Mountain in 2011, wanted to be involved in the business, and found the farm an exciting narrative around which she could craft a brand.
"It's rare to have a coffee farm, and the farm is an incredible place," Vicari says. "I fell in love with it and how it opened doors to help the community around the farm."
"I had a vision of what it could become with our product, café design, logo and retail sales. I thought about the type of chairs to have in the café, cup design and food options." Gianna Vicari, creative director, Trail Coffee Roasters
The company contributes to the community on Jesus Mountain, having built a church, school and housing, including dormitories for more than 70 permanent resident-workers. It also provides meals for around 500 workers during picking season. Trail Coffee is Rainforest Alliance Certified, meaning it adheres to a set of standards requiring environmental, social and economic sustainability.
Implementing a Vision
Even though she would be giving up life in New York, Vicari accepted the offer to help with the business and returned to Stockton.
"I had a vision of what it could become with our product, café design, logo and retail sales," Vicari says. "I thought about the type of chairs to have in the café, cup design and food options."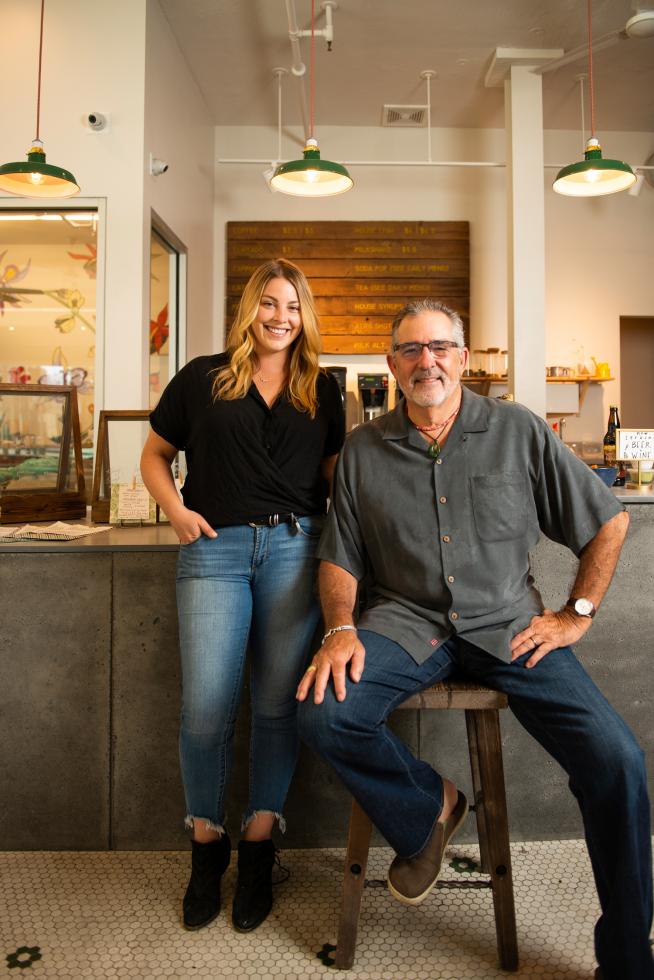 She began by setting up a coffee cart in the roasting warehouse and started baking a few scones — eight or so a day — for people buying coffee. She describes the former digs as "not a cool location, off an alley with no other businesses around." Customers heard about the business by signage, word of mouth or via social media posts. She started discussing a rebrand of the business with her stepfather, and proposed changing the name to further move the enterprise forward.
"I had a hard time with it," Kirk says. "Given my history with the mountain and the company, it was difficult to think about changing the name." Ultimately, he "acquiesced and asked the Holy Grail question: What will we call it?"
Vicari lost track of how many names she suggested before gathering a group of friends in her backyard to brainstorm a new moniker. "We came up with Trail and thought it was the perfect tie-in to the farm, and it played into the trail of the coffee to get to us here in Stockton." She also felt the name would reach a wide demographic: "It's not too trendy or too old school."
Kirk approved, and in January 2016 the business officially rebranded. "Before it was just a hobby, but the name change represented a real business with expanded capacity," he says.
Trail opened its cafe in the historic Owl Drug Store building in April — after Kirk oversaw the eight month renovation of the structure, which was built in the early 1900s. Vicari planned the café's interior design and recruited friends to paint a large mural, design neon signs and build custom menu boards. "We were working seven days a week on the Main Street building while still roasting 2,500 pounds of coffee a month," Kirk says.
Their flagship café is a spacious sanctuary with a roasting room and test kitchen where Vicari works as the creative director. She also plans menu items such as salted caramel scones, dark chocolate sea salt cookies and red velvet cupcakes with rose cream cheese frosting. She bakes about 58 scones a day at the new location. Trail also has two "roastmasters" working to perfect the complex profile of the coffee, including its aroma, flavor, body and acidity.
Father and stepdaughter say they have successfully navigated differences and nurtured a vertically-integrated business that supports communities in both Stockton and on Jesus Mountain. They also have plans to open a new café near the University of the Pacific, and perhaps take Trail coffee on the road with a mobile trailer.
"I had a dream that it could happen," Kirk says. "But it was just a hobby. Then Gianna came and rebranded, and that was the crux." The key, he says, is to be willing to give ideas a shot. "If you have a good product, are sincere and have passion, you will be successful."
What is the toughest part of rebranding a business? TWEET US @COMSTOCKSMAG.