In the past two decades, bucolic Sonoma and Marin counties have been at the center of a cheese renaissance that has seen the rise of dozens of artisan and farmstead products, including cheese made from the milk of sheep, goat and water buffalo. With nearly 30 cheesemakers and creameries opening their doors to visitors, exploring curd culture has never been easier.
Ready to hit the Northern California cheese trail? Producers have created maps at cheesetrail.org, and there's also an app available for your Smartphone. If you're wondering where to start, we've put together a route to some of our favorites, all within driving distance of the capital.
1.The Epicurean Connection
Start your day by loading up on picnic supplies at this combination cheese shop, café and wine bar run by award-winning cheesemaker Sheana Davis. There's a daily menu of soups, sandwiches and unique cheeses, like her Delice de la Vallee, a triple-cream blend of cow and goat's milk that's been served by top restaurants, including The French Laundry. Also available are craft beers, olive oils and other artisanal foods. If you want to dive deeper, Davis teaches cheesemaking courses, usually on the first Sunday of the month.
IF YOU GO:
122 West Napa St., Sonoma
p. 707.935.7960
HOURS:
Mon. through Wed., 10 a.m. to 8 p.m.; Thurs. through Sat., 10 a.m. to 10 p.m.; and Sun., 10 a.m. to 4 p.m.
theepicureanconnection.com
2.Cowgirl Creamery
Founded by friends Sue Conley and Peggy Smith in the tiny, postcard-perfect village of Point Reyes Station, Cowgirl Creamery has been in business for two decades, racking up dozens of awards and expanding to two creameries, three retail stores and more than 2,000 tons of cheese. The company still hand-makes and sells organic, semi-soft cheeses at its original location in Tomales Bay Foods, a restored hay barn in Point Reyes. Visitors can watch cheese being made and taste cheeses at the cheese counter. For a more in-depth experience, try a Cheese 101 class. You'll get an up-close curd-making demonstration and a guided tasting of all of the Cowgirl Creamery cheeses. The class is available on Fridays, and reservations can be made on the website. Signature cheeses include Red Hawk, a pungent cheese with a reddish rind from native bacteria, and Mt. Tam, named for Marin County's highest mountain. Spread a blanket on the lawn or grab one of the tables, or take your cheese to go on a hike through the beautiful Point Reyes National Seashore.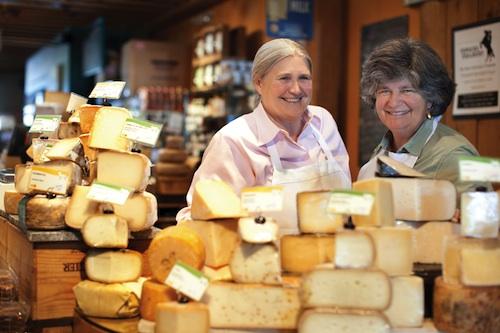 IF YOU GO:
80 4th St., Point Reyes Station
p. 415.663.9335
HOURS:
Wed. through Sun. 10 a.m. to 6 p.m.
Tours offered Fridays at 11:30 a.m. for $5 with reservations.
cowgirlcreamery.com
3.Petaluma Creamery
Established in 1913 by a group of dairy farmers, the Petaluma Creamery escaped closure in 2004 when it was purchased by dairy rancher Larry Peter, a major supporter of local agriculture. Today, the landmark creamery is still operating and is also home to Peter's Spring Hill Jersey Cheese, sold at farmers markets and retail outlets throughout California. Products include a range of cheddar and jack cheeses in a variety of natural herb and spice flavors. Spring Hill also produces specialty cheeses, including cheese curds and aged, dry jack. Free cheese tastings are available in the store, and group tours can be arranged Monday through Friday in advance. Tours are not recommended for children under 6, and participants must wear pants and closed-toe shoes.
IF YOU GO:
621 Western Ave., Petaluma
p. 707.762.3446
HOURS:
Mon. through Fri., 6 a.m. to 7 p.m.; Sat. and Sun., 8 a.m. to
6 p.m. Creamery closed weekends.
springhillcheese.com
4.Point Reyes Farmstead Cheese Co.
The farmstead designation means the cheesemaker is in control of the product from start to finish. In the case of the Robert Giacomini family, which operates Point Reyes Farmstead Cheese Co., it starts with the grass the cows are fed and continues through milking and cheesemaking. Set on 720 acres overlooking stunning Tomales Bay, this stop on the cheese trail is open by appointment only, requiring advance reservations. Look online to book a spot on the regular Friday farm tour, or snag a seat at the monthly farm dinners. Events are held at The Fork, a custom-built facility on the property dedicated to education and entertainment. In addition to private, custom events, tickets can be purchased to public events such as the dinners and demo-style cooking and cheesemaking classes.
IF YOU GO:
14700 Shoreline Highway, Point Reyes
p. 415.663.8880
HOURS:
Open by appointment only, book online or by phone.
pointreyescheese.com
5.Marin French Cheese Co.
Despite its name, this company has all-American roots. It was founded in 1865 by West Marin farmer Jefferson Thompson, who became renowned for his European-style cheeses — Brie, Camembert and a product he called breakfast cheese. In 2011, it was purchased by Rians, the family-owned French cheese company that also owns Laura Chenel's Chèvre in Sonoma. Today, many local varieties of cow and goat cheese are sold here, including the Marin French brand of soft-ripened cheeses. Tours start at 11 a.m. and 2 p.m. Monday through Friday. Reservations are required for groups of more than 10. The surrounding lawns are a great spot for a picnic, and you can buy bread, crackers, sandwiches and cookies as well as cheese in the company store. Two barbecue areas are available and can be reserved in advance.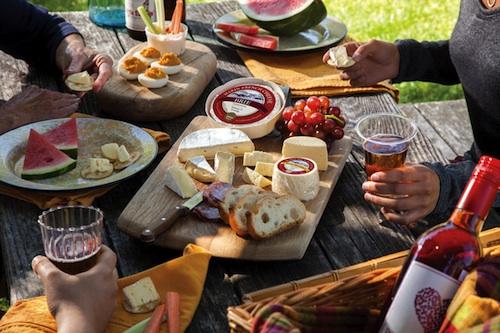 IF YOU GO:
7510 Pt. Reyes-Petaluma Rd., Petaluma
p. 707.762.6001
HOURS:
8:30 a.m. to 5 p.m. daily
marinfrenchcheese.com
Tucked in the back of a local restaurant in downtown Winters is a nondescript room revealing an enticing view: floor-to-ceiling shelves packed with 10-pound wheels of cheese.
Lovely scenery along gently rolling foothills has always made Yolo County an ideal place for cyclists, but who knew everyone took it so seriously?