When Brian Palmer set out to start a craft brewery with his father-in-law and homebrewing partner Mike Ryan in 2014, Rancho Cordova wasn't even on their radar. "We originally were going to open in different cities, different counties, and couldn't get anybody to call us back," Palmer says. "We were just naïve to the whole process, so seeking help was important, and Rancho Cordova offered that to us."
In Rancho Cordova, Palmer found a city that not only called him back, but actively recruited his business, and worked to make the typically-onerous task of opening a brewery and tasting room as easy as possible. A rewrite of the city's zoning ordinance that waived most discretionary permits saved the pair $10,000 in fees off the bat, while the Development Services Team, which includes a representative from all 15 city departments, meets once a week to answer project-related questions and facilitate the development process of all city projects.
"For guys like us who had no idea what it took to start a brewery, the DST made it much easier just to get answers," says Palmer, a veteran of the telecom/cable business. "You don't have to chase every department down."
By the time Palmer and Ryan finally debuted Claimstake Brewing in a nondescript Rancho Cordova business park in March 2016, it was one of only two craft breweries in the city, a former suburb of Sacramento that incorporated in 2003 (the other brewery was American River, which closed in 2017).
Today, Claimstake is one of the grizzled veterans of The Barrel District, a diverse group of six breweries (the others are Thin Line, Fort Rock, Ol' Republic, Old Hangtown and Burning Barrel), two distilleries (Gold River and J.J. Pfister) and Strad Meadery (mead is made from fermented honey) stretched across the ever-expanding Rancho Cordova city limits.
A promotional effort created by the City and supported by the Rancho Cordova Chamber of Commerce, the Barrel District is an attempt to unite these craft beverage manufacturers and brand Rancho Cordova as a distinct destination for beer and spirits, a location with a unique identity in a crowded Sacramento-area beer scene. The brand was heavily promoted at last year's California Craft Beer Summit and officially launched in October with the Barrel District Experience, an event that paired craft tastings with local food at all nine locations.
This proliferation of craft tasting rooms is a sign of the growth-focused and image-conscious business climate in Rancho Cordova, a city eager to show that it doesn't shut down after dark anymore. "We want to be a live-work-play city," says Economic Development Manager Amanda Norton. "Anything that we can do that adds an interest into the city, we support. We really pride ourselves on being able to streamline this process as much as possible."
Already the largest employment center in the county outside of downtown Sacramento, Rancho Cordova is also on the verge of a housing boom. The population is soon to eclipse 75,000, and a recently incorporated parcel on the eastern border will eventually yield 12,000 new homes. Still, the city had lacked for higher-end drinking destinations for the after-work crowd, one of the main reasons that father-and-son team Duncan and Jack Alexander opened Burning Barrel on a well-trafficked portion of Sunrise Boulevard last July.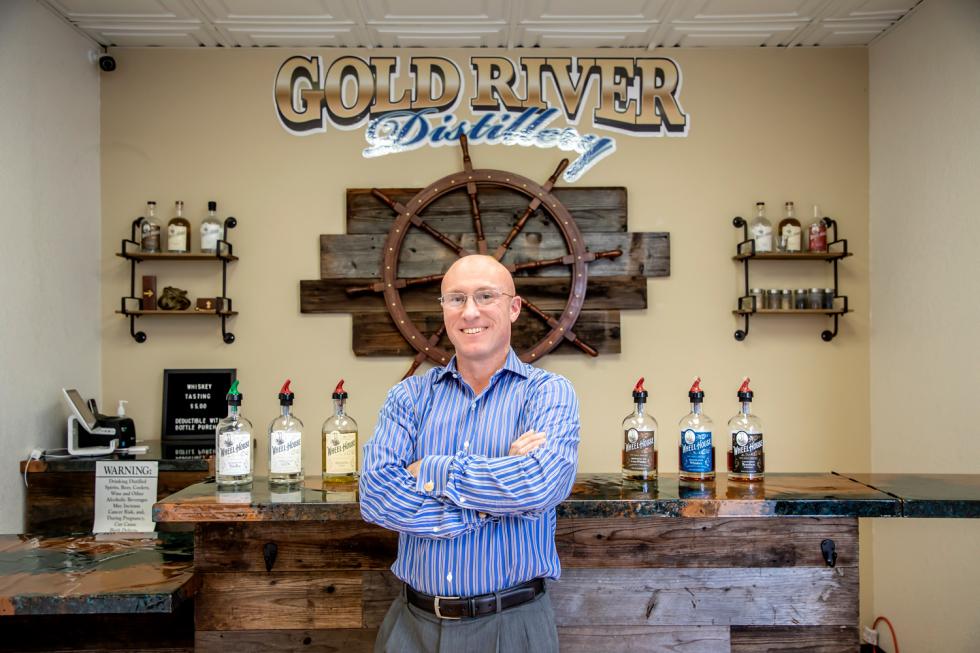 "So many people work around here, and all these places close around dinner time. There's no place to get drinks or have local meeting spots for business people," says Duncan, who co-owns the brewery with his father. Craft beer fanatics dominate the tasting room on the weekends, but Mondays through Fridays, half of Burning Barrel's customers wear suits and ties. "It's mostly people getting off work and going home," he says.
With five other breweries now in the area, Palmer has noticed a shift in Claimstake's customer base. "It's a double-edged sword," he says. "It went from two breweries to six, so we are now sharing regulars, but what we have seen in its place is outside-the-area customers come in, which you'll see more heavily on Friday nights, Saturday evenings. The first two years, we were so driven by our regulars, you could guarantee like clockwork that they were going to be here, and you see that a lot less now because they have other places to go."
Still, Norton believes there is enough variety among Rancho Cordova's breweries to offer something for everyone. "Every brewery really has their own unique stamp," she says. "I kind of compare them to chefs, where they have their own palates and vision for what they want to do and how to fill a niche." Indeed, the brewing styles, themes and volumes vary wildly among the six breweries, and each tasting room has a unique vibe.
There is extreme variance even among the city's two craft distillers. Gold River is a small-batch distillery with a modest tasting room in a facility smaller than 3,000 square feet. J.J. Pfister has a 16,000 square-foot "factory" where one-ton grain bags are lifted into the mash with a crane, and a lavish tasting room that can be rented out for private events.
Greg Baughman opened Gold River Distillery in 2013, and even then he found an enthusiastic partner in Rancho Cordova. "The City was excited and welcomed the idea of having the first distillery in the Sacramento area with open arms," he says. "There was almost never a 'no' answer, there were no permitting issues, there was no pushback."
"With everyone being so close together, it made sense to band together and put together a map and work on promoting each other's brands."Greg Baughman, founder, Gold River Distillery
These distillery tasting rooms only exist because of a recent change in state law that created a tied-house system much like the one that inspired an explosion of small, regional breweries across California. "It's called a Type 74 license," says Kevin Keck, owner of J.J. Pfister. "It allows us to have a distribution point contiguous with a distillery."
The craft beer world's preference for collaboration over competition has also influenced the expanding craft distillery scene, leading to a cooperative branding effort like The Barrel District. "With everyone being so close together, it made sense to band together and put together a map and work on promoting each other's brands," Baughman says. "Having Pfister come on board allowed us to talk about another distillery, and it allows Pfister to talk about us as well."
Keck agrees: "It's a rising-tide-lifts-all-boats situation," he says. "It would be great for us if there were more distilleries."
There is some question whether Rancho Cordova has reached a craft beverage critical mass. Norton believes that there is "definitely more room" in Rancho Cordova, but Alexander thinks the city may have reached its brewery capacity: "I think that now we should just try to elevate the ones that we have."
However, Baughman is more bullish on the potential for growth in Rancho Cordova. "I know a lot of people say that the scene is in Sacramento, but then you've got Folsom doubling in size and Rancho keeps expanding," he says. "There's a lot of thirsty people out here."