When Curtis Mann found out his employer Raley's had won the coveted Retailer of the Year award from Wine Enthusiast magazine as part of the "Wine Star Awards" in 2016, he naturally felt pride. "They recognized we're striving to be the most innovative wine retailer in the U.S.," says Mann, director of alcohol and beverage for the family-owned grocer based in West Sacramento.
He immediately shared the good news via a text message to his wife, Theresa, who responded with a skeptical response along the lines of, "That's not funny." She knew just how much the recognition meant to Mann, what a big deal it was, and figured he must be joking. The awards are prestigious and have been presented to the best in the industry for 18 years. Raley's was up against some stiff competition, including ABC Fine Wine & Spirits, Florida's oldest and largest independent retailer of fine wine and spirits; Central Market, a gourmet chain based in Texas; Publix, the largest employee-owned grocery chain in the U.S.; and Safeway, a chain with more than 2,300 stores in 33 states across the nation.
He then told his boss Paul Gianetto, vice president of Raley's Center Store, who oversees non-perishable items. "He had that look on his face like, 'How in the heck did you pull that off?'" Mann recalls with a chuckle. "It was shocking, but when you look back on it, it shouldn't have been shocking because we had done all the pieces to make it happen. We push the envelope to push the envelope, not to win an award."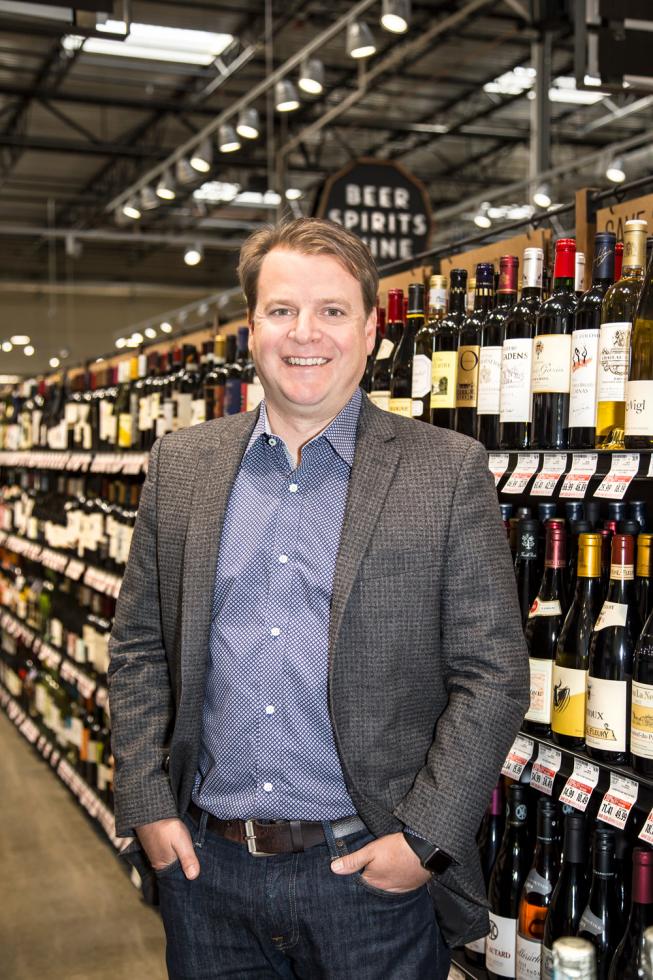 For Mann, the recognition served as a testament to the changes his team has implemented since he took the position with Raley's Family of Fine Stores in 2013. He realized early on that the retailer should provide customers with an atmosphere similar to a high-end wine shop. "We were doing a good job, but we weren't best in class," Mann says, "and my goal was to be best in class."
Raley's President and COO Keith Knopf says the award was a "great validation" of Mann's "willingness to think differently to better serve the customers." Knopf describes Mann as strategic, thoughtful and quietly influential, surrounded by a "great team with a shared vision and purpose."
Mann drew upon more than a dozen years of experience in California's wine and hospitality industries as he began to overhaul the Raley's wine program. But his passion for wine actually harkens back to his time as student director of the UC Davis Aggie marching band — he played low brass instruments, such as the trombone, baritone and mellophone. He was earning his history degree and perhaps would follow his father's footsteps into accounting. Yet, as a few of his older bandmates graduated and entered the wine industry, he had another idea.
He got a job at the tasting room at ZD Wines and later served as tasting room manager at Baldacci Family Vineyards, both in Napa. He then earned his MBA from the UC Davis Graduate School of Management. After other stints, including as the brand manager in the marketing department at Trinchero Family Estates in Napa Valley, Mann landed the position at Raley's. Through the years, he has also studied extensively with the London-based Wine & Spirits Education Trust, and is currently enrolled as a second-year student in the Masters of Wine program, aiming to become one of 45 masters in the U.S.
By 2015, Mann's improvements at Raley's were in full swing. He converted 30 stores from the basic grocery-store aisle to wine shops, and introduced more smaller producers and international brands — an "eclectic offering," he says, and an ongoing effort, as wine constantly evolves with new entrants into the market. The logistics of curation aren't easy. Want to bring in a new wine from France? That involves figuring out the appropriate lead time. Want to sell a label from a small local winery? He must make sure they have ample inventory so Raley's has enough to stock should the product take off among consumers.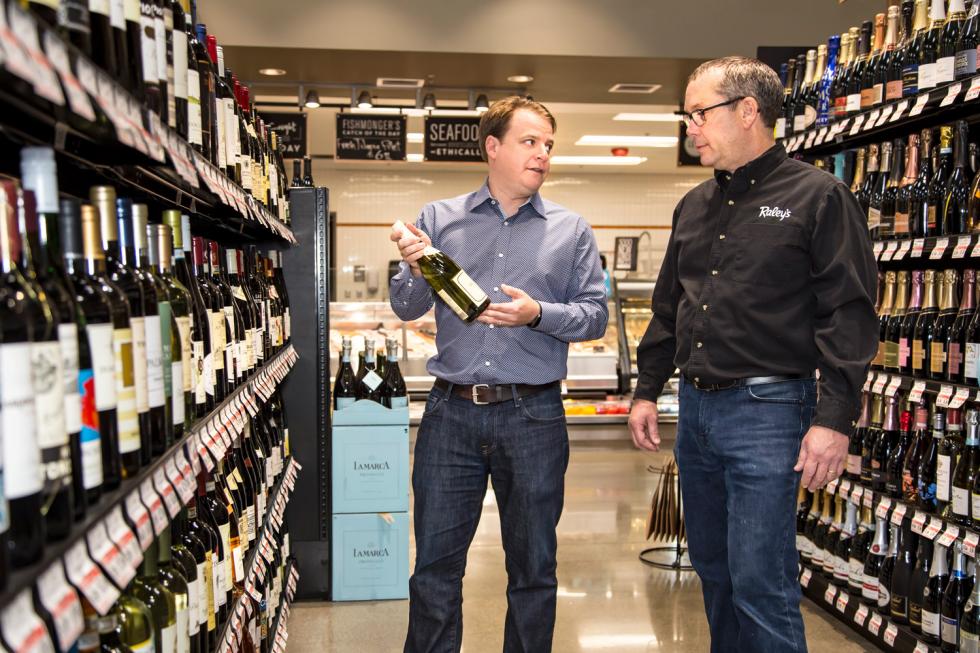 Giving small producers a chance to shine has its rewards, Mann says. "I really like finding that hidden gem — that's a really exciting thing." He points to discovering a label produced by the Maldonado family outside Calistoga. The founder was a farm employee before buying his own 10 acres to grow grapes and make wine. Maldonado's 2014 Farm Worker Chardonnay retails for only $19, providing a great "price-to-value" for customers, Mann says, with a wine that costs $19 but tastes like it costs $50.
Mann's second innovation involved developing a wine steward program. These stewards pace the alcohol aisles of Raley's stores, available to answer customers' questions. The 30 stewards have all completed the Wine & Spirits Education Trust certificate, learning about the world's different wine regions, various growing and production techniques, how to properly serve the drink and other tidbits. Six of these stewards have more advanced learning and can explain the difference, say, between the sub-appellations of Napa Valley, like Yountville, Oakville and St. Helena.
"We could tell them in the weekly call, 'OK, sell this,'" Mann says. "Or we can give them the tools to understand the legal designations and appellations in the wine category, so they can give the customers the best price-to-value."
Knopf points to the wine steward program as indicative of the grocer's larger efforts to be an industry leader and innovate for the customer's benefit. "We strive to meet or exceed expectations on service," he says, "and this program is really a commitment to being more helpful and being an adviser when a customer wants more information … It doesn't just mean selling high-end wine, but understanding what the customer wants and needs."
Tom Jones, a wine specialist at the Raley's store at Fair Oaks Boulevard and Howe Avenue, has been with the company for about two years and has over 25 years of experience in the food, beverage and hospitality industries. He says his role tends to be both customer service-oriented and investigative. "The key is to really listen to the guest and find out what they like," Jones says. "Other beverages, too, can indicate what kind of wine they like. Do they drink their coffee black? That gives them a higher tolerance level for tannins. If they like cream and sugar in their coffee, that might mean they'd like a pinot with lighter tannins and a little bit less alcohol. Getting to know the person and what their everyday approach to life is really indicates what kind of wine, beer or spirits person they are."
The stewards also hold weekly educational tastings at most Raley's locations with wine stores, where customers try blind taste tests. These events help break down the intimidation surrounding wine, Mann says. It can dispel preconceived notions, making customers open-minded to experimentation — not a bad business strategy. Tasting events also give Raley's representatives insight into changing tastes among consumers.
Mann sometimes attends these tasting events, although throughout the year he is often traveling overseas to discover emerging trends, explore wine regions and seek out opportunities for Raley's. For instance, the cabernet and chardonnay coming out of Australia — where he visited in November — "have lots of potential." He brings his wife and two sons, ages 8 and 10, along on most of his travels.
Another trend Mann has observed involves an increasingly-informed consumer base. While visiting a Raley's location recently, he spoke with a customer who could identify the five crus of Barolo, referring to the esteemed vineyards or group of vineyards of northern Italy. Raley's sells a wine that is a blend of all five, and for Mann this growing knowledge has revealed another enjoyable element of his job.
"It's fun talking to customers these days," Mann says. "They know so much."
Curtis Mann's favorite wines are Central Coast chardonnays. TWEET US YOUR FAVORITE @COMSTOCKSMAG.