While Bill Carey is amply appreciative of Highway 50 patrons looking to reconnect with his former establishment, the German-style St. Pauli Inn, he is just as quick to point out that his Forester Pub & Grill is not a Continental restaurant. He insists its a comfort-food eatery and pub that just happens to also feature numerous, hard-to-find German specialties.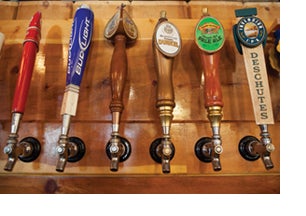 "In a lot of ways, this is a very unusual pub," Carey says of the Forester, which he and his wife, Helen, and son Tristan purchased and opened in January 2002. "It is not a German restaurant, but at the same time, it's much more than a simple family-friendly coffee shop."
So why the contradictions?
Bill and Helen have been in the restaurant business since they graduating from the University of Pacific in the mid '70s. After a worldwide sojourn and two stops in Washington state where Bill worked as a bartender and Helen as a server, they returned to California. While Helen was pregnant with their first child, Bill worked for and then purchased Café Vienna in the San Diego area. Under the tutelage of an Austrian chef, he was introduced to the intricacies of preparing Continental food.
"I've had no formal training, but I believe I'm a pretty good cook," Bill says. Apparently he's not alone in this appraisal.
Fast forward to 1986. The couple, along with Bill's brother Mike, was returning from a Tahoe gambling trip when they noticed a boarded-up coffee shop just off Highway 50 near Pollack Pines.
"The owners were in the midst of an ugly divorce and were anxious to sell," recalls Helen. "We made an offer, which they lowered then accepted."
St. Pauli Inn was born and quickly established a reputation for hearty, northern European dishes, including beef stroganoff, wienerschitnzel, jaegerschnitzel, Heidelberg steak and sauerbraten. The roadside eatery became a much talked about destination for gamblers, skiers and the Apple Hill gang. After purchasing the Forester, the Carey family operated both establishments until 2007. In a no-compete clause, they agreed not to serve Continental fare at the Forester. However, that all changed when the new owners closed St. Pauli Inn in 2009.
At the urging of many Forester regulars and former St. Pauli Inn patrons, Bill slowly — and somewhat reluctantly — added old Continental food favorites to the Camino-based menu. According to Helen, the word is now out.
"The past two fall and winter seasons, we've had more and more people rediscover us, especially those Apple Hill pie-seekers, pick-your-own pumpkin heads and cut-your-own Christmas tree families coming up from Sacramento and points beyond," she says. "For them, it's like reconnecting with a long-lost family member."
When I sit down at Juno's for one of the best burgers of my life, Chef Helms starts by telling me he doesn't want to be a namedropper. The fact that he mentored under legendary French Chef Jean Luc Chassereau of The Cookery and Reda Bellarbi Saleha of Aioli Bodga Espanola is not the point.
It took a year of arduous twists and turns, but Matt Sin and Krissy White finally got what they wanted. The business partners and co-owners of the just-opened Foundation Restaurant & Bar at Fourth and L streets in downtown Sacramento have an eatery of their own. It's a sweet relief to be sure, because the story behind it is rather unsavory.