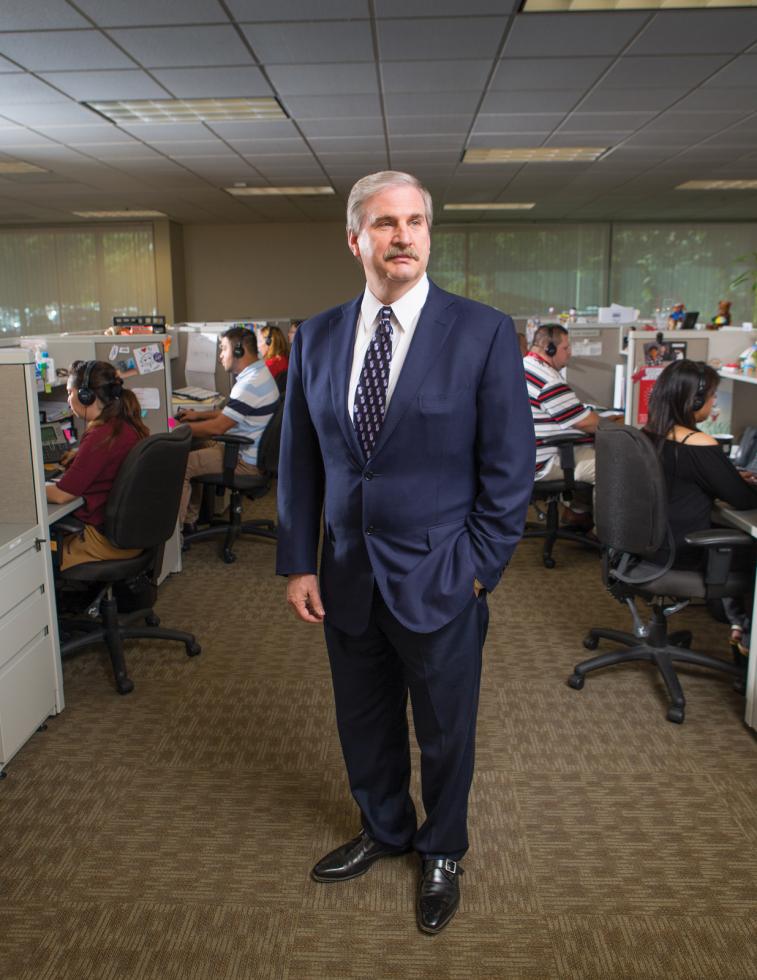 One of the region's fastest growing companies is one you may have done business with without ever knowing. EnvisionRx plays middleman in the complex and often-secretive world of health care, managing insurance coverage for prescription drugs on behalf of corporations, hospitals, government agencies and other employers.
The El Dorado Hills-based company has more than tripled its revenue in three years — at a $1 billion-a-year pace — by relying on a business strategy that answers client demands for drug cost information and simplified pricing.
"When most people go to a pharmacy to fill a prescription, they think their insurance company covers it, and they don't realize they are doing business with a subcontractor," explains co-founder and CEO Kevin Nagle.
EnvisionRx is one of approximately 60 subcontractors in the U.S. that manage prescription benefits in a highly concentrated industry. In recent years, the number of middlemen shrank dramatically, and between 2008 and 2012, a flurry of 20 mergers and acquisitions significantly reduced the players in the market, which is now dominated by four very large companies. "We're about number five or six on that list," Nagle says, making EnvisionRx one of the largest of distant challengers to the industry's leaders.
Nagle's instinct for business kicked in early. He made his first money selling used golf balls at age six. He applied his first lessons in supply and demand when he realized that he could sell more if he stood near the 16th or 17th tees because golfers were desperate to replace balls they had lost earlier in the round. Even then, he also learned he could sell two used golf balls if he offered a third one for free.
He first focused on the health care industry in graduate school. "Baby boomers were coming of age, and I realized they would create a tremendous opportunity," he recalls. As a C-suite executive at Upjohn, a pharmaceutical manufacturing firm, he managed that company's business for half of the country in the 1980s. "I got exposed to the revolution of 'Health Care 101,'" says Nagle, referring to the managed health care trend.
He co-founded and grew Integrated Pharmaceutical Services, an affiliate of what is now HealthNet, before forming his own company that was subsequently acquired by CVS Caremark, another industry powerhouse.
Nagle and three partners founded EnvisionRx in 2000 as clients looking to cut health care costs were beginning to ask more questions about the deals subcontractors were negotiating on their behalf.
"We started the company by wanting to do things differently with a concept of transparency and full disclosure," Nagle says. "We saw that prescription benefit management was growing by leaps and bounds, but we weren't certain it was going in the right direction. It was very profitable, but we weren't sure it was saving near as much as it could for consumers."
By that time, clients as well as lawmakers were asking the same question and looking to draw the curtain back on secret deals involving wholesale prices and fees. It had been common practice for prescription benefit companies to set prices by averaging lower costs for generics with higher costs for branded or specialty drugs, such as those for HIV or diabetes. Larger companies could negotiate rebates or volume discounts from manufacturers but also could decide how much of those savings to pocket for themselves. A variety of administrative fees for processing claims added to prices.
EnvisionRx jumped into the market just as the trend toward more openness and simplification was catching hold and challenging those practices. By 2003, some states, such as Maine, played catch-up to the trend, adopting legislation that required rebates to be passed on to consumers, a demand ultimately upheld by the U.S. Supreme Court in 2006.
The new-age business strategy for EnvisionRx is built on that demand for more inside information. All rebates are passed on to consumers and take effect the day they are negotiated, giving consumers immediate price relief. Administrative fees have been replaced with a flat monthly management fee for each employee covered by the client's health plan. "That fee is our sole source of income," Nagle explains.
But the most important factor in Nagle's business strategy is a practice that business owners in other industries might never consider: Even though the company is privately held, clients can see the books. They can conduct audits to document any rebates negotiated on their behalf and see actual prices. "This was a big interruption in how the industry works, and it gives consumers a chance to look under the hood of the car, so to speak, and see all the moving parts," Nagle says.
He believes that transparency is critical for creating a stronger bond with client customers and is responsible for the company's strong growth. "It keeps checks and balances in place and creates a partnership by bringing all the stakeholders together," he says. That trend toward openness is likely to get stronger when the Affordable Care Act kicks in. "There is likely to be more pressure for transparency," Nagle predicts. "That was one of the intentions of the law."
Being on the leading edge of that trend has attracted clients from all 50 states and British Columbia, including health plans, government agencies and large employers. In the Sacramento region, they include Costco Wholesale Corp. and Adventist Health, for whom EnvisionRx processes prescriptions subsidized by Medicaid in 15 of the hospital's retail pharmacies.
"One thing that drew us to Envision is that, because they are a PBM (pharmacy benefit manager), they offer some market savvy and have relationships with large retailers," says Thomas Jacobsen, Adventist's corporate pharmacy director. "They have been a great partner for us in a complex space in medicine."
Potential savings will vary from client to client. Those with younger, healthier employees will save less than those with older employees or who are paying for retiree benefits.
"People of Medicare age have 35 to 40 prescriptions a year," Nagle says. To take advantage of that market, EnvisionRx has added Medicare Part B drug coverage to its portfolio. To support that expansion, the company established an El Dorado Hills call center, which employs 200 of the company's nationwide force of 850.
A growing new line of business offers prescription drug coverage for the uninsured. El Dorado, Sacramento and Los Angeles counties and the states of Florida and Ohio are among the early sign-ons for the company's eHealth program, which serves individuals who work part-time and don't qualify for employer-provided benefits and the working poor whose income is too low to qualify for Medicare. With a drug card from Nagle's company, prescription costs can be less than half of the premium Cadillac cash prices the uninsured typically pay.
By catering to employer-provided insured and the uninsured, Envision Rx is poised to grow at both ends of the market as Obamacare takes effect. "Health care reform will offer insurance to a lot of people, but there will be many people who won't have insurance," Nagle says.
Clients continue to give the company high marks for its overall service and for delivering cost savings. In an annual industry survey by the Prescription Benefit Management Institute, EnvisionRx has been rated first or second in overall performance in five of the past six years. That has resulted in annual revenue growth in the billions, from $1.2 billion in 2010 to $2.5 billion in 2012. This year, the company has projected revenue of 3.5 billion.
It's a fraction of the overall $326 billion spent on prescription drugs nationwide, but noteworthy for growth during the first time in 50 years that annual drug spending in the U.S. has dropped, due to economic recession and to increased use of generics as patents have expired on some popular pharmaceuticals.
In early July, the company armed itself for even more growth, announcing that it had agreed to be acquired by TPG, one of the world's largest private investment funds with $56.7 billion in assets. Nagle and his partners will buy back a portion of EnvisionRx and continue to manage the company. "TPG was a good fit because they have experience in the health care field," Nagle says.
As for the new infusion of capital, Nagle says that, "from a solvency standpoint, we were in good shape. But this new capital will enable us to grow through acquisitions, and banks aren't particularly well-suited to fund this kind of deal."
His goal is to vault into the ranks of industry leaders. "This will help us get to what I call Envision 2.0," he says.
---
Think of your best friend, a friend that knows all your ticks, hobbies and vices. Now imagine this friend happens to be a doctor, and she's your doctor.
Hospitals, law firms and state agencies involved in implementing the Affordable Care Act have seen a sizable bump in workload — and in some cases, staff sizes — as they prepare for the major overhaul mandated by the 2010 law and to adjust to other industry changes.