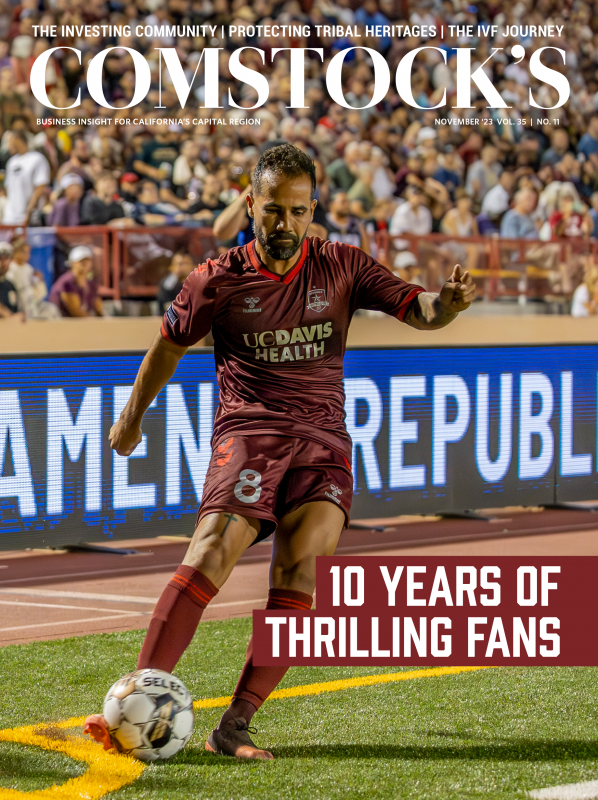 This story is part of our November 2023 print issue. To subscribe, click here.
When the team name and crest were announced in the summer of 2013, founders of the Sacramento Republic Football Club adopted the City of Sacramento's motto — Urbs Indomita (Indomitable City) — and made it their own. Indomitable City. Indomitable team. Can't be defeated. That motto has been put to the test frequently during the team's colorful and impactful 10 years in Sacramento.
While other professional soccer teams have come to town with hype and promise, only to flicker briefly before disappearing — teams like the Gold, Spirits, Geckos, Scorpions, Senators and the Knights — the United Soccer League's Sac Republic connected with the Capital Region in a major way. It stayed true over the last decade to its Indomitable City name, reaching exhilarating highs and debilitating lows, but always managing to survive and push forward.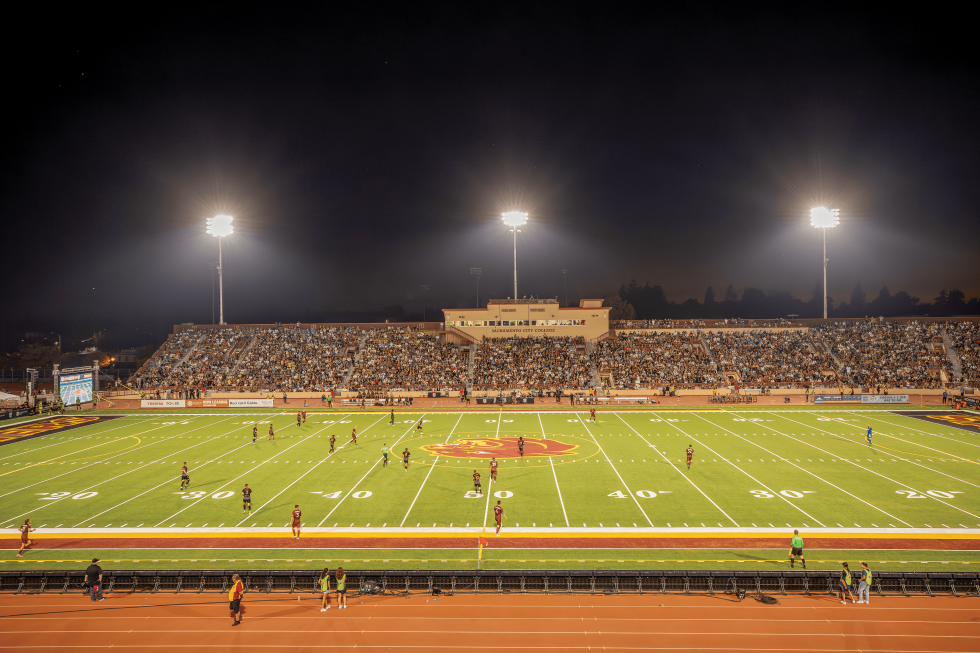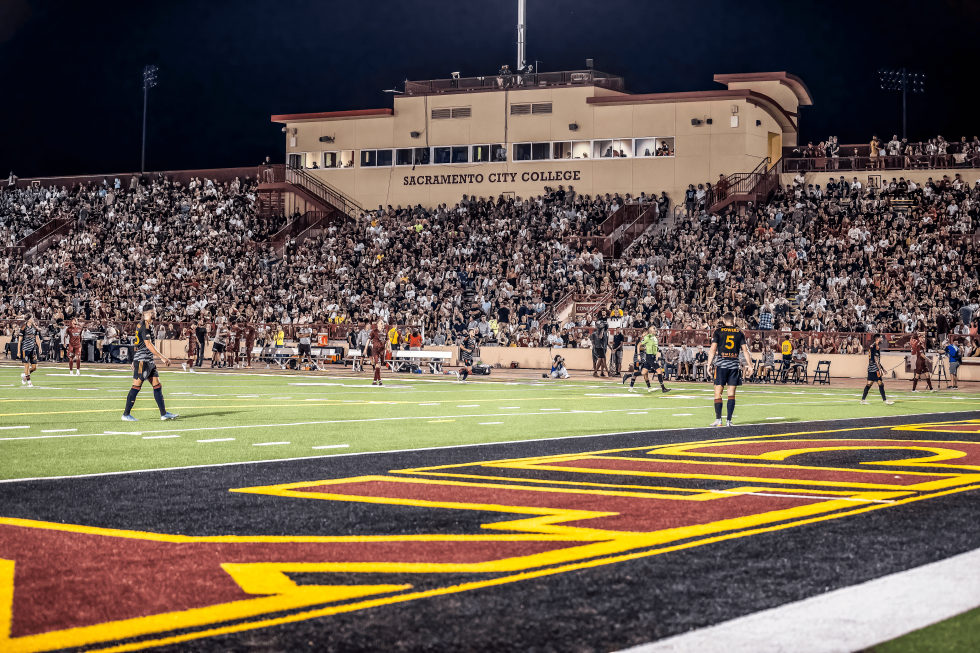 "From the team's inception, I think they appealed to Sacramento's spirit as a scrappy underdog that doesn't back down from anyone," says David Eadie, Visit Sacramento's Chief of Sports & Entertainment. "This is such a tremendous region for soccer, and not just soccer fans but in terms of player development, top tier club opportunities and an appreciation and genuine love of the game."
The 2023 season has been one big party for soccer fans as Sac Republic celebrates its first decade with another playoff run behind coach Mark Briggs, who, in his fourth year, is the team's longest running coach.
A return to Hughes Stadium this August before a sold-out crowd of 20,231 reminded fans of the team's beginnings in April 2014, when the new USL franchise debuted at the historic stadium on the Sacramento City College campus. The team moved into its permanent home at Cal Expo in June 2014, then called Bonney Field. (It's now Heart Health Park.)
"From the team's inception, I think they appealed to Sacramento's spirit as a scrappy underdog that doesn't back down from anyone."David Eadie, Visit Sacramento's Chief of Sports & Entertainment
"It's been an unbelievable run," Kevin Nagle, chairman and CEO, said at halftime of a Wednesday night game with New Mexico United on Sept. 20. "The first year we won a championship. And then every year since then, we've been in pursuit of one. It's a winning culture that we have here. That's what we've really built."
Hope for a new stadium
The decade wild ride in between Hughes Stadium games started with the first year's unexpected USL title run and record-breaking crowds in the current stadium, which now holds 11,569. That followed the years-long buzz of a seemingly inevitable Major League Soccer bid, which became a joyous reality in 2019, along with plans of a new stadium and development at The Railyards, a mixed-use historic community space and site of a proposed stadium where the City of Sacramento has already invested $500 million, according to Sacramento officials.
The MLS bid, however, was withdrawn in early 2021 in the wake of the COVID-19 pandemic and the departure of major investor Ron Burkle, who balked at — among other things — the MLS' steep expansion fee to enter the league, which was $75 million in 2014. By 2022, when the league's 30th franchise was named in San Diego, the fee had ballooned to a reported $500 million.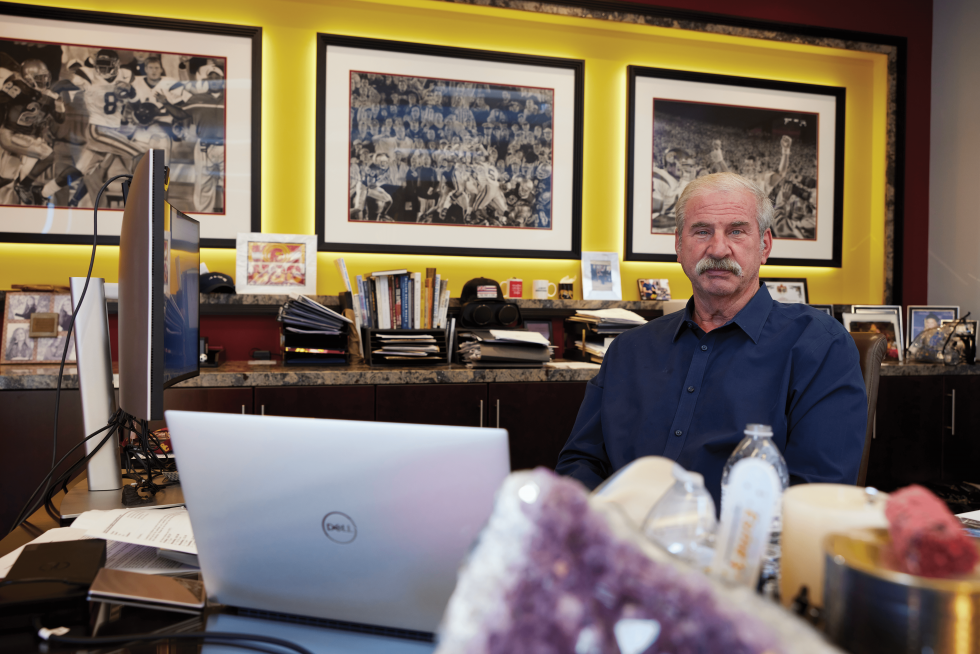 Stadium plans remain on hold but are still alive, along with other possible locations. Sac Republic's trip to the Lamar Hunt U.S. Open Cup final game in 2022, where they knocked off three MLS teams along the way, showed once again the Republic can play in a top tier. Meanwhile, Nagle and Sacramento Mayor Darrell Steinberg have publicly identified Canadian businesswoman and former member of the Canadian Parliament Belinda Stronach as a possible investor target.
Nagle, who has divested financially from the Sacramento Kings NBA team after playing a key role in keeping them in the city before the construction of the Golden 1 Center, has spent time in England and Sacramento since buying English Football League's Huddersfield Town AFC, a 115-year-old second-tier British soccer club, in June. Nagle's pursuit and acquisition of Huddersfield, documented in the ongoing YouTube series "Up the Town," won't affect his Sac Republic commitments, he says, while Sacramento stadium talks continue.
"It depends on the day of the week," Nagle said at the Sac Republic game on Sept. 20, when asked how things were progressing with stadium negotiations. "I would say yesterday was really strong; today, maybe not as well. But I still believe that we're going to have a stadium location in sight and announcement by the end of the year. I feel good about things even though I'm a little bit sanguine at times."
Sac Republic's strong community involvement was evident from the team name and crest reveal in July 2013. Founders Warren Smith and Joe Wagoner announced the name at the sold out Raley Field match between English Premier League's Norwich City FC and Mexico's Dorados de Sinaloa.
"They got the branding right and managed to create something that I feel actually represents the city pretty well," says Evan Ream, a longtime follower of the team and the current communications manager for the youth soccer development league, NorCal Premier Soccer. Ream covered the team for the Davis Enterprise during its early years and is currently writing a book about the franchise's history.
"They really worked with the community in order to create a solid fan base, selling out that first game at Hughes, which almost doubled previous USL records," Ream says, noting the importance of constructing the Cal Expo soccer-specific facility at reasonable cost.
Community involvement
Over the years, SRFC participated in community building efforts such as teaming up with Street Soccer USA, opening a futsal court at Maple Park in collaboration with La Familia Counseling Center, raising money for Keaton's Childhood Cancer Alliance through the St. Baldrick's head-shaving event and working with the Sacramento LGBT Community Center to award an annual Pride Night scholarship. The team received the overall Corporate Champion of the Year award from the Sacramento Business Journal earlier this year.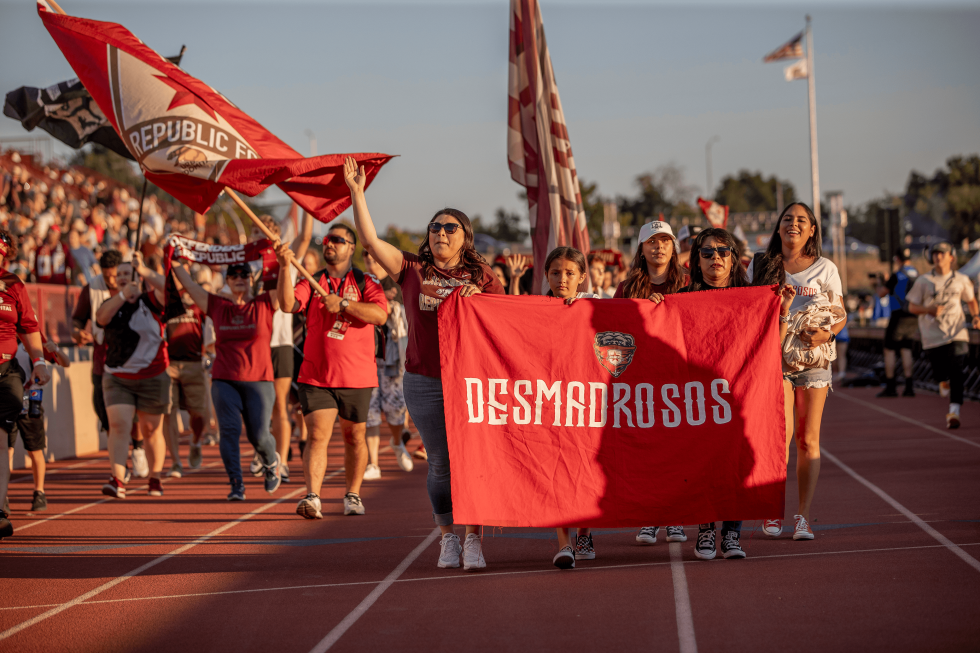 "I've been fortunate to be part of a lot of different clubs in my playing career and in my post career, and this place is special," Todd Dunivant, SRFC's team president and general manager, said before the game with New Mexico United. For the past six years, Dunivant has taken staff and team members regularly to the athletic fields of Folsom State Prison for a game with inmates, a program he says will continue.
"The relationship that this club has with that community is second to none," Dunivant says. "And it is the reason why Sac Republic has been so successful all these years."
The team has counted on supporters like the Tower Bridge Battalion — a loud, chanting presence at every home match — who also travel in large numbers to most road games. The Battalion's large contingent in Los Angeles was cited as a key factor when Sacramento upset the MLS LA Galaxy 2-1 in the quarterfinals of the 2022 Lamar Hunt U.S. Open Cup tournament.
"Where they go, we go," says Adriana Avalos, a season ticket holder and member of the Battalion since 2014, who followed the team to Los Angeles and Florida last year. Avalos says her boyfriend, brother and son are drummers with the Battalion, and she sits with them during the games.
"To me, it's bringing out my whole family — my kids, my cousins, my brothers — we all attend; we're all season ticket holders," Avalos says. "It's a fun time not just to watch a soccer game with them, but being part of the TBB allows us to drum and to just have a good time together as a family as well."
A team with star players
While several players and coaches have made a lasting imprint on Sacramento the past decade, including Jesuit High School alumnus Cameron Iwasa, who retired after the 2021 season as Sacramento's all-time leader in goals and assists, it's impossible to overlook the guy in the familiar No. 8 jersey, Rodrigo "RoRo" Lopez.
Lopez, born in Guadalajara, Mexico, holds the honor of being the team's first signing in 2013, having already made his mark in the MLS and other stops. While Lopez hasn't played the entire 10 years the team has been in Sacramento, and he's been injured for most of 2023, no one has been in the middle of so many big SRFC moments.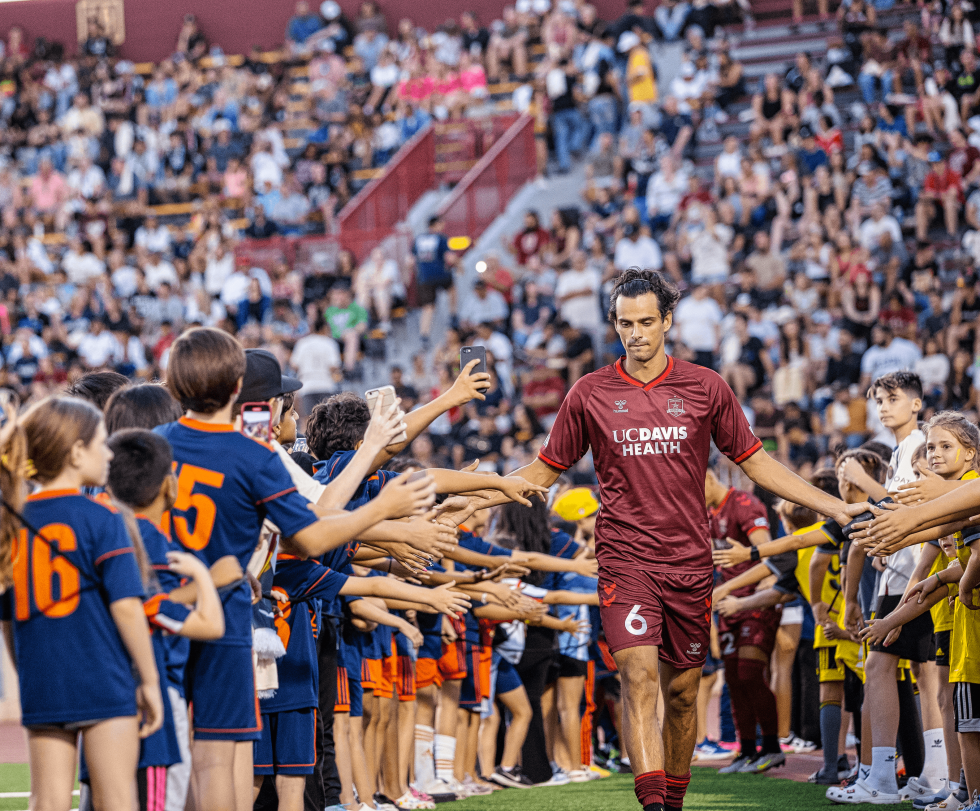 He was at both the April 26, 2014, home opener at Hughes Stadium and was again present Aug. 26 when Hughes sold out 10 years later, returning to play briefly for the first time since April after having surgery on his right leg.
Lopez engineered the "Miracle at Bonney" when he scored three goals with SRFC down 2-0 in the waning minutes of USL's 2014 Western Conference final against rival LA Galaxy II, propelling SRFC into the league championship game, and then was named MVP of the championship finale when they defeated the Harrisburg City Islanders 2-0.
And there was Lopez again in 2022, scoring four goals with four assists during the Open Cup tournament run, including the game-winning penalty kick against MLS Sporting Kansas City before a sold-out Heart Health Park crowd in an epic shootout that followed a 0-0 draw in regulation time. While Sacramento lost to MLS Orlando 3-0 in the Open Cup finale on the road, Lopez was named the overall player of the tournament while also taking the top lower division player honors, the first time a player swept both awards.
"It's a question of me giving it my all every time I'm here," says Lopez, who played the 2014 and 2015 seasons in Sacramento before playing elsewhere, returning in 2020. He then played for USL champions Rio Grande Valley FC Toros in 2021, but returned again to Sacramento in 2022.
Lopez has played in virtually every professional league imaginable since 2005, including Mexico's top leagues, but Sacramento has remained special, he says.
"I have a lot of love for this club," Lopez says. "Every time I put on the kit, I give it my all and try to make something special happen. And you know, I've been very fortunate to be a part of all those good moments."
If all any fan can hope for in a season is that a team's last game is meaningful, then SRFC has been wildly successful. With a 2023 playoff berth clinched in mid-September, Sacramento has reached the playoffs in nine of its 10 seasons, a playoff consistency no other professional sports team in the region has matched in that span.
"I'm really proud of what we've accomplished," Nagle says, before heading off to mingle with fans at halftime. "And I think we've got another great 10 years ahead of us."
Stay up to date on business in the Capital Region: Subscribe to the Comstock's newsletter today.