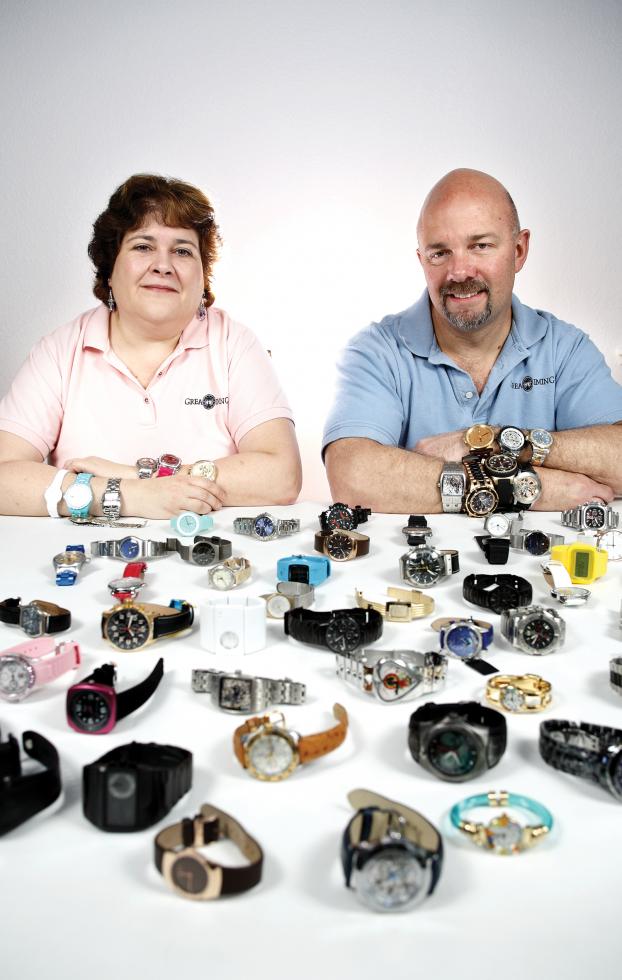 There's a married couple in Elk Grove who would be happy to give you the time of day. They'd be even happier to sell it to you.
Dana Porter and Caroline Liss are the owners of Great Timing Inc., an authorized online wristwatch dealer of more than 85 brands at prices ranging from about $20 to thousands.
They've heard the rumor that watches are becoming obsolete as clocks can be found on cell phones, mp3 players and other portable devices. Indeed, in about 2006, news reports abounded about declining wristwatch sales among America's teens and young adults, who view them as unnecessary.
But even if people don't need watches to tell time, sales figures suggest they still want them for other reasons. According to the Watch Dealers Network, a partner of The International Watch and Jewelry Guild, the watch industry has seen an increase in revenue of 300 percent since 2001, in part due to high-end sales of limited editions to collectors. The 2007 Economic Census showed that California had 2,173 watch shops with $579.74 million in sales, but those figures were collected before the recession hit. Great Timing sold roughly 10,000 watches last year, about 25 percent during Christmas season.
Part of this could be due to watches evolving with the times. They're both a trendy fashion accessory and, with a plethora of new functions, fun for techies. With specialized features geared to specific jobs, hobbies and sports, some watch faces are so loaded with dials, readings and graphs, the clock almost seems superfluous.
There are watches with slide rules for pilots, tide charts for surfers, GPS for hikers, and heart rate, distance, time and calorie-burning monitors for runners and swimmers.
Scuba divers can get them with nitrogen and oxygen readings, bar graphs showing ascent speed, thermometers and a wide range of audio and visual safety alarms.
Some sport watches even display affirmations such as "Great job!" when you finish your workout and nag you with a reminder when you ignore your treadmill.
"There are Casios that can do just about everything but vacuum your house," Liss says.
Porter owns one of these. "It has most of those functions Caroline mentioned, but I like it because it has a big digital display and my vision isn't as good as it used to be," he says.
Nevertheless, he admits he's a bit smitten by some of the high-tech features and has become one of his company's repeat customers, collecting about 30 different watches. Quite a few are made by Skagen, the brand they've sold the longest.
"You should see my bathroom counter!" Porter says. "I don't even fully understand how they work, but they look really cool and that's all that matters if you're a guy.
"I think that men are almost exclusively the only watch collectors that we deal with," he adds. "They just get into the complications and the Swiss movements and how many jewels are in the movement, and they're kind of brand-specific too."
Also popular are so-called skeleton watches with clear casings so the mechanisms are visible from the back and front. While most watches are still battery powered, the skeleton watches are among those wound by hand or powered by motion.
Women sometimes want watches with fancy functions, but they tend to want a fashion accessory. "Women wear them as jewelry and want to coordinate them with their outfits," Liss says.
Then there are some people who simply enjoy showing off an expensive timepiece. "Watches are sort of a status symbol for a lot of people," Liss says.
Despite their differences, men's and women's watches have sold evenly over the years, they say.
Great Timing sold roughly 10,000 watches last year, about 25 percent during the Christmas season.
Liss started the business in 2000 almost by accident. She was shopping for a particular watch and finally found it at a price she could afford at a closeout sale.

"Then I thought, 'Boy, if I could buy a few of those, I bet I could turn them over on eBay and make a little money.' That worked, and it just kind of grew from there," she says.
She and her husband realized watches, light and small, were easy and inexpensive to ship and store. Soon they were frequenting trade shows to find new lines and products and stocking and shipping daily. While they don't offer repairs now, they are considering adding that service in the future.
"The first six years or so we saw a lot of growth," Porter says. "Our business about doubled each year."
Five years ago, they opened an office in the Village of Elk Grove when they outgrew their garage.
Since then, their margins have dropped because of price competition, partly coming from unauthorized distributors steeply discounting the product against the manufacturers' guidelines or even selling counterfeits.
While Porter says there is a stigma attached to online retailers as being the main culprit of such practices, he cited several examples of brick-and-mortar businesses doing the same. He notes such predatory practices hurt all honest retailers, whether they sell through the Web or a storefront.
"We have had to become very aggressive on price — where it is allowed by our suppliers — and our growth has been fairly flat for the last two years or so," Porter says.
Flat growth also has prompted some local and chain jewelry stores to cut down on their watch inventory. One of the hot topics at a recent jewelry show in Las Vegas was whether or not to continue selling watches.
In fact, jeweler Kenny G & Co. at 7440 Laguna Blvd. in Elk Grove is planning to phase out all but "entry-level" watches, due to declining sales of high-end models, says store manager Don Gordon.
Potential customers would increasingly come in and ask to look at a watch, only to say they planned to purchase it on the Web. "They don't charge tax, so we're up against that," Gordon says. The owner decided: "We're not going to be the showroom for people to buy them elsewhere."
Nevertheless, Gordon thinks the watches with large faces and high-tech features will continue to sell at sports shops and similar stores, and that watches in general aren't going away soon.
"I think there will always be a good Swiss watch, priced reasonably," Gordon says. "It just won't have all the cachet of some of these big names. But it will probably be very reliable."
Chris Johnson is the inventor of Rapid Ramen Cooker, a square, microwaveable bowl that cooks ramen in four minutes. What he evidently lacks in patience, he makes up for in ingenuity.
A slope-loving trio needed durable, weatherproof belts that would fit comfortably, last a long time and look good. So the self-proclaimed ski bums decided to make their own. Olympic Valley-based Arcade Belts launched three years ago from a living room and specializes in belts made specifically for winter-sport enthusiasts.